Why Broncos vs. Raiders Is More Than Just a Football Game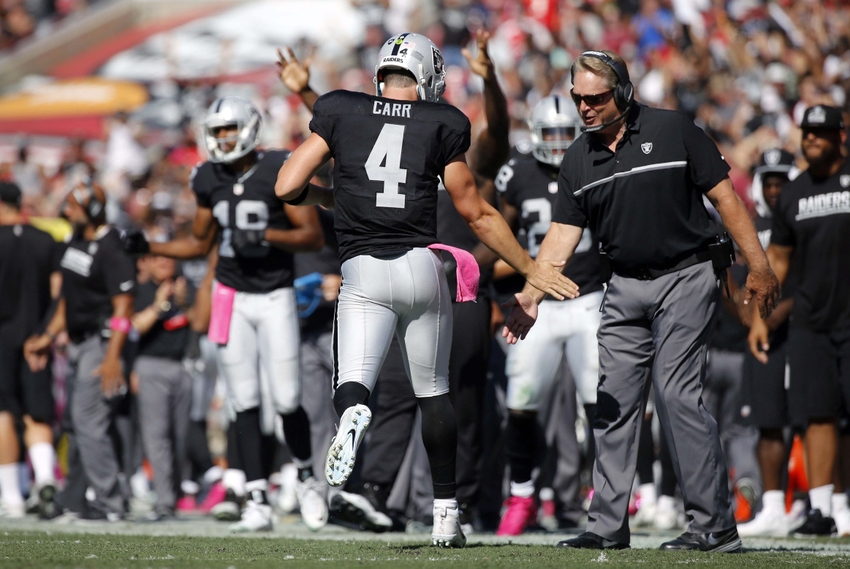 Division supremacy isn't the only thing on the line when the Broncos and Raiders face off Sunday night.
Heading into a pivotal Sunday night showdown with a division rival, Denver Broncos safety T.J. Ward made no qualms about his feelings towards the Oakland Raiders.
"We never liked the Raiders," Ward told reporters. "We just don't like them. You ever not like someone and you don't know why? We just don't like them."
The Broncos (6-2) and the Raiders (6-2) sit tied atop the AFC West through eight weeks of the NFL season. A win this weekend for either team would provide some much-needed breathing room in an incredibly tight division.
Both are indeed bitter longtime rivals, but there's more at stake in this highly anticipated meeting than a mere division lead.
Every so often in sports, a passing of the torch occurs between two teams or individuals. One is trying to maintain relevancy and control, and the other is attempting to seize both, becoming a successor of sorts in the process.
In this case, Denver is the former and Oakland is the latter.
It's something that happens all the time and is a part of life in sports.
It was Michael Jordan that passed the torch to Kobe Bryant, who then eventually passed it to Lebron James.
In football, Peyton Manning did the same this past year in the Super Bowl with Cam Newton. Even the upstart Minnesota Vikings overtook the Green Bay Packers last season and have proven they're here to stay.
While the Broncos – the fifth-youngest team in the league – may have won the AFC West for five straight seasons dating back to 2011, they're currently viewed as the past.
At the end of the day, this matchup isn't about a division lead, it's about relevancy and affirming contending status.
Then there's the Raiders – the perennial division doormat – who are seen not only as the future, but as the new kings of the west.
So, at the end of the day, this primetime matchup isn't about a division lead, it's about relevancy and affirming contending status.
Is Denver primed to make a statement against a hated rival, or will the Silver and Black prove that the future is now?
We'll have to wait and see.
This article originally appeared on