Why 49ers RB Carlos Hyde Is the X-Factor vs. Bears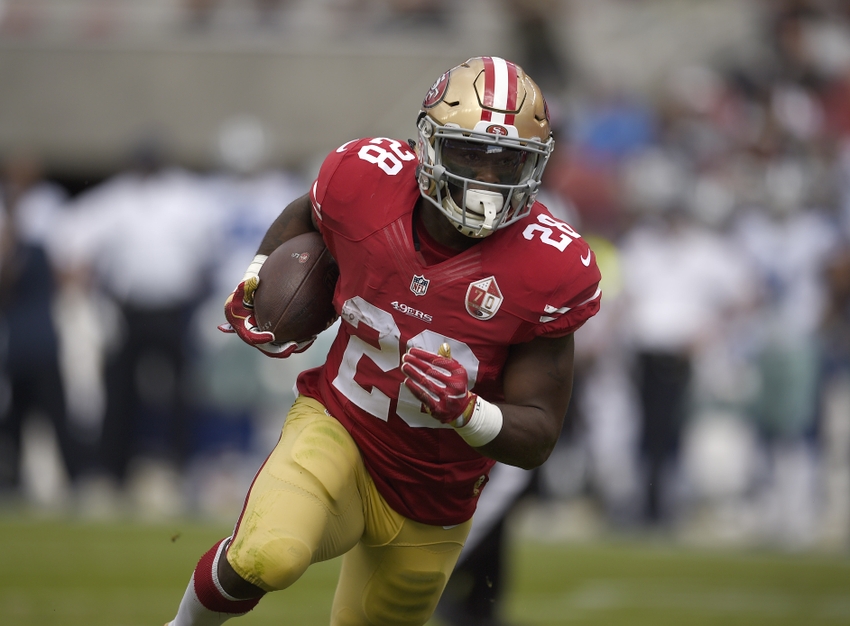 San Francisco 49ers running back Carlos Hyde has been much more productive in his last two outings since his atrocious efforts in Week 10 versus the Arizona Cardinals. Hyde will build off of those performances against the 18th ranked Chicago Bears run defense.
San Francisco 49ers running back Carlos Hyde has only posted one 100-yard rushing game this season. If the Niners want to come away with their second victory of the year, Hyde will need to be given a heavy workload.
In games where Hyde has carried the ball 20 or more times, he averages 89 yards and has scored five of his six rushing touchdowns.
The Bears defense is giving up 103.4 rushing yards per game, and the weather forecast in Chicago seems fitting for a run-first type of offense on Sunday. Hyde can be the X-factor for the 49ers if they can establish the run early in the game.
Hyde has ran with some toughness and determination the past two weeks. He has not scored a rushing touchdown in the last four games he has played in, but that should change this weekend as the Bears have allowed a running back to reach the end zone in each of their last three contest.
The 49ers head into Soldier Field with the fourth ranked rushing offense in the NFL. It has improved due to quarterback Colin Kaepernick being able to make plays with his legs. Kap has also improved in the passing game, so that no longer makes the 49ers offense one-dimensional.
Since Kaepernick took over however, Hyde has not carried the ball more than 19 times in a game. The 49ers have shied away from the run game a bit in recent weeks, so Hyde will need to be given the ball more than 20 times in this game if they are going to have any shot at coming away with with their second win of the season.
Hyde got more involved in the passing game last week against the Dolphins. If he can build on that performance and be a threat not only on the ground but in the pass game as well, he will be tough for the Chicago defense to stop.
The Bears also lost starting inside linebacker Danny Trevathan for the season with a right knee injury. This is another reason why getting Hyde heavily involved will work out in the 49ers favor.
Going up against the 18th ranked run defense in the NFL, Hyde will be a true X-factor if the 49ers can get him going early.
This article originally appeared on