Who will be Stafford's top target over the rest of the season?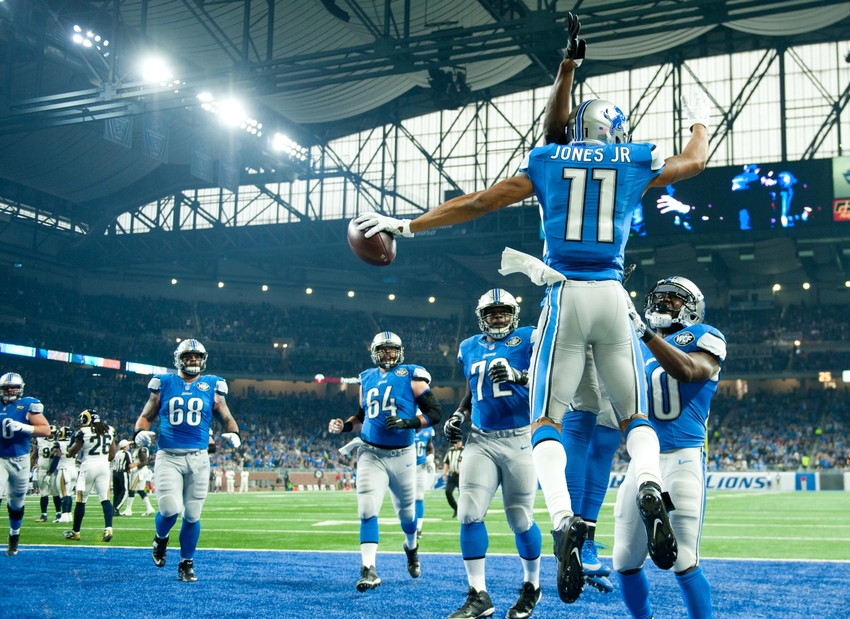 Breaking down Jones, Tate, Boldin, Riddick and Ebron to see who's getting the most looks from Stafford.

Marvin Jones exploded onto the scene earlier this season as the NFL's top receiver over the first 5 weeks. Since then, he has cooled off significantly and it has been Golden Tate who's become Stafford's go-to target. Tate was huge in Detroit's win over Minnesota, with 11 catches and the game-winning touchdown catch in overtime. Jones still leads the team with 661 yards, but Tate has narrowed the gap with 513 yards. Eric Ebron is coming off of a career-best 92 yards in week nine and has been targeted18 times over the past two weeks. Anquan Boldin is showing it's not about quantity, (or speed, or separation) it's about quality, with a team-leading 5 touchdown catches but less than 300 total yards.
Theo Riddick continues to play like the best receiving halfback in the league. Although the Lions have been forced to use Riddick as more of a true runner, he's still been productive in the passing game when you get into the numbers. Without Calvin Johnson, Stafford is spreading the ball around and it's making the Lions tougher to defend. Let's get into each player's statistics –courtesy of NFL.com — to see who's most likely to finish as Stafford's number one weapon.
Marvin Jones
37 Catches (2nd)

64 Targets (2nd)

661 Yards (1st) & 4 TDs (T-2nd)
Golden Tate
49 Catches (1st)
74 Targets (1st)
513 Yards (2nd) & 2 TDs (4th)
Anquan Boldin
35 Catches (T-3rd)

48 Targets (3rd)
286 Yards (4th) & 5 TDs (1st)
Eric Ebron
32 Catches (5th)

43 Targets (5th)
381 Yards (3rd) & 1 TD (T-5th)

Theo Riddick
35 Catches (T-3rd)

46 Targets (4th)
273 Yards (5th) & 4 TDs (T-2nd)

Like us on Facebook and Follow us on Twitter!
More from SideLion Report
This article originally appeared on