Who Was The Bengals' Best Running Back In 2016?
Ryan Sallmann/FanSided via Stripe Hype

Fansided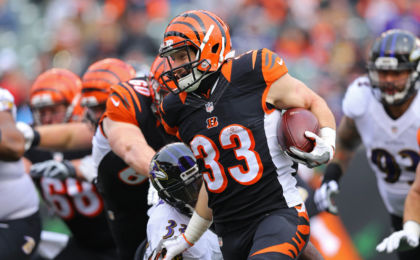 Who really is the best running back on the Cincinnati Bengals' roster? With injuries to Jeremy Hill and Giovani Bernard , there could be a shift in power.
With three of the Bengals' running backs getting a solid amount of carries during the 2016 season, questions about which back it truly the best have been raised. It's easy to have an opinion but when looking at statistical evidence, which back has been most impressive?
The Bengals wrapped up the 2016 season with a convincing win over a demoralized Baltimore Ravens team. While the game didn't matter as far as the playoffs are concerned, the performance by fourth year running back Rex Burkhead was not lost on viewers.
Burkhead rushed for 119 yards and two touchdowns on 27 carries and had many Bengals fans calling for him to get a look at starting running back next season. While the performance was impressive, does it really mean that Rex Burkhead is better for the job than Giovani Bernard and Jeremy Hill? Here's a look at how the three backs stack up against each other and what the statistics show.
Jeremy Hill
Drafted out of LSU in 2014, Hill has been the Bengals workhorse back since he came into the league. He has rushed over 220 times each of the past three seasons and eclipsed 1,000 yards as a rookie. Hill has been the team's leader in rushing touchdowns since he came into the league, averaging just under 10 TDs per season. While Hill is a solid runner (over 4.1 yards per carry as a career average) he hasn't proved to be a dynamic pass catcher, only averaging 1.3 receptions per game in his three seasons and scoring just one receiving touchdown.
Hill adds power to the Cincinnati running game that the smaller backs on the team don't offer. However, Hill sometimes lacks the elusiveness that can turn an average back into a top-tier back. He has also traditionally had some trouble holding onto the football as he fumbled eight times in his first two seasons but did not fumble once in 2016.
In 2016, Hill had a year similar to his 2015 numbers, rushing 222 times for 839 yards and nine touchdowns. His most notable games were against the Browns in Week 7 in which he ran for 168 yards and Week 14 when he rushed for 111 yards.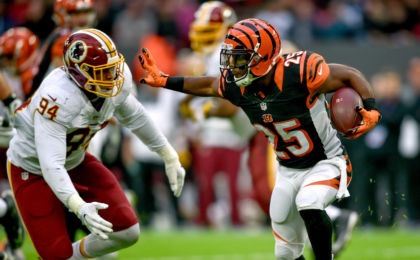 Giovani Bernard
Bernard has been the change of pace back for Cincinnati since his rookie year in 2013 when he provided speed and play-making ability that incumbent starter BenJarvus Green-Ellis lacked. While Bernard had a great rookie year (totaling 1,209 yards from scrimmage and eight touchdowns), he has only started 12 games in four years, and has never gone over 200 carries in a single season. What Gio brings to the table is his ability to catch passes out of the backfield and evade defenders when he gets into open space. During his rookie season he had over 500 yards receiving and has never had under 300 receiving yards in a season. He also has been able to hold onto the ball better than Hill as he has only fumbled four times in four years.
Bernard's season was cut short in 2016 by a knee injury which took him off the field in Week 11. He wasn't having a banner year up to that point failing to surpass 80 yards rushing in any game. Bernard's best performance came in the form of a receiver in week two when he caught nine passes for 100 yards vs. the Steelers.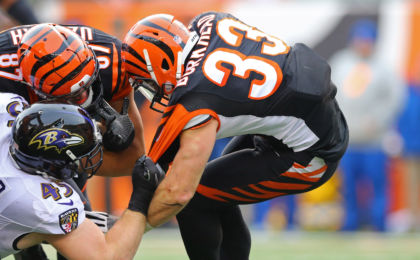 Rex Burkhead
Drafted out of the same class as Giovani Bernard, Rex Burkhead has been used sparingly during his career with the Bengals. With a running back by committee already existing in the Bengals backfield originally be Green-Ellis and Bernard, then by Bernard and Hill, there were few snaps left over for Burkhead. The former Nebraska Cornhuskers star only rushed 13 times his first three NFL seasons and had an average of under three yards per carry.
Even though Burkhead hasn't played nearly as many NFL snaps as the other backs in Cincinnati, he has slowly been picking up steam with the fan base due to his hard-working attitude and impressive end to the 2016 season.
Burkhead exploded in the Bengals finale against the Ravens: rushing for 119 yards and two touchdowns on 27 carries. He also added another 25 yards on two catches. In addition to this one game, Burkhead was able to finish out the season with an impressive 4.6 yards per carry average.
If there is a knock against Burkhead, it's that a lot of his carries came at garbage time or in situations conducive to giving up large chunks of yardage (such as draw plays on third down and 20). Even so, what Burkhead was able to do this season is impressive.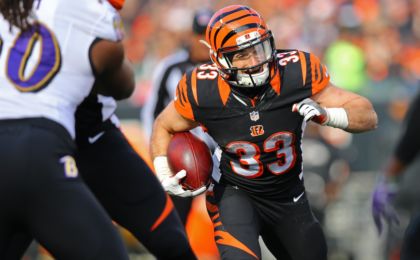 What Do The Stats Say?
When looking at their statistics side by side, there is a clearer picture of how these players stack up. It's apparent that Hill has had more opportunities to carry the ball in his career. Last year he received more than double the amount that of carries that Giovani Bernard received and triple Burkhead's carries. Even though Hill's career yards per carry average is less than the other two backs, his 30 career total touchdowns and 4.11 touchdowns per 100 touches are hard to ignore.
Out of the Bengals running backs, is the only one that caught a touchdown last year and he didn't even play a full season. Bernard is the only player of the three to crack the 1,000 yard receiving mark in his career. While he is not going to wow fans as a lead back, he still plays an important role in the offense and has not proven to be a better runner than either Burkhead or Hill.
Bukhead has had the least amount of opportunities but has come away with a career average of 4.3 which is higher than Bernard and Hill's averages. When looking at 2016 specifically, he had an even higher average of 4.6 yards per carry. If this number is extrapolated to the 222 carries that Hill received in 2016, Burkhead would have ended the season with approximately 1,021 yards (more than both Hill and Bernard). Although Burkhead does have a higher average, he also has an average of fewer touchdowns per 100 touches than Hill does and a higher number of fumbles per 100 touches than Hill for both his career and 2016 numbers.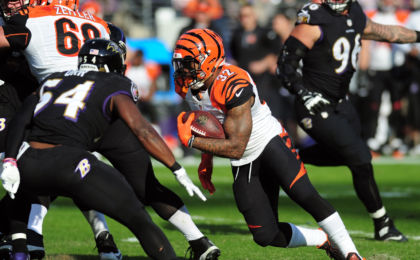 And The Winner Is?
For the Bengals, the backfield situation should be fairly obvious. Keep Giovani Bernard as a change of pace and passing option. Then, decide between Jeremy Hill and Rex Burkhead as the lead back. The numbers show that if both players continue as they are, Hill would score more touchdowns and fumble less. Burkhead would accumulate more yards.
The argument for Burkhead over Hill does seem somewhat justified. But, it's anybody's guess as to whether Burkhead could continue this sort of performance in the future. With much of each player's usage being situational, there are still unanswered questions and no definitive answers. Hill is the more established player and the "safer" player to keep on the roster going forward. But, what if Rex is even better? This is what the Bengals need to decide this offseason. Bengals fans anxiously await the answer.
This article originally appeared on