Who is Winning the 2016 NFL MVP Race Entering Week 13?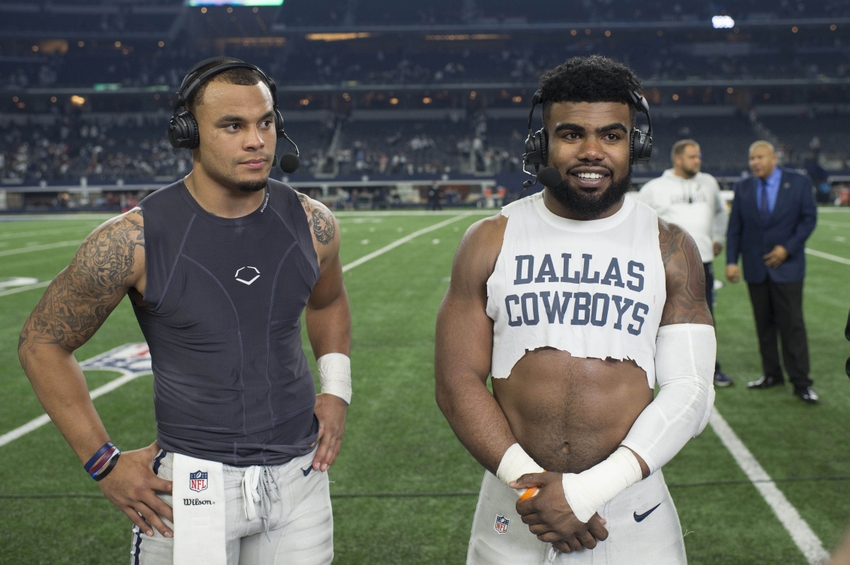 There are a handful of strong candidates, but who is leading the way in the 2016 NFL MVP race entering Week 13?
The race for the NFL MVP is beginning to heat up. There is a ton of debate about who should win. There are a number of players in the mix at the moment. While Matt Ryan, David Johnson and Derek Carr are all viable options, I'm focusing on three other players that seem to be at the head of the MVP conversation.
Dak Prescott is getting a ton of hype and rightfully so. The rookie quarterback has come in and played virtually mistake free football while leading the Dallas Cowboys to the best record in football through 12 weeks. However, while this is a cute story, there are a lot of flaws in the idea of Prescott winning the MVP.
First and foremost, he's not the most productive player on his offense. Ezekiel Elliott has been a much larger factor in their offense. However, the fact that quarterbacks have won eight of the past nine MVPs works in his favor, though, he and Zeke could split votes.
Another big factor is that Prescott is a glorified game-manager. Granted, he's a very good game manager, but one nonetheless. He's hit the 300-yard mark just twice and has five games with one touchdown or fewer. The numbers just aren't there. Numbers do matter and Prescott's just aren't there. Ryan and Carr among others completely blow him out of the water. His saving grace is that other than Carr, his team has had a lot more success than teams like the Falcons, Chargers and Saints who have statistically superior quarterbacks.
However, there is one man looming large that could knock both the Cowboys off the MVP pedestal. That man is none other than Tom Brady. Brady is dping everything Prescott is doing except more efficiently and in fewer games.
To this point in the season Prescott has thrown for 2,835 yards, 18 touchdowns and two interceptions. He also has just one loss, has completed 67.9 percent of his passes, boasts an 8.34 yards per attempt average and a 108.9 rating. Brady has completed 68.4 percent of his passes with an 8.60 yards per attempt average with a 116.7 rating. He's also thrown for 2,201 yards, 18 touchdowns and one interception. He's put up those numbers all while playing four fewer games with an inferior offensive line and rushing attack compared to the Cowboys.
Assuming both players continue playing at their current level, it's hard to make a case against Brady. The bottom line is he's better in every aspect of the game and his team is doing just as well with Brady being a much more relied upon piece than Prescott.
Elliott should have the edge over Prescott as of now and perhaps Brady too. Unfortunately, quarterbacks are largely favored or he'd be the favorite. He's already rushed for 1,199 yards in 11 games with 12 total touchdowns and an additional 303 receiving yards. Those numbers are outstanding. There is an outside chance he pushes for 2,000 rushing yards and 20 touchdowns. It would take a lot, but is possible. Nevertheless, I just think the fact that he's not a quarterback, has such a great line and will likely split votes with Prescott will all combine to hurt him in the end.
Brady is your current MVP favorite and I only expect him to get stronger in December. He is a proven star down the stretch and his experience should pay off while making a playoff push. Prescott has been outstanding for a rookie, but a rookie nonetheless. The one advantage he has is a slightly more favorable schedule. Still, I don't think it will be enough to put him over the top. Either way it should be a fun race that comes down to the wire.
More from NFL Spin Zone
This article originally appeared on