Who Dats who did and Who Dats who didn't vs. the Seahawks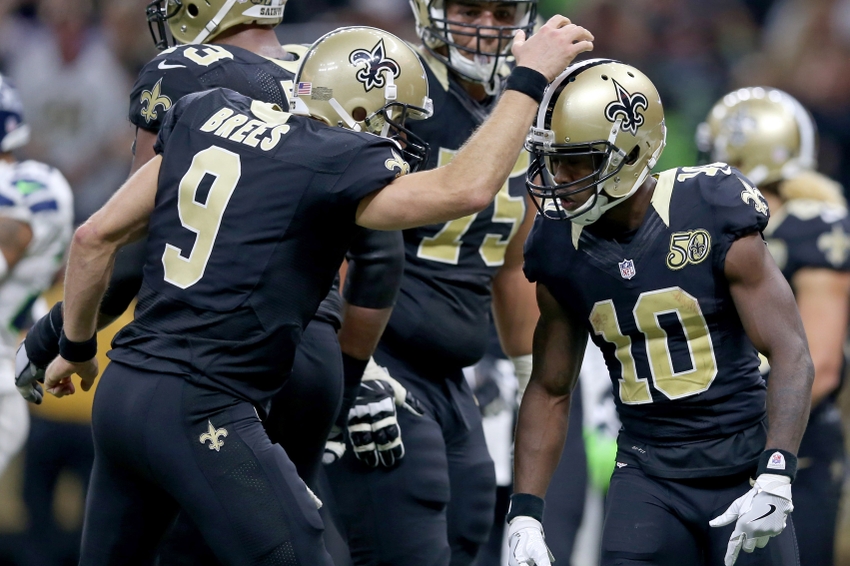 WhoDatDish.com takes a look at those who performed and those who didn't in the Saints' 25-20 victory over Seattle in Week 8.
With a win against a division leading team with a winning record—Seattle was 4-1-1 going into this contest—it's hard to pick out poor performances. But there were two. Other than that, the Who Dats really stepped it up against the Seahawks.
With a look ahead to Week 9 against a 1-6 San Francisco 49ers team, the Saints seem to be gelling at just the right time. Looking to possibly get back as many as three players on defense, Sheldon Rankins, Delvin Breaux and Sterling Moore, there's a growing sense of optimism in Who Dat Nation.
Let's take a look at who made it happen and who could have done better against Seattle.
Drew Brees has missed one game in his career in the Black and Gold. Through his tenure in New Orleans, he's been the undisputed team leader, and it showed against Seattle all that he brings to the table.
It wasn't a flashy performance; it was textbook game management which was exactly what was called for against a hungry and sometimes dominant Legion of Boom. Brees threw for 265 yards and 1 TD and no interceptions.  Those numbers won't put anybody up for FedEx Air Player of the Week honors. But they show the philosophy Brees went into the game with: wear them down, control the clock, be patient.
Ultimately the prime directive for this game was to make no mistakes, and Drew Brees pulled that off with smart managment. He did just enough, and that's all that matters when just enough means a win.
Saints free safety Jairus Byrd has been one of the most hated men in New Orleans recently. Called out on national TV against the Atlanta Falcons on Monday Night Football by Jon Gruden as being a "liability" and being indirectly questioned by fellow safety Kenny Vaccaro following last week's loss in Kansas City, Byrd stepped it up against Seattle.
He led the team with 8 tackles, and was flying around the field with a sense of purpose we haven't been seeing from him to date. It remains to be seen if this style of play continues to come out of the second year Saint, but for this week he gets noticed in a good way.
It's been a tough year for the Saints offensive line with seemingly one injury after another prohibiting them from playing all the starters together. They were finally back together as a unit against the Seahawks and had a dominant performance.
Against one of the most dominating defenses in the NFL the last few years, the Saints O-line gave up two sacks, but also opened holes for Tim Hightower all game long and kept Drew Brees upright when it mattered.
Furthermore, Andrus Peat is making great strides at left guard. That should be noted as he has been derided for much of his Saints career. He may never be the right tackle Sean Payton thought he was drafting in 2015, but he may have finally found his calling.
Terron Armstead is playing on a bad knee, one he has said may not get better until the offseason. But even playing with pain, he's one of the better left tackles in the NFL, and his future with the Saints brings to mind a young Willie Roaf.
If this starting unit of Armstead, Peat, Unger, Evans and Strief can stay healthy for the remainder of the season, the already potent passing game will only get stronger. In addition, add to the story in the making that is the next player on this list.
Tim Hightower was out of football for a solid three years after a devastating injury while playing with the Cardinals. The Saints brought him in in 2015 to add running back depth, and he performed very well late in the year in relief of an injured Mark Ingram.
In 2016 he's been nearly invisible until the Seahawks game.
Mark Ingram hasn't had much of a year and has surrendered potentially game changing fumbles in two straight contests. That caused him to be benched after allowing a fumble which was returned for a touchdown by Seattle's Earl Thomas. Prior to the fumble, Ingram had been ineffective against a solid Seahawks run defense.
Enter Tim Hightower. Taking full advantage of his first serious opportunity this season, Hightower put up 26 carries for 102 yards with a long run of 28 yards which set up a touchdown.
The running back controversy has already started in New Orleans, and it will be interesting to see who comes out on top, Ingram or Hightower as they face the NFL's worst rush defense in San Francisco next week.
Honorable mentions: Rookie kicker Wil Lutz, rookie receiver Michael Thomas, and the bend don't break Saints defense.
And now for a couple of examples of those who didn't.
Whether it was coaching, play calling, or the blocking, the Red Zone offense the Saints were in against Seattle looked horrible.
One such series had the Saints first and goal from the Seahawks 1 yard line. They ended up settling for a field goal. The play calling was unimaginative to say the least. Running up the middle against the Legion of Boom in a goal line defense is not recommended, yet the calls came in one after the other.
The only success came when Drew Brees lunged over the pile just inserting the tip of the football over the goal line. But when you have an offense the caliber of that in New Orleans, surely you can come up with some unexpected plays, (see Coby Fleener's "Cargo Sweep" from the Carolina game) to get into the end zone.
The Saints need to work on this.
Since coming to New Orleans when the Saints traded back up into the first round to take him in 2011, Ingram has never really lived up to first round expectations. With a drive killing fumble against the Chiefs and a fumble returned for a touchdown against the Seahawks, the Saints may be looking at a future going in a different direction.
It's been a while since the Saints had a 1,000 yard rusher, and Ingram came close in 2014 with 964 yards on the ground. But with a first round pick teams are looking for something more. With Tim Hightower putting up the team's first 100 yard ground game of the season, the doghouse might become more familiar for Ingram if he can't turn it around.
He'll get a shot against the horrible 49ers run defense in Week 9 but so will Hightower. The rest of this season will be a true test for the former Heisman Trophy winner and whether or not he can answer the call will tell the Black and Gold if it's time to move on.
This article originally appeared on