Who can the Seahawks pursue to add interior pass rush?
guga31bb/FanSided via 12th Man Rising

Fansided
Seattle's Cap Situation allows them the opportunity to address their defensive needs through free agency.
Going into the offseason, according to OTC, the Seahawks have about $33 million in cap space with very few unrestricted free agents they need to retain. For the first time in what feels like years, the team has the money to potentially go out and get an impact player or two.
There are arguably three pressing needs: offensive line, cornerback, and interior pass rush. For reasons outlined here, it would be surprising if the Seahawks made a big ticket FA o-line signing. That leaves the defense.
my Defense wish list 4 Seattle would be (1) Free Agent Interior Pass Rusher (2) Nickel Cb Early Draft (3) SLB & Safety Depth Mid/Late Draft

— DAVIS HSU (@DavisHsuSeattle) January 18, 2017
I agree with Davis here in that the secondary should be addressed mainly through the draft (hopefully the team learned its lesson with Cary Williams) and the team should go out and get an interior pass rusher.
Players on the Market
Here is a list of all players that are listed as UFAs by OTC who play DT or 3-4 DE who had at least 8 pressures this season, as counted in Football Outsiders premium charting stats:
Pressures: number of pressures as given in FO charting stats
NFL1000 pctile rank: percentile rank in position by NFL1000. For example, the "96" for Short means that he graded higher than 96 percent of DTs
Only Short and Campbell average more than one pressure per game (for comparison, Michael Bennett had 1.5 pressures per game and Tony McDaniel 0.4). Short and Hankins were both drafted in the 2nd round in 2013 (Seattle could have had either, but instead traded their late 1st round for Percy Harvin). Since both are young, coming off rookie deals, and, at least according to NFL1000, very productive, they will probably both be out of Seattle's price range.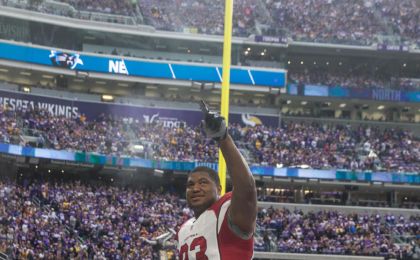 Could the Seahawks go after Calais Campbell?
I will leave it to the film experts to say whether he would be a scheme fit, but since Campbell is an older player he might not break the bank to the extent that Short, especially, would. Noted Seahawks cap expert Evan Hill (@evanonhb) thinks Campbell could get $8-9M per year for 3-4 years (conversation shared with his permission)
Will the Seahawks do it? Who knows. But I'd be thrilled if Seattle got him on this contract.
More from 12th Man Rising
This article originally appeared on