Whither Bortles?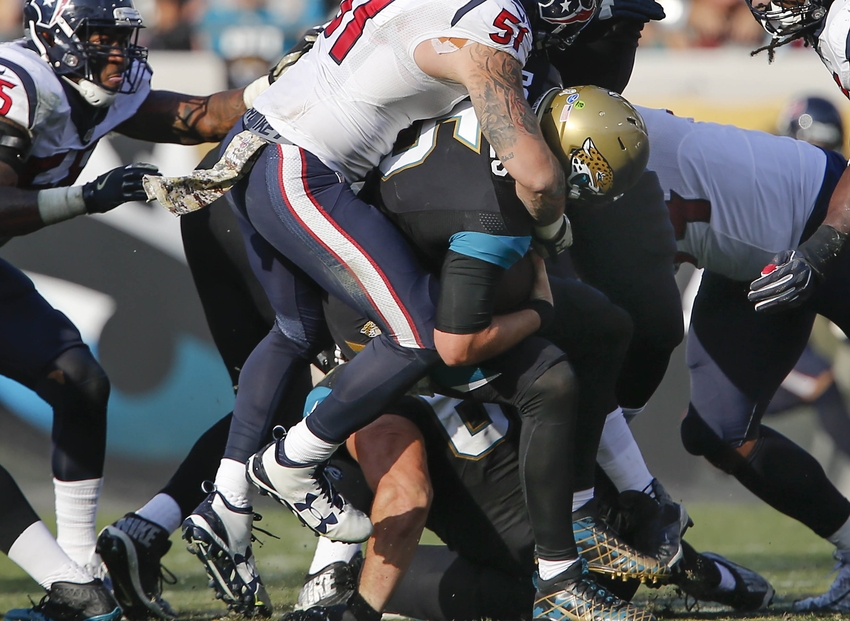 What does the future hold for the former top 3 pick?
Blake Bortles came out of the 2015 season on a high note. He put up good stats and a lot of pundits thought that he was a potential breakout star for 2016.
Fast forward a year and the Jaguars are mired in the muck. The highly priced defense isn't doing their job and the offense looks stuck in neutral. Bortles' mechanics appear to have regressed along with his production.
Worst of all, a lot of his positive production in 2016 has been from garbage time. As you clearly can see here his stats look best when down two scores.
The list of quarterbacks who trick fans and teams into thinking that they're good because of the garbage time stats that they rack up is pretty long. But Bortles isn't even accomplishing this. He's seen as a lazy bad quarterback who isn't a threat to beat anyone.
With major changes looming in Jacksonville, is Bortles potentially on his way out? The short answer is yes. Bortles' time in Jacksonville could be coming to an end.
The big issue deciding this is his contract. He has one more year left on his rookie deal. And if a new regime who didn't draft or coach him decides that they want a new direction, they'll move him.
It's very plausible to see a potential replacement package deal: Kyle Shanahan is hired to be the head coach and he signs Kirk Cousins away from Washington when he hits free agency.
But NFL teams usually pick the lazier option. Doing something new carries far more risk than the status quo.
There is a logical case that Bortles, with the right supporting cast, could become a consistently good quarterback. He really hasn't had a good supporting cast in Jacksonville.
Take his offensive line for instance: Luke Joeckel has been a major bust for the Jags. And they really haven't done much to put together a consistent offensive line.
Hurns and Robinson have had inconsistent success. The problem has been Julian Thomas and Marquise Lee. They have been major problems for the passing attack. Also the running game has been far too inconsistent.
It all comes back to their offensive line. No matter who's the quarterback in Jacksonville in 2017, he'll need an offensive line or they'll struggle like Bortles has.
More from With the First Pick
This article originally appeared on