Which Missing Buccaneers' Player Must Step Up?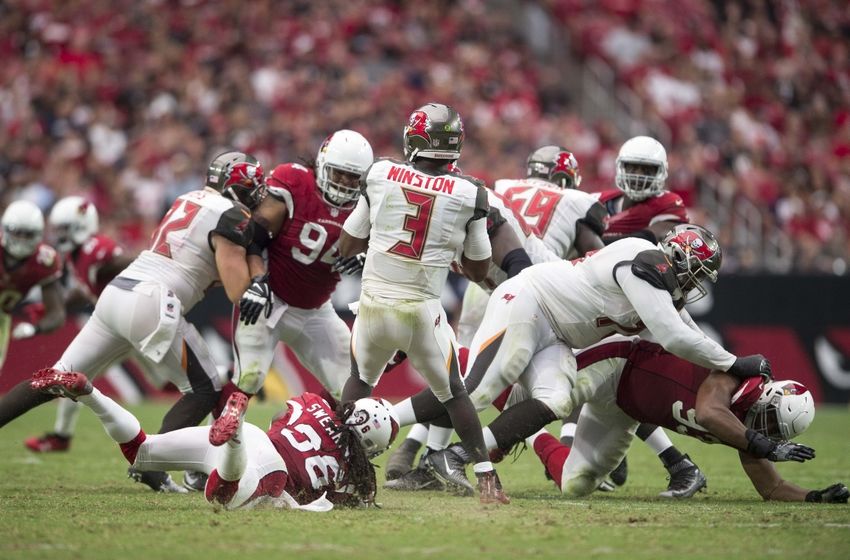 Which Buccaneers' player has been absent over the first two weeks, and must step up big time?
More from The Pewter Plank
The Buccaneers enter Sunday's action with a 1-1 record. We have seen some excellent work by the Bucs in week one, and we have seen the opposite end of the spectrum in week two.
It's been a Jekyll and Hyde start for Tampa Bay, and game number three will be their chance to set the next part of the schedule off on the right foot.
We know the team is going to be short-handed, as we learned in the Friday injury report. Big name players like Doug Martin and Robert Ayers will be watching from the sidelines as their understudies look to lead the Bucs to victory.
Over the first two games, however, there have been players that have been noticeably absent over the first two weeks, and need to step up. This week's roundtable discussion is about which players need to step up the most, as they have been the most absent.
Here is what we came up with. As always, each slide is dedicated to one of our staff members.
The Bucs' player that needs to wake up is Lavonte David. After an OK week one performance he failed to record a stat in Week 2. Yes, the same Lavonte David that recorded five tackles in 56 straight games failed to record a single tackle in Week 2. It's not like he was injured or anything he played all 66 snaps. I can't believe I'm saying this but Lavonte might actually miss Greg Schiano. I miss the level of football he played under Schiano for sure.
The Rams like to utilize their offensive strength, Todd Gurley. Lavonte David has the speed to chase him down so I have a feeling that double-digit tackles for him is definitely within the realm of possibility. Bleacher Report analyst and former Bucs' quarterback Chris Simms even stated that Kwon Alexander has surpassed David as best linebacker on the team.
Now I'm not saying that I agree with him but if Kwon keeps making plays and Lavonte slips up a little than he may move down the totem pole. Mike Smith has two Lamborghinis just sitting there one of them is a newer sleeker model but one of them needs a quick tune up to get back to normal performance level.
The most absentee Buccaneer over the first two weeks is the veteran receiver Vincent Jackson. 33-year-old Jackson has recorded just 6 catches for 62 yards over the first two games and has been unable to get open down-field. For the Bucs' offense to really get going, especially in the absence of Doug Martin, the Bucs need Jackson to get going.
They put a lot of eggs in the Jackson basket this offseason by not going after a young playmaker and, for the most part, leaving the receiver position unattended. With an up-tick in passing for the next few weeks expect to see Jackson's targets jump. It's on him to capitalize on those opportunities.
I think there are a lot of good choices for this one, but I'll go with Akeem Spence. Spence was never going to be the top guy on this new Bucs' defensive line, but he came into the year as someone with an opportunity to play a solid supporting role. Through two weeks, he hasn't produced much for Tampa Bay, coming up with just one tackle. He has taken 26 snaps total through the first two games, which makes him look like an afterthought in the team's defensive plans.
Spence has never been a world-beater, but he's capable of a lot more than he is showing. Although his opportunities have been limited, he hasn't been very effective in what little chances he has gotten. He certainly hasn't looked like a guy that's in his contract year. This Sunday and throughout the coming weeks, Spence is someone that has to take advantage of his opportunities if he doesn't want to lose them altogether. 
For the past two weeks the Bucs' player that has been absent the most is Vincent Jackson. Jackson has almost been irrelevant. From running the wrong routes in week one, to just a lack of motivation in week two, Jackson is slowly easing his way out of Tampa.
This week for the Bucs will not be easy. Starting running back Doug Martin will be out until after the bye week. This means that both Charles Sims and Jameis Winston need to up their game. Without a threat like Martin in the backfield, the ball will be forced into the air. If all the Bucs' have is Mike Evans… it could be an extremely long few weeks. I've said it from the start, receiver depth will come back to bite us. Wake up V-Jax! We have waited long enough!
Vincent Jackson has been the most absent player in the first two weeks and the Bucs need him to step up now.
VJax has been a fan favorite since coming to Tampa, but the fanfare con only continue for so long before the patience runs out.
At times this year Jackson has looked flat and disinterested in the offense and its success. Last year he got a pass because of his injury problems, but this is supposed to be the season this unit turns a corner and he is a big part of it.
Evans was the only option in the passing game last year and we all saw how it went. He can't do it alone and while Humphries is making strides towards becoming a consistent option, this offense needs their veteran to step up.
He may be past his prime, but Jackson can still be a top talent in the NFC South. He acknowledged the need for himself to improve in the field this week, so it'll be interesting to see which version we get.
It has to be Vincent Jackson. I spoke about this Wednesday here on the site and spoke about it on The PewterCast this week. Vincent Jackson, thus far, looks disinterested and emotionally removed from the game.
Now, Jackson has said all the right things this week – he's working hard, feels great, feels like he's playing at a high level, no chemistry issues with Jameis – but we have to see it. And with the loss of Doug Martin to injury and Austin Seferian-Jenkins to stupidity, the Bucs are facing a must win situation and in dire need of a reliable weapon to step up.
We all love VJax and want to see him play like the guy we've known for the last four seasons. On the surface, it appears he still believes he is that player and things will be just fine. However, if there were ever a time for Jackson to snap out of this game day funk, it's Sunday. It doesn't matter how impressive he is on the practice field when it's not translating to Sunday.
I told everyone I hoped I was overreacting, that VJax would do what we're accustomed to seeing and shut me up. Well, the Bucs need him to do that this Sunday if they're going to overcome so many lost offensive weapons.
The Bucs' secondary was bad in 2015. We know that and things and to change. Jason Licht made wholesale changes to this group in order to turn the fortunes around and bring the pass defense up to the level of the run defense. That hasn't happened so far, as the Bucs are ranked 28th in pass defense so far this season, and quarterbacks have thrown for a passer rating of 113.3.
Leading the way so far is a guy who has been disappointing, Brent Grimes.
Grimes was known as a player that could make a play on the ball despite his small stature. We have not seen it so far. He has had a tough time with two of the league's very best in Julio Jones and Larry Fitzgerald. Each scored a touchdown in their matchup with Grimes, and though they both posted under 100 yards, Jones and Fitzgerald posted 66 and 77 yards respectively. Grimes needs to lead this young secondary, and he struggles to keep up. Sunday is a good time to turn things around.
Who do you think most needs to step up?
This article originally appeared on