Which Chargers deserve a Pro Bowl nod in 2016?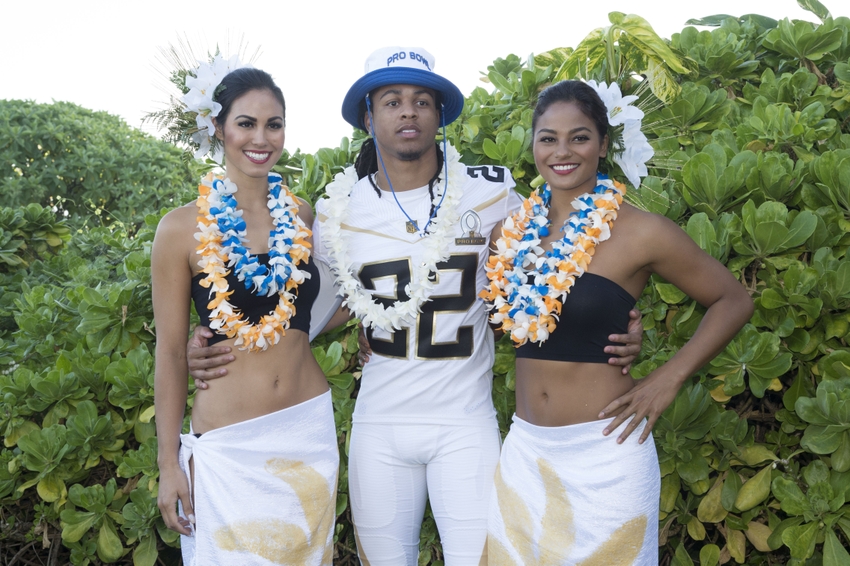 The Chargers had one player appear in last year's edition of the Pro Bowl, and that player is currently on injured reserve with a torn ACL. That player is Jason Verrett.
Only one season after the Chargers have an opportunity to send many more faces to Orlando. Here we'll take a look at why or why a player shouldn't be voted to the Pro Bowl.
Casey Hayward is my top Pro Bowl pick for the Chargers. Even Philip Rivers agrees:
Rivers on which of his teammates should go to Pro Bowl "the first guy that jumps to mind is Casey Hayward…He's been so good."

— Marty Caswell (@MartyCaswell) November 28, 2016
After being a nickel corner in Green Bay and essentially being told he wasn't needed, the the five-year veteran has become San Diego's No. 1 man. He leads the league in interceptions with six, which is the most by a Charger since 2011. In comparison, Green Bay's defense has just eight total interceptions this season.
Joey Bosa got bashed by the league and his own fans after his long holdout, which essentially resulted in missing the first four games with a hamstring injury. Since he's entered the lineup, he's never looked back.
The rookie defensive end has constantly been in opposing backfields. Whether it's reeling in sacks, pressures or knocking the running back down in the backfield for a loss, he's made a huge impact for the Chargers. Bosa is making a strong case for Defensive Rookie of the Year, and the Pro Bowl should be another accomplishment in his impressive rookie campaign.
After almost being labeled a bust after his nightmarish rookie campaign, Melvin Gordon has come out to shut his haters up, racking up 908 yards on the ground (No. 4 overall in rushing) and another 365 through the air through 12 weeks. Not to mention, he's scored 11 total touchdowns for the Chargers this year, which is good for fourth-most in the league. The number of touchdowns he scored last season? Zero.
The 2016 first-rounder has made a strong case for Comeback Player of the Year. And similar to Bosa, the Pro Bowl should be just another reward after a huge bounce-back season for the sophomore runner.
It seems that every time Philip Rivers is voted in, he turns down the Pro Bowl, but it would be great to see Philip out there again. Rivers ranks No. 4 overall in passing yards this season and has thrown for 23 touchdowns against 12 interceptions. He has consistently broken records, most recently throwing for 3,000 yards for the 11th consecutive year, which is tied for fourth-most in NFL history.
We're talking about a QB who never misses starts and always finds a way to keep his team in games, even if his supporting cast is so-so. If the likes of Eli Manning are being voted into the Pro Bowl, there's no reason Rivers, who does just as much with less, should miss the game.
The amount of growth Melvin Ingram has seen over the last two seasons is incredible. After three injury-plagued seasons, the linebacker lost weight and hasn't missed a game since the start of the 2015 season. Now a team captain in Manti Te'o's absence, Ingram also leads the team with six sacks and three forced fumbles. Ingram, who is in contract year, has become an anchor on the defense. After two solid seasons, he deserves your Pro Bowl vote!
Many would think this a long shot because of how raw the wideout is, but what the undrafted free agent has been able to do in his second year is impressive. At first, Williams thought he would have an increased role when Stevie Johnson went down, but when Keenan Allen was lost for the season after only two quarters, Williams' destiny was clear.
Williams leads the team with 790 receiving yards and is tied with tight ends Hunter Henry and Antonio Gates for most receiving touchdowns with five. He has showed that when the team needs him, he can take a slant to the house or simply burn the defense for a deep TD. He's helped keep the Chargers relevant, and a Pro Bowl trip is one way to thank him!
All other rookie tight ends in the league (minus Hunter Henry) have combined for five touchdowns this season. Henry alone has reeled in five this season. It looks like he's the replacement for Gates we've been waiting for (you know, since Ladarius Green never became that guy).
Even with a banged up knee, Henry has scored in his last two games and is another rookie who has come in and made the Chargers' offense better than last year's. He has more than earned himself your Pro Bowl Votes, so make sure to keep all of this in mind when voting for the 2017 Pro Bowl!
This article originally appeared on