When Is the Ideal Time for the 49ers to Dump General Manager Trent Baalke?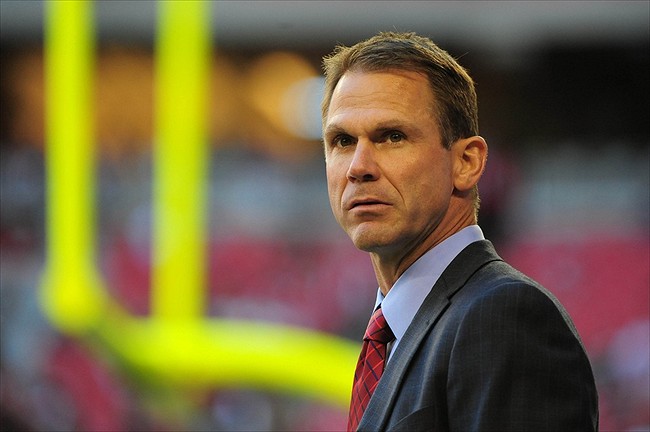 With a 1-4 record and a roster hurting for talent, it's safe to say San Francisco 49ers general manager Trent Baalke is on borrowed time. Assuming he's fired, when would such a move take place?
The San Francisco 49ers aren't going anywhere in 2016, and general manager Trent Baalke is largely responsible for what's happened in Santa Clara over the last two dreadful seasons.
San Francisco 49ers: 2017 Should Be the Last for GM Trent Baalke
We can complain all we want about "Baalke should have done this" or "Baalke should have done that," and maybe that would make us feel better. But the reality of this situation points towards the future. Not in the past.
Baalke is on the hot seat. And for good reasons. Last January, CEO Jed York hinted at such after the Niners parted ways with former head coach Jim Tomsula and signed Chip Kelly to helm the on-field efforts.
And Tom Gamble's promotion to assistant GM only fueled the speculation.
Now, with the 49ers 1-4 and a roster devoid of talent, one has to ask when San Francisco should part ways with its current general manager and start looking in a new direction.
Let's look at the possibilities and try to determine the best time. But, as is so often the case, the Yorks will have their own agenda and one not necessarily based on what should be done and when.
We'll get to that too.
Prior to Week 6
Such a context would mean, essentially, this happens immediately. The only problem is, with each passing day, the likelihood of an immediate firing diminishes.
It's worth suggesting the Niners should move on from Trent Baalke at the soonest possible moment though.
Steve Berman of Bay Area Sports Guy suggested this as the route to take. He wrote:
[We'll] get to determine next year whether the 49ers have a quarterback around whom they can build, and whether or not Chip Kelly and his staff know what they're doing. But those are open questions. We know Baalke is not the answer, so there's no point in delaying the inevitable. Unless York still believes in him … in which case, buckle up — because more 5-11 seasons are on the way.
Essentially, Berman argued there's no point in retaining Baalke if he's already on the fodder list this season. And any moment with Baalke in his current role is, with little question, wasted time.
It makes sense. Why not give a replacement, such as Tom Gamble as an interim GM, the added time to prepare for this upcoming offseason. Time is valuable in the NFL, and the Niners need as much as they can get.
The only issue with this notion is, well, the Yorks have a history of making such decisions after the season is through. It will affect any dismissal between now and January.
If there is a bonus to keeping Baalke around for a while, it may be his knack for acquiring extra draft picks. "Trader Trent" received draft compensation for tight end Vernon Davis last year, who was probably worth next to nothing on the market.
But that's about it.
After Week 8
Bookmark Week 8 on San Francisco's schedule.
A number of key dates take place here. First, the 49ers have a bye. It falls almost directly in the middle of the season, and it's possible we see some major changes both in roster personnel, depth and, possibly, within the front office.
It also makes sense because the NFL trade deadline takes place on Tuesday, November 1 — right after the bye week.
Remember what we said about Baalke landing picks? It's possible the GM moves a handful of commodities leading up to the deadline, which lands San Francisco some more precious draft picks down the road. And the Niners need all they can get right now.
The only problem with this is how much effort would Baalke want to put in if he truly believes his job is on the table?
He may want to have one last stab at polishing his resume, and such transactions can look good. But other teams know that too.
Let's throw in another possibility after Week 8 — sometime between then and Week 17.
It's another possibility, and perhaps one which reveals a shortcoming of moves that further set San Francisco back. Again, does CEO Jed York want to make a mid-to-late-season move?
Hard to say.
After the Regular Season
This is probably going to be the likeliest of scenarios. And there's a history behind it.
If you believe the whole "scapegoat theory" laid out by Tim Kawakami of the San Jose Mercury News, the 49ers front office will need its next target come January. And Trent Baalke is it.
The history is there for a postseason firing though. Two years ago, former 49ers brass members Jim Harbaugh and Greg Roman got the axe. It was Jim Tomsula and offensive coordinator Geep Chryst a year ago.
It's Baalke's turn now.
Such a move would address two things from the York's perspective. First, it would absolve any sort of blame placed on CEO Jed York. Remember the whole accountability argument? Well, he couldn't say he wasn't being proactive, right?
Second, firing Baalke would send a "hey, we're trying" message to the fans. Sure, this would probably alleviate a lot of grief within the 49ers Faithful. But such a move could have happened years ago. It didn't, and here we are.
Assuming things on the field don't change — it's unlikely they will — we should expect this to be the most likely of choices.
Trent Baalke Isn't Fired
There's another scenario we have to explore. And it's one which will likely cause plenty of frustration and resentment among the fan base.
What if Trent Baalke isn't fired?
"No way," you say. Well, it's not out of the realm of possibility.
CEO Jed York has stood by Baalke through plenty of odd circumstances. York backed Baalke when the latter was at odds with Jim Harbaugh, despite Harbaugh having the most successful Niners head coaching tenure since George Seifert.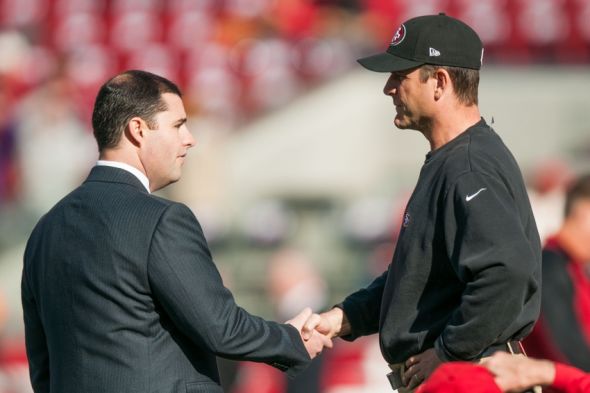 Baalke may try to save his job by some aggressive — or even not-so-aggressive — moves between now and January. He can point to players like tackle Trent Brown, cornerback Rashard Robinson and possibly even defensive linemen Arik Armstead and DeForest Buckner and say, "Look, I'm laying foundations here."
The question is whether or not York will buy it.
In spite of what you might think, York isn't wholly concerned about fans' opinions and frustrations. And Baalke's job might be safe simply because, well, York has backed him for so long regardless of any on-field issues.
Fans would continue to hear the rhetoric about the 49ers dynasty, winning and all the comments front offices like to make about the direction of their respective teams.
But what would change? If Baalke stays, probably not much.
All statistics, records and accolades courtesy of Pro-Football-Reference.com andSports-Reference.com unless otherwise indicated.
This article originally appeared on