What we're thankful for: NFL Edition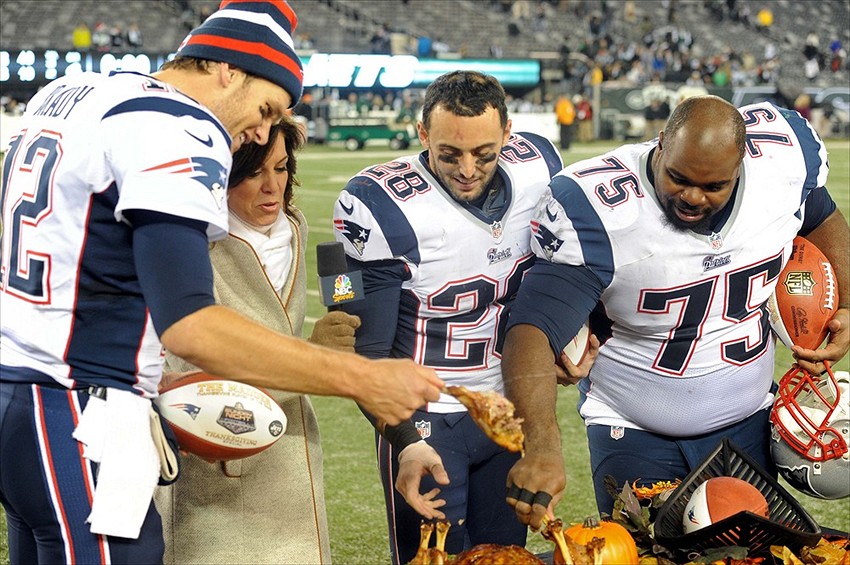 Don't know if you've heard but Thanksgiving is a few days away, it's a popular holiday in America. 
With Thanksgiving coming this Thursday, it's the perfect time to go around the NFL Thanksgiving table and see what the 32 teams of the NFL are thankful for this holiday season. Of the 32 teams, 31 have been happy at some point this season while the Browns have been well, the Browns.
So let's head to the NFC table and see what the teams are thankful for this holiday season.
Dallas Cowboys: What we're most thankful for this holiday season is the fact we have two rookies killing it. They're pretty much both going to be MVP candidates this season.
Philadelphia Eagles: We're most thankful for Carson Wentz because he's not Sam Bradford.
New York Giants: This Thanksgiving, we the New York Giants are thankful that the budding relationship between Odell Beckham Jr. and the kicking net has not effected our play on the field, yet.
Washington Redskins:  We're most thankful that our gamble on Kirk Cousins is paying off big time. Can you imagine being the team that signed Robert Griffin III. What a bunch of suckers.
Chicago Bears: This Thanksgiving, we're most thankful for the Cubs winning the World Series so nobody is talking about how bad we are.
Detroit Lions: We are very thankful because for the first time in what seems like a century, we host a Thanksgiving Day game as a team in first place. You hear that Calvin Johnson? We don't suck!
Green Bay Packers: What we're most thankful for is that is this season is almost over because we have turned into a complete tire fire that needs to be put out quickly.
Minnesota Vikings: We're thankful for what Sam Bradford has done for us but we're just hanging on for dear life at this point. Atlanta, take over now. We're slipping!
Atlanta Falcons: We are thankful that Carolina and New Orleans have stumbled and Tampa Bay won't be threat. Whew, now when do we host that playoff game?
Carolina Panthers: We are thankful that Cam Newton is starting to return to the Cam Newton of old. Now, if we can only go back in time and get Josh Norman a bigger contract then we'd be much happier at this table.
New Orleans Saints: This Thanksgiving, as we sit around the table. We're most thankful for having a future Hall of Fame quarterback in Drew Brees because if we didn't have him, we'd be as bad as the Browns right now.
Tampa Bay Buccaneers: We're just thankful that it's not as bad as it could be to be honest.
Arizona Cardinals: As we sit at the Thanksgiving table, we're just thankful nobody is talking about us as one of the great disappointments this season.
Los Angeles Rams: Oh, they are Arizona. Trust us. Anyways, we are most thankful for being the only team that's playing in Los Angeles right now and the only team that will ever play in Los Angeles. That's right Chargers and Raiders, stay away!
San Francisco 49ers: We're just thankful that Blaine Gabbert isn't our QB anymore.
Seattle Seahawks: We are thankful for the fact we've got it together and we're a Super Bowl contender again, that's right Dallas we're comin'!
Buffalo Bills: We're happy that we aren't the worst team from New York in this division!
Miami Dolphins: We're thankful to have shaken all of our early season woes and now we're contenders!
New England Patriots: We've got Tom Brady. Need we say more?
New York Jets: This Thanksgiving we're thankful that we're not the worst team in the AFC.
Baltimore, Cincinnati and Pittsburgh together: We're thankful we aren't the Browns.
Cleveland Browns: No comment.
Houston Texans: We give thanks for the fact that we overpaid for Brock Osweiler and it still might give us the division!
Indianapolis Colts: We are thankful that we haven't had to fire Chuck Pagano because we have no plans on a possible replacement!
Jacksonville Jaguars: We're thankful for everybody else being so bad in this division that we actually still have a chance!
Tennessee Titans: We're thankful for our abundance of youthful talent and the fact that the AFC South is so bad we still have a chance.
Denver Broncos: This Thanksgiving, we're thankful for our all-time, legendary defense because our offense is AWFUL!
Kansas City Chiefs: We're thankful for surviving the close scrapes we've had so far this season. Now, if we can only get a consistent quarterback.
Oakland Raiders: Thanksgiving makes us reflect on the fact that we are thankful for our young talent and a return to greatness.
San Diego Chargers: We're thankful to have a home in San Diego. I mean, we hate it and it's terrible and we are wanting to move so bad but it's a home, right? Pass the stuffing please!
This article originally appeared on