What is Jim Caldwell's Future with the Lions?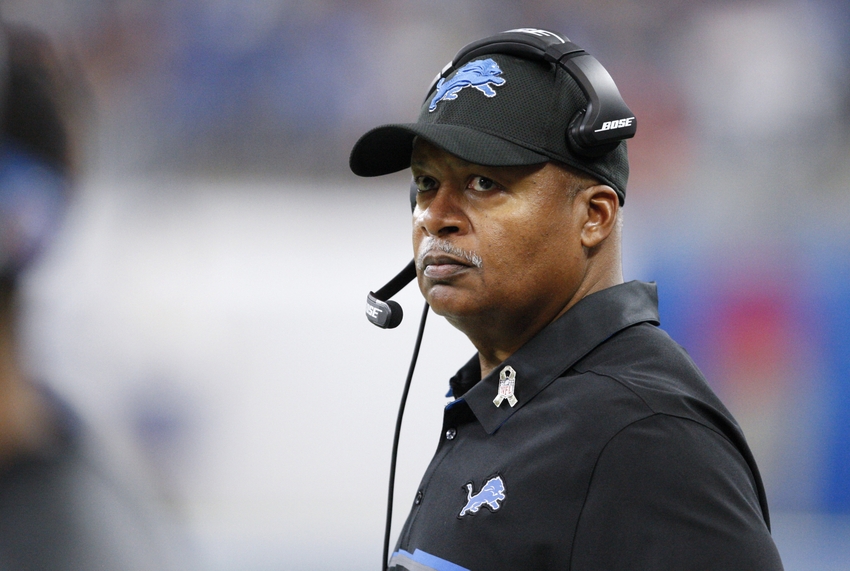 Last offseason a lot of buzz surrounded the job security of Detroit Lions head coach Jim Caldwell. This new regime kept Lions faithful guessing on whether they were going to keep him around. And once they decided to stick with Caldwell, everything shifted to how hot his seat was. And after four games the Lions looked lost at 1-3. Personally, I believed he would last another week or two. But now after a season of last moment comebacks, Caldwell's job is now much more secure. But honestly, did he ever have a chance outside of this season? Let's look at some different scenarios that could happen to this confusing Lions head coach.
The first approach to this is the idea that Caldwell was basically doomed from the start of the year. With Bob Quinn ushering in many of his own people, he was able to keep Caldwell around in year one as the fall guy. If the team succeeds, it looks good for Quinn, and if they suffer it looks bad for Caldwell. And even though they're winning right now, Quinn could argue the team should have performed even better. Look for this to be the case if the Lions fall and don't make the playoffs this season. The fault will be on Caldwell before anybody else.
The second scenario that could play out is Detroit does make the playoffs but don't make an impact in them. If this team manages to either win the division or a wild card spot, but get knocked out of their first game again, Caldwell might be gone. The idea here would be that Caldwell has maxed out his impact upon the team. It wouldn't be a new for a team to make the playoffs and fire their coach in hopes of sparking something special.
One example are the Broncos, who fired John Fox and replaced him with Gary Kubiak and a championship. Sure the level of that team may have been different, but they weren't getting any better with Fox running things. The opposite of this are the Bengals, who have been with Marvin Lewis for way too long now. They almost always make the playoffs, but sans a Carson Palmer year or two, they haven't even smelled like contenders. So sticking with Caldwell might lead the Lions on a path of mediocrity.
The last angles to look at are Caldwell friendly. The first of them is obvious, win the Super Bowl. Honestly, if he managed to do that I don't think the Lions would ever fire him. After so many years of struggling, they would have to let him coach the rest of his career in Detroit.
The next scenario is the one that I believe will happen. Detroit will make the playoffs and thus Caldwell will have secured himself for at least another season. Coming in many weren't high on the Lions. It seemed as if a .500 season was going to be good enough to keep everybody happy. Now the Lions are winning in an insane fashion, and really seem to have something special brewing.
I think Detroit has already outplayed all expectations. Matt Stafford deserves a lot of praise. Caldwell however, deserves some of the praise on that growth. I mean, he was brought in due to his history of working with quarterbacks, specifically, Peyton Manning. For both of them, I hope this season isn't just a fluke. And after the Lions make, and maybe even win, in the playoffs, Caldwell will be off the hot seat. But probably not for that long. I think that he's one more shaky start to a season or team implosion away from getting canned and giving Quinn a chance to pick his first head coach.
Whatever happens with Caldwell and the Lions I know one thing every fan and the organization can agree on. They just want to see a Lions team be more than just promising and filled with potential. Just win Jim, just win.
More from SideLion Report
This article originally appeared on