What if the Philadelphia Eagles had never traded Sam Bradford?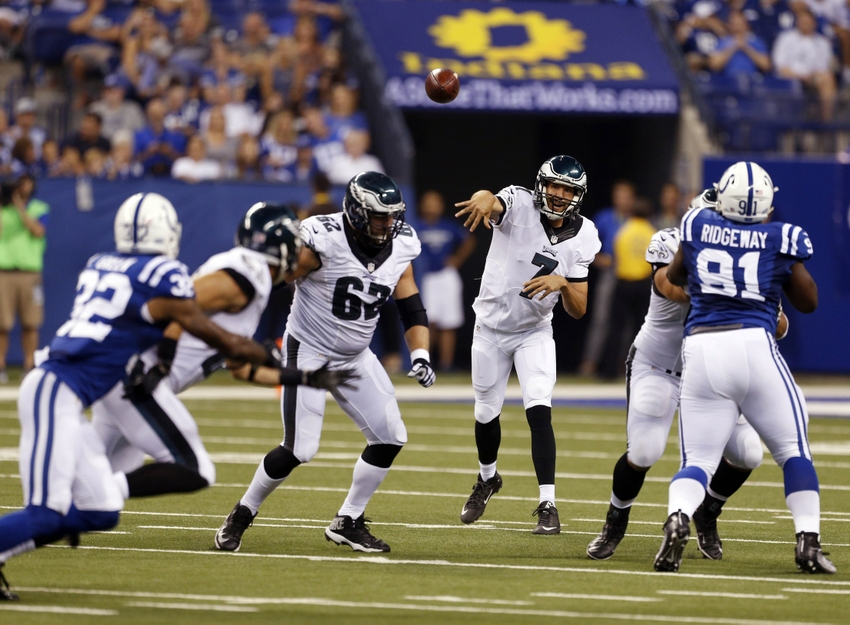 The Philadelphia Eagles welcome a former teammate back to Lincoln Financial Field on Sunday.
Quarterback Sam Bradford spent the 2015 NFL season as the starting quarterback for the Philadelphia Eagles. He played in 14 games, and those 14 games arguably changed the fate of this franchise forever. Bradford, for the third time in five years, was unable to complete a 16 game season healthy.
His coach, Chip Kelly, was rebuilding an Eagles offense that had shipped off several fan favorites. That was perfectly normal for his tenure. Three of the offense's biggest contributors, DeSean Jackson, Jeremy Maclin and LeSean McCoy, were all unceremoniously dismissed. All were still productive, but they were replaced by players who weren't as talented. The 2015 season was full of sweep plays to DeMarco Murray, a running back better suited to run the ball downhill. Bradford was forced to run plays as called. He was unable to make important adjustments at the line, and as a result, what was supposed to be a high powered offense became a team that put its' defense on the field for long stretches of game time. More often than not, they were usually in some pretty bad spots.
Then it happened.
The way it ended:
With all of this working against him, Bradford turned it on and played well down the stretch. Due to a strange turn of events (and some bad play by their divisional rivals), the Eagles walked into week 16 still in control of their playoff fate. They responded by laying an egg at home against the Washington Redskins. Kelly was fired following week 16 following a 6-9 start. The team followed their pathetic performance against the Redskins with some of their best football of the season the following week in New York. Questions were asked like where that type of play had been all year and if more of that could be expected in the 2016 campaign.
Former Eagles quarterback and assistant coach Doug Pederson replaced Kelly. The Eagles' brass responded by seemingly shipping out just about everybody that connected this team to its' former head coach. Some of the team's new nucleus stayed (Lane Johnson, Zach Ertz, Nolan Carroll, Malcolm Jenkins and Nelson Agholor). Then Bradford held out in the off-season, was given an extension, and the Eagles traded up to get Carson Wentz (who they would have had no shot at getting if they would have made the playoffs). Bradford was traded with about a week to go before the regular season started. He's responded by leading the Minnesota Vikings to an undefeated record, and he returns to the city that possibly reignited his career, albeit for a mere 14 games, and re-introduced him to the NFL as a legitimate starter.
There are so many stories in this upcoming game, you could talk about them until week eight.
The aftermath of the most surprising move of the Eagles' off-season:
What if Vikings quarterback Teddy Bridgewater had never gotten injured? The Vikings would have never traded for Bradford, Bradford is still the Eagles' starting quarterback and Wentz is still on the bench. There'd be no "Wentzamania", no mention of a "Wentz Wagon" in President Barack Obama's speech and no bomb from Wentz to Agholor against the Cleveland Browns.
How successful could Bradford have been in the green, black, silver and white of the Eagles this season? What if he had the power to finally call an audible? Who knows if the Eagles would have started 3-0. We'll never know the answers to those questions because the fact is Bridgewater did go down, the Vikings needed a signal caller and a move was made between the Vikings and Eagles that may end up working out for both teams.
Are the Vikings undefeated because of Bradford? Not entirely. We're talking about a team that's doing all of this with a future NFL Hall Of Fame inductee missing at running back. The Vikings are good. They may even have a quarterback controversy brewing when Bridgewater returns, but for now, all is well in Minneapolis.
All is well in Philadelphia as well. They've finally found their franchise quarterback. Now it's time to turn this losing streak around. It won't be an easy task.
More from Inside the Iggles
This article originally appeared on