What do we know about the Eagles following their loss in Dallas?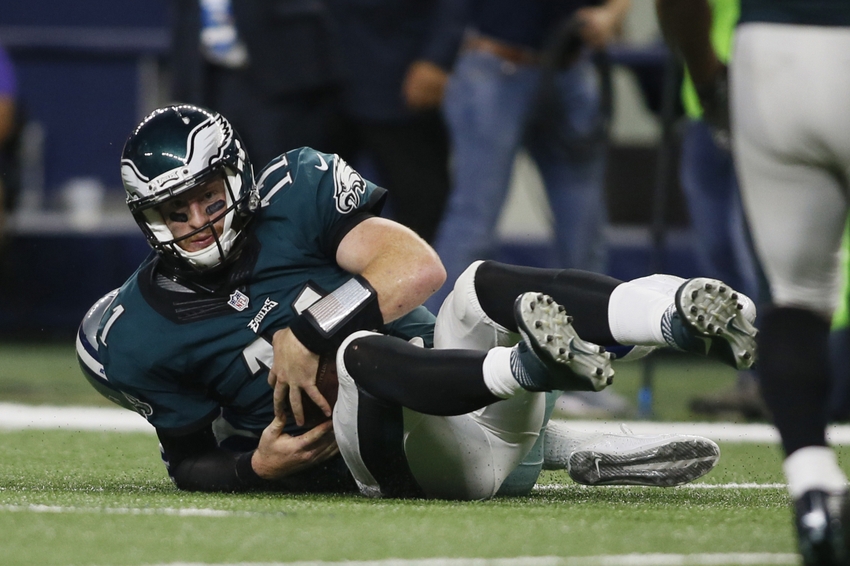 The Philadelphia Eagles squandered several opportunities to win the game on Sunday.
The Philadelphia Eagles lost in an extremely disappointing game against their division rivals on Sunday. The Dallas Cowboys mounted a fourth quarter comeback and eventually won the game in overtime. What do we know now? There's a lot to discuss, so let's dive right in.
Philadelphia Eagles Need To Bring Their 'Big D' To Dallas
On offense:
Head Coach Doug Pederson looked like the rookie head coach he is. Several terrible decisions ended up costing the team a chance at victory. The most perplexing of those decisions was his play call late in the game on third down in Dallas territory. Pederson opted to throw a screen pass in the flat to veteran Darren Sproles roughly six yards behind the line of scrimmage. It did not go well. The Eagles were pushed back into what seemed to be a 53 yard field goal attempt. Instead, Pederson chose to punt despite the fact Caleb Sturgis hasn't missed a field goal since week one. Sturgis also nailed a 55 yard field goal earlier in the game (two if you count the one he nailed prior to the Dallas timeout). Pederson has to trust his kicker in this situation.
The offensive line played as well as it could have in the game. Rookie tackle Halapoulivaati Vaitai was impressive yet again as he continues to get stronger each week. Center Jason Kelce battled through some pain and Stefen Wisniewski did a nice job replacing Allen Barbre, who was injured in the contest.
The receivers on this team are really restricting this offense. Jordan Matthews is a solid player, but the team, as a whole, is hard to watch because it lacks a serious play-maker. Carson Wentz has consistently been let down by his teammates because of drops and penalties. Dak Prescott got all of the attention after Sunday's game, but he was far from impressive. If you've watched them both play this season, it's clear who the better quarterback is right now, and the answer is Carson Wentz.
Want your voice heard? Join the Inside the Iggles team!
On defense and special teams:
The defense desperately missed defensive tackle Bennie Logan. Beau Allen is a good rotational player. He just doesn't impact a game like Logan does. Logan is a rare talent that is vital to this team's success against the run. Jordan Hicks had another nice game and continued to show just how explosive he can be. He's one of the fastest "MIKE" linebackers in the league and is fun to watch. Defensive end Brandon Graham is also fun to watch. He's performing at an all-pro level. He disrupts opposing offenses every week and always seems to be in on key plays. Expect him to continue to wreak havoc on every team he faces.
The special teams unit needs even more credit than they've been getting. For the past few seasons, they've been the best special teams unit in the NFL. They return and cover kicks well. They also do an excellent job on field goals and punts. That's helped and really set up the offense and defense well in every game.
The officiating this season has been especially atrocious. The outcome of games are being greatly affected by horrendous calls and non-calls. Fans have complained about pass interference calls. Holding calls have also been a real area of concern. It doesn't quite have the impact in terms of yardage that pass interference has. Still, blatant holds are missed on key plays every week. There's so much on the line every week. It's become sickening to watch as, across the league, multiple games have been affected in crunch time by a poor call or non-call. The NFL has a serious problem, and they need to fix it ASAP.
Final thought:
Is it time to reset expectations? The Eagles face another divisional opponent next week. The fanbase has reached a level of anger that we haven't seen all season. Nine games remain in the regular season, and with three losses, all in the NFC and two in the NFC East. Sunday's game is a must-win. The season is a long way from over, but this team can ill-afford a repeat performance of what we all saw in Dallas.
More from Inside the Iggles
This article originally appeared on