Week Three NFL Power Rankings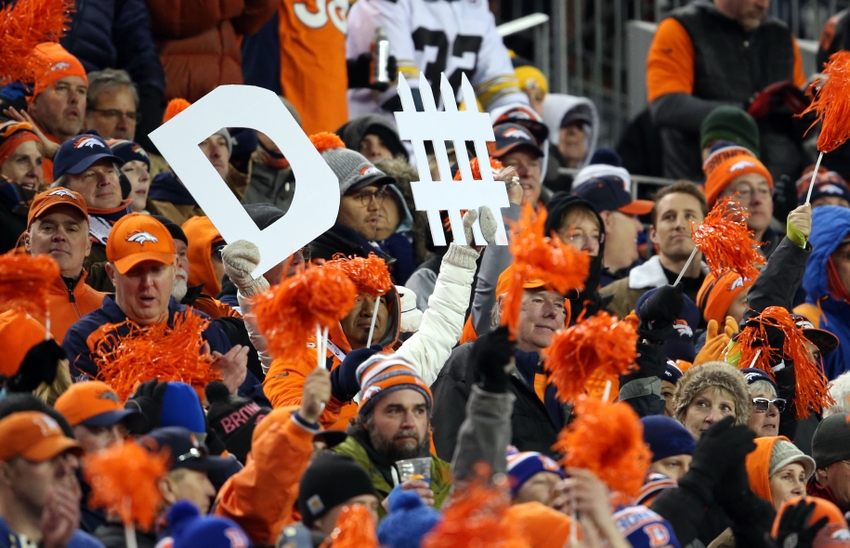 Another week, another fantastic week of NFL football.  Many of the top-10 fell.  There were some big risers this week, most notably a NFC North team that really looks like the real deal.  Check out the Week Three NFL Power Rankings now.
1.  Denver Broncos (1)
It's starting to really feel like 2015 all over again for the Broncos.  The offense has been great in between the 20's, but can't seem to punch it in the end zone nearly enough.  The defense simply takes over games in the fourth quarter and the Broncos win games.  Week one it was Newton, this week it was Luck—The Panthers and Colts have each scored 46, and 35 points respectively in their games not against the Broncos.  Against the Broncos they both scored 20, and
2.  New England Patriots (3)
Really you would have had no clue in the first half that Tom Brady and Rob Gronkowski were not playing.  Jimmy Garappolo was fantastic throwing three first half TD's before having to leave the game with a sprained AC joint.  However, Garappolo has already been ruled out of the Thursday night game against the Texans.  Can Jacoby Brissett get ready in three games to send the Patriots to 3-0 sans Brady?
3.  Pittsburgh Steelers (5)
It's always a great battle when the Steelers and Bengals meet.  Sunday was no different.  The Bengals did a great job on Antonio Brown, but the Steelers proved to be a real well-rounded team and sent a clear message that the North is theirs—especially considering they will be adding Le'Veon Bell to the mix in two weeks.
4.  Carolina Panthers (6)
Remember when the 49ers were pitching shutouts?  We can't either—the 46 point effort was exactly the response you'd expect from a team as talented as the Panthers.  They are still the class of the NFC, and at this point, it's really not even close.
5.  Minnesota Vikings (11)
The Vikings have a great defense—containing Rodgers the way that they did was no surprise here if you have watched them play.  The big surprise was the play of Sam Bradford.  Who could have seen this coming?  If he can continue to play at this level, the Vikings will likely be the biggest threat to the Panthers at the top of the NFC, and will cast legitimate doubt on Teddy Bridgewater's future with the team moving forward.
6. Green Bay Packers (2)
The Packers have had a tough time with the Vikings the past two seasons, but it wasn't all bad.  Before he went down, Adrian Peterson had done NOTHING, and Rodgers and Nelson seem to be getting back on to the same page.  Losing a road game to a tough divisional opponent is no reason to push the panic button.  However, this won't be the easy road to an NFC North Championship the way many, including myself thought.
7.  Arizona Cardinals (12)
We learned two things about the Cardinals in this football game:
First—The Cardinals can respond to adversity.  The week one loss to the Patriots was inexcusable, but they bounced back strongly.
Second—The Cardinals aren't going away any time soon.  The 40-point effort against the Bucs was a statement that being the top offense in football in 2015 was no fluke.  With Bruce Arians at the helm, the Cardinals will be a good football team.
8.  Cincinnati Bengals (7)
Much like the Packers, there is no reason to panic in Cincinnati.  The Steelers are a tough team, and a road loss is not going to kill their long term chances.  The Bengals can take pride in the job they did on Antonio Brown—that is no easy task limiting him the way they did.  With a home game coming against the defending champion Broncos, the Bengals need to put this game in the rear-view and focus their attention to trying to score some points against an all-world defense.
9.  Baltimore Ravens (9)
Getting down big to the Browns was bad—but coming all the way back was really good.  Mike Wallace is becoming a Flacco favorite.  Now we need to see the Ravens beat someone who has actually won a game already this year.
10.  Seattle Seahawks (4)
What on Earth is going on with the Seattle Seahawks?  They are hanging on to a top-10 spot purely on past success.  Let's put it this way; the Seahawks has scored as many points this year as the Broncos DEFENSE scored in the fourth quarter on Sunday and lost to a team that has been outscored by two teams defenses for the year.  They are looking at a tumble out of the top-20 if they put up one more performance like they did Sunday—Good riddance.
11.  Houston Texans (14)
The fact that J.J. Watt is playing NFL football just two months removed from a herniated disc is a minor miracle in itself.  The fact that he's still wrecking people is even more amazing.  The Texans finally got the best of the Chiefs in front of their home crowd.  Osweiler has had ups, and had downs, but is 2-0.  A win against the Patriots will help vault this team into the top-10 for the first time this year.
12.  New York Jets (16)
The J-E-T-S Jets Jets Jets spit hot fire all over the Bills on Thursday Night Football.  Brandon Marshall survived his knee scare, and Ryan Fitzpatrick showed why it was so important that come back.  The biggest concern that the Jets should have at this point is the fact that Darrelle Revis appears to have lost a step.  Aside from that, this team looks for real.
13. Kansas City Chiefs (8)
The Chiefs were bound to lose one of these games in Houston right?  Truth be told, the Chiefs offense has looked abysmal for seven of the eight quarters they've played this year.  The Chiefs started slow last year, but that was after beating down Houston in week one.  They'd better hope for a turnaround again this season because right now, this is not a playoff team.
14. Oakland Raiders (10)
Khalil Mack, Bruce Irvin, Sean Smith, Karl Joseph—How in the world has this defense given up over 1,000 yards of offense in two games, good for worst EVER.  Winning the offseason is one thing, doing it on the field is quite another.  It appears this team is going to have to win shootouts, which is not a good recipe for success in this league.  The offense has done a nice job thus far; now it's time for this defense to pitch in.
15.  New York Giants (19)
The Giants are 2-0.  They are winning the games they lost a year ago, which is very good considering the fact that Washington isn't playing well and Dallas and Philadelphia both have rookie QB's starting for them.  The defense that gave up 52 points to the Saints just a year ago limited them to 13 this time around.  That's a pretty good turnaround in a year's time, and a sign that $106 million spent on defense was well worth it.
16.  Tampa Bay Buccaneers(13)
The Bucs were feeling really good about themselves—until they got shellacked in the desert.  The Bucs are young and will bounce back, but still have some steps to take before they can talk about themselves with the elite teams in the league.
.
17.  Dallas Cowboys (20)
It hasn't been flashy, but Dak Prescott has played a simple, efficient brand of football.  The offensive line looked far better against the Redskins then it did against the Giants, and it's no surprise that they came away with their first win.  If Prescott and Elliott can continue to improve from week to week, it will be a Giants/Cowboys battle for supremacy in the NFC East.
18.  Philadelphia Eagles (24)
Carson Wentz has looked about as impressive as a rookie can possibly look.  This kid has it all—he's mobile, he's very accurate, he controls the huddle the way you'd hope, he can make checks, and he's very smart.  The Eagles are looking better and better each week for the trade they made to get him, and then the subsequent trade to get a first round pick for Sam Bradford.  Most thought this would be a rebuilding year for the Eagles, but at 2-0 and a blossoming young quarterback, they may compete for a division title this year.
19. Indianapolis Colts (17)
In what was described as a must-win by reciever T.Y. Hilton, the Colts gave a good effort.  However, the Denver defense is like a prize fighter—it just continues to wear you down until you simply have nothing left.  Needing a touchdown with under two minutes to go, the Colts simply couldn't contain the wrecking ball that is Von Miller, and will now have to try and climb out of a two-game deficit in their division.  The Colts are truly facing a must-win coming up at home vs. the Chargers who have looked like an offensive juggernaut in their own right over the first two weeks.  Andrew Luck is going to need to play at an MVP for the rest of the season to overcome this porous defense.
20. Atlanta Falcons (28)
Kudos to the Falcons for going on the road and absolutely sticking it to the Raiders new and (supposedly) improved defense.  Matt Ryan played at an elite level Sunday, and that will be needed moving forward if the Falcons have any shot at winning the NFC South.
21.  San Diego Chargers (27)
No Keenan Allen?  No problem.  No Danny Woodhead?  No big deal.  At some point these injuries have to catch up to the Chargers—but for now, they are just shredding defenses.  They'd be tied with the Broncos if not for a fourth quarter collapse in week one.  We'll see how long it lasts, but for now enjoy perhaps the final ride in San Diego.
22.  Jacksonville Jaguars (18)
Did the Jaguars really think that because they "almost" beat the Packers, that they were just going to stroll into San Diego and roll them.  New acquisition Malik Jackson has a total of two tackles and one QB pressure after receiving his massive offseason deal.  The Jaguars should be embarrassed at the effort displayed on Sunday, and will want to put forth a far better effort moving forward if they'd like for Gus Bradley to keep his job.  For now, the Jags are 0-2, something they're accustomed to.
23.  Buffalo Bills (21)
Something is very wrong when your offense scores 31 and the defense allows 37 and the offensive coordinator gets fired.  It makes a lot more sense when you realize that the defensive coordinator is the brother of the head coach.  Nobody saw anything going wrong when Rex hired Rob right?
24.  Los Angeles Rams (29)
The Rams have scored a whopping nine points all season—nine.  The Rams also own a win over the Seahawks.  What in the world is going on?
25.  Detroit Lions (22)
The Lions were on the verge of being taken seriously—then Andre Johnson caught a game-winning touchdown, Matthew Stafford threw an interception, and everyone remembered that they are the Lions and they tend to do these things.
26.  San Francisco 49ers (26)
There is good news for the 49ers, and there is also bad news.  The good news is they scored 27 points on the Panthers.  It's a mighty fine accomplishment considering the Panthers own a top-flight defense.  The bad news, after allowing a grand total of zero points in week one, is that they allowed 46 of them to the Panthers.  They'd better clean that up quick or it'll be a very bad season for Chip Kelly and the Niners.
27.  Miami Dolphins (23)
So after nearly pulling off the upset at Century Link in week one, the Dolphins come out and make Jimmy Garappolo look like exactly like Tom Brady.  They had to knock him out before they could make it any sort of a game.  By that point it was too little too late, and now the Dolphins find themselves two games behind the Patriots in the division, with Tom Brady patiently waiting to put on an aerial assault on the league.
28.  Washington Redskins (15)
Only two games in and it is being reported that the locker room has already begun to turn on Captain Kirk.  This is not good news for a team that has been known for turmoil.  Somehow they made it through the RGIII saga, and now they have the Kirk Cousins saga.  Something better change and better change quick or this season could be lost by the end of September.
.
29.  Tennessee Titans (32)
For most of the day it appeared the Titans were well on their way to 0-2.  Lucky for them the Lions decided to shut it down on offense early—next thing you know Mariota is hitting Andre Johnson for the win.  It was a gutcheck win for a young team who is looking to change the losing culture in Tennessee.
30.  New Orleans Saints (25)
Coach Payton has to be absolutely beside himself with how a team this talented—mostly on the offensive side of the ball—can consistently lose more games then they win.  Yes, he won a Super Bowl, but that was seven years ago.  At some point someone is going to have to answer for such an under-performing group with an elite quarterback.
31.  Chicago Bears (30)
What a disaster year two for John Fox has been to this point.  His quarterback is back to his careless ways with the football now that Adam Gase is gone, and now his quarterback is on the bench with what appeared to be a minor injury.  This Bears team has the look of a top-5 team—top-5 draft pick that is.
32.  Cleveland Browns (31)
The Browns screwed this one up in typical Browns fashion.  They passed on Carson Wentz for a few draft picks that they will likely get wrong anyways.  Instead they opted for RGIII who went on IR after week one.  Now Josh McCown is down and they are on to their third string rookie.  0-16 wouldn't be a shock at this point.  No matter how hard they try, the Browns will be the Browns.
This article originally appeared on