Week 7: Keys to the Game: Chicago Bears vs Green Bay Packers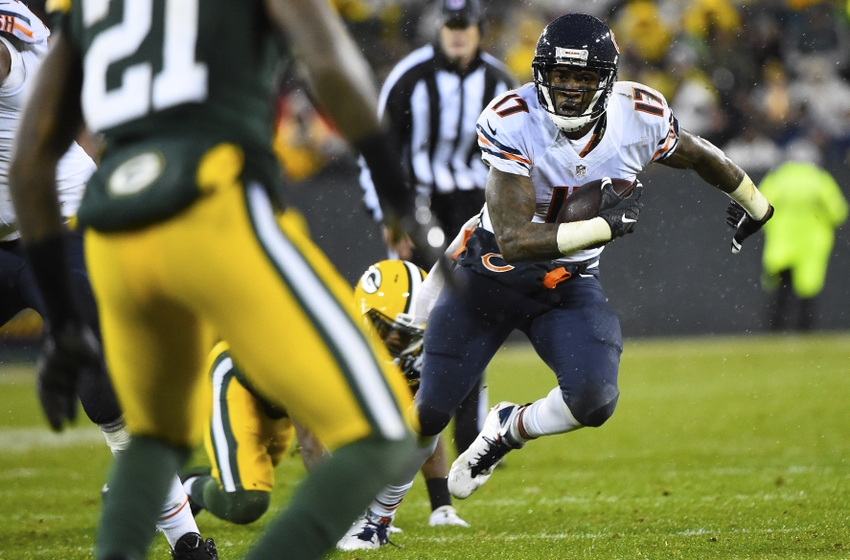 Here are the keys for the Chicago Bears in tonight's match-up with the Green Bay Packers.
Bad. That's what the Chicago Bears are for the time being. After dropping back-to-back winnable games, the season appears to be all but lost. Even more depressing is that if the Bears were able to execute and win these past two games, they would be 3-3 entering this division matchup against the Packers. A win on Thursday will do far from redeem the season, but it will undoubtedly take the sting off the past few weeks.
Last week's keys:
Ride the Howard train to victory- It wasn't for lack of trying, but the Bears ultimately failed here. Howard looked timid and slow compared to his last two starts. The Bears also attempted to send Howard off tackle more often on Sunday opposed to getting Howard going in between the guards like his first two starts. As a result, Howard had his worst performance of the year with only 34 yards on 15 carries. However, the Bears brought in Ka'Deem Carey who salvaged the Bears' rushing attack with 50 yards on 9 carries. Unfortunately, Howard's poor performance crippled the Bears in the second half as they failed to maintain possession. The Bears lose this key.
Cover!- Yes, the Bears gave up 17 4th quarter points, but they only allowed 17 points throughout the whole game. Allen Robinson and Alex Hurns should have ripped the Bears' secondary to shreds, but they managed to keep the Jaguars out of rhythm throughout the first three quarters of the game. No receiver earned over 75 yards on their own, and the 51 yard game winning touchdown came as a result of Tracy Porter slipping, not bad coverage. Bears get this key.
Get Alshon Jeffery involved- It was a story of halves for this key. Brian Hoyer targeted Jeffery early and often throughout the first half which amounted to 6 connections for 90 yards. However, the second half proved to be the complete opposite with only one catch for 3 yards. While the Jaguars did tighten their defense to some extent, Hoyer essentially stopped targeting Jeffery altogether in the second half despite continued one on one coverage. The key required 125 yards and a touchdown, which would have happened if Hoyer connected with Jeffery on a wide open fade route. Alas, the pass sailed high, and the Bears lost the game and this key.
Week 6 keys: 1/3
Tracy Time
Porter put together one of his best career games on tape last time the Bears went to Lambeau Field. Aaron Rodgers faced favorable circumstances to get back into his normal groove, but Porter had other plans. On the night that Brett Farve's number was retired, Porter sucked the excitement right out of the Frozen Tundra. Porter locked down receivers, caused a handful of memorable pass break-ups, and even bottled up a huge interception in the 4th quarter. For the Chicago Bears to steal a win against the Packers, they will need another virtuoso performance from Porter.
To accomplish another career outing, Porter will have to overcome major odds. First off, he only logged one limited practice this week and is far from 100%. Second, Porter will likely be tasked with covering Jordy Nelson, a weapon who was out with an ACL tear last November. Third, Porter has struggled for the majority of the season. While he always finds a way to make a highlight play from time to time, the majority of his game is rough. Porter's spotty coverage was utterly exposed when Jaguars quarterback Blake Bortles found his form in the second half of last week's game.
However, Porter faced sloppy play and injuries last year and still pulled out a career game.  For Porter to earn this key, he can not allow a pass play over 30 yards. The Bears rely on a bend and don't break defense which big plays derail. Porter also needs a signature play like last year. Whether it's a big pass deflection on third down or a big time forced fumble, or another clutch pick, the Bears need to see Porter celebrating at one point or another today.
2. Keep the offense on schedule
The Chicago Bears face difficult odds once again with this key. Jordan Howard is coming off of his worst career performance, and the Packers boast the second best rushing defense in the NFL. Last week I said that Howard needed to average at least 4.5 yards and go for 100 yards. While a 100 yard rushing day would be nice, Howard only needs to make positive plays this week. That means three yards here or four yards there, but avoiding negative plays and stalemates are an absolute must.
Of course staying on schedule doesn't just include the running game, but the Packers will undoubtedly be ready for Brian Hoyer's dink and dunk offense. The Bears should not only expect the box to be loaded to stop Howard, but also to drop defenders into the flat and curl windows. How does one clear out the box you ask? Take some shots down the field! Yes, Brian Hoyer wasn't able to even put any deep balls in the field of play last week, but the Bears are in desperate need for big plays.
This is also the one matchup where the Bears have an edge over Green Bay. The Packers will be without their top three cornerbacks while the Bears have Cameron Meredith and Alshon Jeffery didn't even appear on the injury report. Yes, Alshon Jeffery didn't make a single appearance on the injury report this week, go get your lottery ticket immediately.
However, the problem with deep throws is that it's gambling away a down. If it works, it's a 20+ yard gain. If it doesn't,  the offense faces a 3 and long. Executing on early downs will allow the Chicago Bears to take more deep shots. For the Chicago Bears to win this key, they need 50% of their 3rd downs to be from  6 yards or less.
3. Routine must remain routine
I can't take complete credit for this key. For those who aren't aware, I am blessed with being able to play college football. One of the major points my head coach went over a week ago was about making routine plays just that, routine.
While watching the Bears game, I couldn't help but think of Coach Bell's words. Ka'Deem Carey dropped an easy third down conversion that could have been a huge play, Tracy Porter slipped and fell while trying to make a tackle on the 51-yard game winning score, and Brian Hoyer grossly overthrew Alshon Jeffery on an easy touchdown pass.
Mistakes happen in football, even with professional athletes on the field. There might be even more mistakes today considering how many starters will be sidelined with injuries. However, amidst the chaos, routine plays need to be routine. If a pass hits a receiver in the hands, it needs to be a catch. A receiver might win in coverage, but they need to be tackled so the defense can live to fight another down. The Bears could easily be 3-3 if they executed their routine plays.
Unfortunately, those weeks have passed, and the Bears need to move forward. I said at the beginning of this piece that the Bears are a bad team, one way to change that is by executing routing plays.
This article originally appeared on