Week 7 Fantasy Football Guide: Top 3 Values At Each Position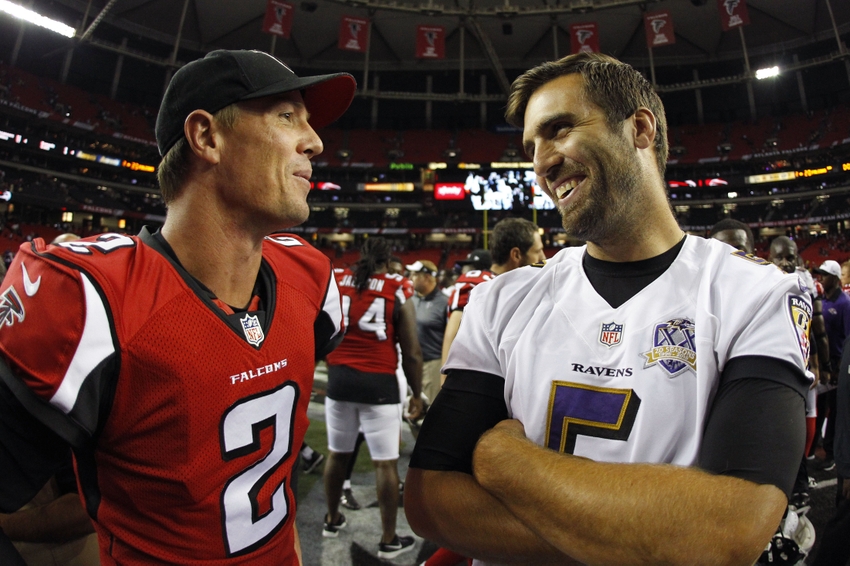 Baltimore Ravens fans love fantasy football because every football fan loves fantasy football. Here is your week seven guide to win in your league, or in daily fantasy action:
Top 3 Values At QB:
1. Matt Ryan: The Atlanta Falcons are going against the Chargers this week. This has shootout written all over it and Matt Ryan can't be stopped right now. Ryan leads the NFL in passing and is coming off an impressive showing in Seattle. Ryan had 335 yards for three touchdowns and an interception. Two weeks ago, Ryan had over 500 yards and four touchdowns.
2. Andy Dalton: The Bengals may be 2-4 but, Dalton's fantasy owners may be doing better. Dalton is number two in passing yards this season. The real reason you need to start Dalton, he's playing the 0-6 Browns. Big plays could lift the Bengals easily past the Browns. Dalton could lift you over the competition this week.
3. Phillip Rivers: I know Rivers didn't light up the fantasy scoreboard last week, but he was playing the Denver Broncos. As impressive as the Falcons are, their defense is still highly suspect. Rivers has three games this season over 300 yards. He has two games this season with four touchdown passes. When Rivers is hot, he can put up monster numbers. Against Atlanta, I bet Rivers finds his groove.
Top 3 Running Back Values:
1. Ezekiel Elliot: To beat the Philadelphia Eagles, the Dallas Cowboys have to run the football. The Eagles have a highly ranked defense that shuts your passing game down. However the Eagles are ranked 18th in run defense. Elliot has been getting a ton of carries with the Cowboys. Look for Elliot to remain the centerpiece of the Cowboys offense this week.
2. DeMarco Murray: The Titans are playing an Indianapolis Colts team that simply cannot stop running backs. Look for Murray to go off against the 25th ranked rushing defense in the NFL. The Colts opponents have averaged 4.8 yards per carry this season. Murray is a must start player this week. He could have a monster game.
3. LeSean McCoy: The Buffalo Bills are red hot. One reason the Bills are doing so well, is the fact that they realized they needed to lean on McCoy. McCoy is second in the NFL in rushing yards and is averaging 5.6 yards per attempt. It's hard to argue that McCoy is a rock solid start this week. The Bills are committed to getting him his touches.
Top 3 Wide Receiver Values:
1. Odell Beckham Jr: Beckham Jr. may have become the most annoying receiver in the NFL, but he certainly is good. Beckham just torched the Ravens. Beckham had eight receptions for 222 yards and two touchdowns. The Giants receiver had a slow start to the season but he certainly figured it out last week. With his three touchdowns coming in the past two weeks, it looks like he is getting back to his dominant ways.
2. Julio Jones: The red hot Falcons have a pair of fantasy superstars. Julio Jones is the favorite receiver of Matt Ryan. Jones is coming off a huge game against the Seahawks where he had seven receptions for over 100 yards and a touchdown. The Falcons passing game seemingly is unstoppable. Look for Matt Ryan and Julio Jones to put up big time numbers.
3. A.J. Green: Andy Dalton loves to throw it to A.J. Green. The Bengals top wide out  is a big and tall receiver that can make huge plays in the air. He is best in PPR leagues because of the number of receptions he tends to get. In four games this season, Green has had six or more receptions. In two games he has had 10 or more receptions.
Top 3 Tight End Values:
1. Jordan Reed:  I love the match up here for Jordan Reed. Last week the Lions gave up five catches for 34 yards and a touchdown. In week one Jack Doyle had a two touchdown performance. Delanie Walker had six receptions for 83 yards and a touchdown against the Lions in week two. Anything these tight ends can do Jordan Reed can do better. Look for Washington to lean on Reed.
2. Rob Gronksowski: Gronk is back ladies and gentlemen. Gronkowski had a monster game against the Bengals. With his health no longer in question and Tom Brady back in action, the Patriots tight end is a must start player.
3. Greg Olsen: Olsen has had over five receptions in each game this season. He has had two touchdowns. Olsen is a player that can put up a monster game. However he never has a bad game. The Panther lean on Olsen, which is good for his fantasy owners, especially in PPR leagues.
Top 3 Defense Values
1. Ravens: The Jets are an absolute mess on offense. The Ravens defense is coming off their worst performance but it is still ranked highly. Geno Smith is the Jets replacement to Ryan Fitzpatrick. The Jets offense has had a ton of negative plays. The Ravens defense will be hungry. A good and angry defense against a hapless Jets offense is a good fantasy combination.
2. Broncos: The Broncos defense is never a bad start. The Broncos are playing the Texans on Monday Night Football. Look for them to make Brock Osweiler miserable for leaving to Houston. This should be a good day for Von Miller who is practically an unstoppable force.
3. Patriots: The Patriots are going against a back up quarterback in Pittsburgh. Without Ben Roethlisberger and with the Patriots strong front seven, the Steelers offense will struggle.
Top 3 Kicker Values
1. Stephen Gostkowski: The Patriots are going to score a lot of points. This seems like a really safe play every week. Look for handful of extra points and a couple field goals.
2. Justin Tucker: I have no confidence in the Ravens ability to get in the end zone. Field goals will be their friend. John Harbaugh must be fatigued of being "aggressive."
3. Mason Crosby: The Packers offense is struggling more than usual. Their field goal kicker is reliable. I could see a big day for Crosby against the Bears.
More from Ebony Bird
This article originally appeared on