Week 5: Patriots – Browns Game Analysis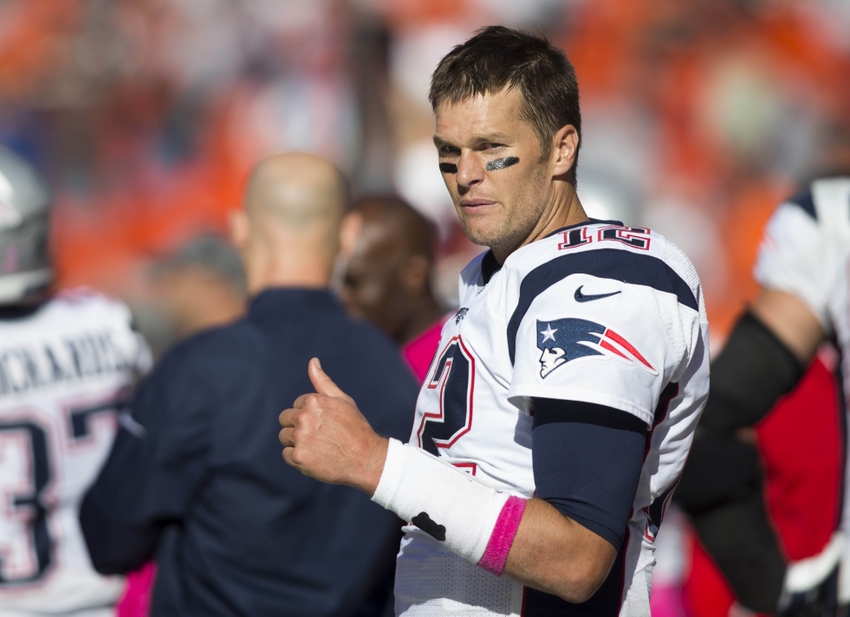 The New England Patriots (4-1) stomped the Cleveland Browns (0-5) on their home field in Brady's return after getting completely shutout the week before to the Buffalo Bills.
Bill Belichick preached all week long that for them to win games, it's going to need to be a team effort. Patriots QB Tom Brady was not to be looked at as the savior of the team, which is 100% true because he can't play special teams and he certainly can't play defense.
It was a highly anticipated game to watch, and Brady had already looked to be in mid-season form from the start, despite being away from football for a month.
This game will certainly go down in his career as one of his best games. He played lights out and the offense looked lethal and much different than the one that was seen through the first 4 weeks of the season.
Who is Tom Brady's Favorite Target?
Positives
The Patriots offense was 9-17 (52%) on third down and totalled 501 yards (406 passing, 98 rushing), and to the surprise of no one, had their best performance of the season.
The offense did not turn the ball over, and for the first time this season, did not fumble the ball.
The offensive Line was solid in Brady's return, allowing just one sack that came on a scramble.
On the first drive, Brady finds TE Rob Gronkowski running across the field on a crossing route and makes a great effort breaking tackles and getting a pick up of 34 yards. All the talk about Gronkowski not being himself seemed to be a little exaggerated.
WR Chris Hogan and TE Martellus Bennett both has scary moments during this game, but were good to return to the field and play (both had big performances). That's huge considering a player has suffered a small injury through for each of the first four weeks.
Play-action will be even more effective this year with the Patriots ability to mask whether they are running or passing thanks to their versatile tight ends.
The Patriots defense was much better this week on third down holding the Browns to 5 of 13 (38%).
RB Isaiah Crowell had just 22 yards on 13 carries. The Patriots stopped the Browns rushing attack to just 27 yards total.
While still recovering, LB Dont'a Hightower had a quiet game, but was good vs. the run. His ability to time snaps and blitz is still amazing. He is still not 100% when in coverage, but that will improve.
CB Logan Ryan, who was picked on last week by both the Buffalo Bills and Patriots fans, bounced back this week with a solid performance.
Negatives
The Patriots are still getting set back due to small miscues (5 penalties for 61 yards). Holding on both sides of the ball seem to be recurring issues.
Aside from the first drive of the game, RB LeGarette Blount had a fairly quiet game finishing with just 37 yards on 18 carries.
CB Cyrus Jones got ejected after throwing a punch at WR Andrew Hawkins for going low. It was a dirty play by Hawkins, however, Jones must be able to contain himself. Jones also got beat badly on a TD pass earlier during this game.
K Stephen Gostkowski missed another field goal, but this time from 50 yards out. It's understandable that he missed due to the distance, but at the same time, with his recent struggles, will he get his swagger back?
Patriots DL were able create pressure, but it seemed that they couldn't properly wrap the QB, which leads to throw sways instead of loss of yards or a play downfield (seems like it's inevitable). Thats been the case a lot this season, and in the past as well.
Cleveland went to the redzone twice and scored both times.
Brady did show some rust (which was expected):


Second drive: An out route to Edelman was thrown too high, but DE Emmanuel Ogbah was in the throwing lane, which could have forced him to do so.
On 43 yard throw to Hogan, if the ball is properly placed, it's a TD instead of Hogan having to dive.
On a drive in the 3rd quarter, Brady was looking for Bennett in the middle of field for a short throw, but practically gifted it to the defender. Luckily it was dropped.
After getting called back for a holding call, Brady's throw was almost a pick on a screen pass to RB James White. It was great recognition by the defender however.
Play of the Game
There were many impressive plays that were made by the arm of Brady. But one that sticks out is the play action pass to Bennett for his third touchdown of the game.
While driving down field, the Patriots had Gronkowski and Bennett lined up on the right side of the line with White in the backfield. As Gronkowski and Bennett went to block the single defender on the edge, the pulled off and went downfield. Brady didn't have time to set his feet and have a proper delivery, however, he didn't need to.
The Browns left both Gronkowski and Bennett wide open. Regardless of who Brady threw to, it would have been a big gain, however, he opted to throw to Bennett to keep the ball away from the safety.
It may not have been as explosive as the plays that Hogan had downfield, however, this is a preview of things to come when both of these tight ends are on the field together. Deception will be the Patriots' most lethal weapon.
New Goalline Formation For The Patriots?
Things to Improve
Redzone Defense
The Patriots had a great game for the most part and allowed just 13 points this week against the Browns, however, the defense is still struggling in the red zone.. They still remain near the bottom of the league in red zone scoring percentage allowing an ugly 80% (tied with Atlanta for 30th).  With the Cincinnati Bengals and Pittsburgh Steelers coming up the next two weeks, it will be absolutely crucial for the defense to improve.
Run Game
The Patriots didn't need to rush too much during this game, but they must remain balanced on the ground. The last two weeks, it seems the rushing offense has taken a step backwards.
Final Thoughts
Leaving Cleveland with a win is great.
But leaving Cleveland with Tom Brady looking like he did last week is even better.
Last week's loss to the Bills, despite only falling to 3-1 was disappointing. Even though they played the Browns and were expected to crush them, the Patriots played a solid game and this could be the win the team needs to get back on track.
Through the first 5 games, there are questions the surrounding the defense, whether they are for real or pretenders. However, Mike Loyko, who has followed the team for quite some time, believes it's way too early to be certain this is how the Patriots will play for the rest of the season.
But, IMO we've seen this for the last decade from #Patriots defense. BB usually starts off playing less aggressive, softer defenses and..

— Mike Loyko (@NEPD_Loyko) October 10, 2016
over the course of the year the defense becomes more aggressive, more physical, and stouter.

— Mike Loyko (@NEPD_Loyko) October 10, 2016
There is far too much talent on that side of the ball to be where they are ranked statistically. Hopefully that changes very shortly, as their schedule does not get any easier.
Playoff Implications for the Patriots Over The Next 4 Weeks
Upcoming

Schedule

10/16

Cincinnati Bengals
10/23
at

Pittsburgh Steelers
10/30
at

Buffalo Bills
11/13

Seattle Seahawks
11/20
at

San Francisco 49ers
Next Week
The New England Patriots host the Cincinnati Bengals next week, who are coming off a gut-wrenching 28-14 loss the Dallas Cowboys. For the Patriots, it will be the first time since last season that Tom Brady has played a regular season game at home. Expect that place to be electric.
This article originally appeared on