Week 5 Mailbag: Oakland Raiders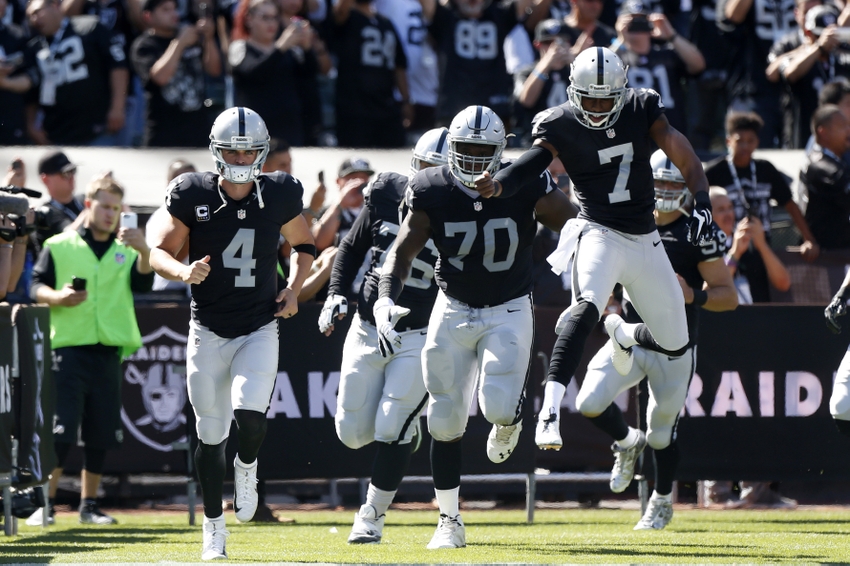 Week 5 of the JBB Mailbag, answering questions from Twitter about the Oakland Raiders win against the San Diego Chargers and also any questions looking ahead to the Week 6 matchup with the Kansas City Chiefs.
Michael Crabtree — what a phenomenal player. Raider Nation, please appreciate this guy. All this veteran wideout has done for us is play at a high level and stay out of trouble. What more, from a receiver, can we possibly ask for? Recognize this young man and his efforts, and understand, that is an Oakland Raider.
Note: Some of the questions were duplicates or similar to other questions that had already been asked. If you don't see your question specifically responded to, that is likely the reason why.
@JustBlogBaby Do you think one of the RB's will separate themselves or do you see a time share for all 3 lasting the season?

— Dillon (@Terpsfan32) October 11, 2016
I boarded the Latavius Train, and I'm not ready to get jump off just yet. A few weeks ago, however, I did state that I was in favor of all three backs seeing playing time. Although even then, I let it be known that Latavius Murray should, ultimately, see the most snaps.
As of right now, I don't necessarily buy into any proposed notions that continuing to play all three backs is derailing our offense. And if we're being honest, the real issue here is that all of us — including the coaching staff — are increasingly falling in love with both Washington and Richard, while desperately clinging to any hope that Murray distances himself from both.
In fairness, life isn't always meant to make sense.
@JustBlogBaby Do you think the raiders need to run the ball more than we did against SD. I wish they would run more than they have been.

— B3@NZ1 (@RaiderBeanz) October 11, 2016
Without question, I expect our running game to have a far more significant (and impactful) presence versus Kansas City than it did against San Diego, although, more times than not, an offense needs to take what the defense gives them.
Looking at this with tunnel vision, San Diego came into last week ranked top ten against the run. Kansas City comes into this week ranked in the bottom four. We can, and should, have success running the ball. And I don't think it depends on the status of Murray, either.
@JustBlogBaby am I the only one concerned about play of Reggie Nelson? Seems to be source of a lot of big plays given up.

— Raider Enterprises (@RaiderVengance) October 11, 2016
Inconsistency, summed up, this is the source of Reggie Nelson's struggles. The whole "when it's good, it's good, when it's bad, it's bad" concept. But added to that, you have to consider what (or who's) behind Nelson. And in doing so, aren't you willing to continue to take a probable risk with Nelson? I am.
I gave Sean Smith a chance to get it figured out, and I'm trusting a team captain to do the same.
@JustBlogBaby Corey James, Perry… For real or lucky games?

— Heywood Jablomie? (@HoodCertified) October 11, 2016
No luck involved. Instinct, instinct, instinct. That's what separates Corey James and Perry Riley, in my opinion. Take the punch-out by Riley, that forced a fumble early, you can't teach that instinct. A player either possesses it, or they don't.
Granted, this was only one game for Riley, but this acquisition just seems to be a near-perfect fit. And for James, he continues to impress. He's active, and most importantly, when he sees ball, he hits ball. The pieces continue to come together.
@JustBlogBaby This should be a one of the best games our pass rush will have on Sunday, right?

— RAIDER AZTECA (@oakland510) October 12, 2016
I'm excited for this one. I've envisioned Alex Smith running — sideways and backwards — for his life, for several days, now, and for good reason. The Chiefs offensive line is allowing just over three sacks per game. If the defense can plug the running lanes early, and force Smith into obvious passing situations, I believe (HOT TAKE!) our defense could double that average.
@JustBlogBaby when MEJ returns, what do you think will happen if Aldon is reinstated, get rid of him and keep shilique and jihad?

— saul ruiz (@Sauuulllito) October 12, 2016
It would be my hope that management elects to keep Aldon. Our organization has invested heavily into Aldon Smith. The last thing I would want, after the all the effort that has been put into helping him rehabilitate his life, is for our organization to immediately turn our back on him — on or off the field. Not to mention the depth our defensive front would boast, having MEJ, Smith, Calhoun, and Ward.
@JustBlogBaby With all the mental errors every game is this scheme on d just too complex? Poorly coached? Both?

— Lord Ruthven (@orderofdracul) October 11, 2016
One of the most valuable lessons I learned, playing football, was to "be where your feet are". All eleven players on the field, for our defense, need to adopt that mantra at all times. You can only control what you can control, which is doing your job, or, literally, staying in your lane.
I have beat this concept to death, here, but it seems to always circle back to what JDR preaches in regards to "eyes". When our defense collectively stays disciplined, each player executing his assignment, we see great productivity. When that becomes an every down constant, few teams will beat the Oakland Raiders.
@JustBlogBaby Thoughts on the Raiders being ranked 12th in ESPN's power rankings?

— Nick Hjeltness (@NickHjeltness) October 12, 2016
With all due respect to Bristol, there are not eleven teams better than the Oakland Raiders, to this point of the 2016 season. I'll give them seven of those first eleven, without argument, but Arizona — has anyone watched them this year? I'm taking Oakland with my eyes open and closed.
Optimistically putting this 2016 Raiders team in perspective, allow me to leave you with this thought: MEJ's absence (other injuries), arguably a Karl Joseph start away from being undefeated, teachable defensive miscues, and yet: 4-1. Imagine where this team will be once these issues, which are correctable, work themselves out.
But until then, Just Win, Baby.
This article originally appeared on