Week 4 injury report: Minnesota Vikings vs New York Giants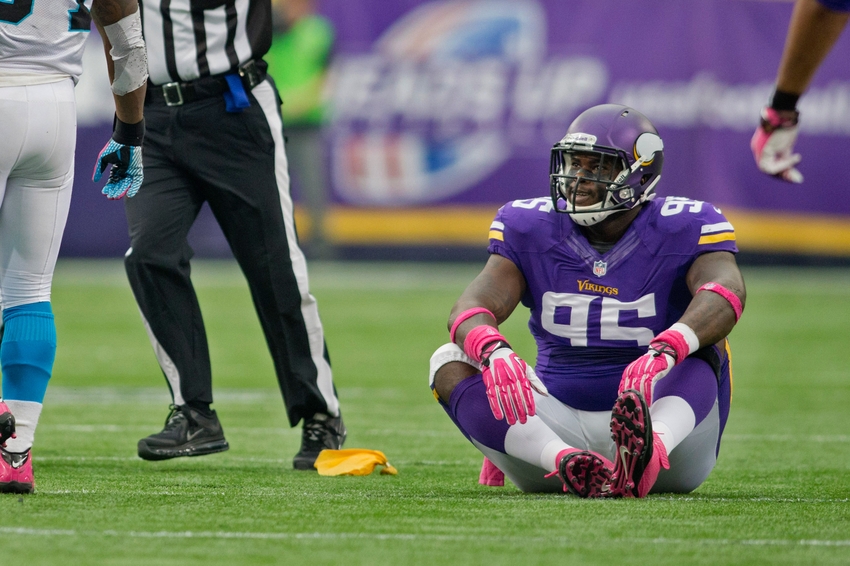 Who is out and who is in? Here is the injury report for the Minnesota Vikings and New York Giants game on Monday Night Football for week 4 of the NFL season.
The Minnesota Vikings are looking to remain undefeated for the 2016 season during their October 3, 2016 contest on Monday Night Football. Meanwhile, their opponents are New York Giants, who are looking to catch up to the Philadelphia Eagles in the NFC East.
This will be the regular season game ever at U.S. Bank Stadium, and will also be a prime time affair on a national stage. After big wins over the Carolina Panthers and Green Bay Packers, the Vikings will hope to prove that their wins weren't flukes and they can consistently win games with their hard-nosed style of play.
Here is the final statuses for both the Minnesota Vikings and the New York Giants entering the Monday Night Football
MINNESOTA VIKINGS
Did Not Practice, but expected to play
Jayron Kearse, safety – tooth
QUESTIONABLE
DOUBTFUL
OUT
Sharrif Floyd, defensive tackle – Knee
David Morgan, tight end – knee
There are no real surprises on this week's injury report for the Minnesota Vikings. Sharrif Floyd's knee scope will likely keep him out for a while, but there isn't much point in placing him on injured reserve as the defensive tackle will be able to return before the time limit and then the team can bring back either Adrian Peterson or Matt Kalil instead.
The most interesting part of the Vikings report is Kearse, who has been missing some practices due to an issue with his tooth. That's an uncommon ailment to find listed as an injury.
NEW YORK GIANTS
Did not practice, but expected to play
QUESTIONABLE
Rashad Jennings, running back – thumb
Dominique Rodgers-Cromartie, cornerback – groin
DOUBTFUL
Eli Apple, cornerback – hamstring
OUT
Nat Berhe, safety – concussion
Marshall Newhouse, offensive tackle – calf
Robert Thomas, defensive tackle – illness
Darian Thompson, safety – foot
The problems in the secondary is apparent for the Giants here. With two safeties and two cornerbacks on the list, it isn't a big surprise that they are bringing in some players to possibly sign before the game.
It is also interesting to see Rashad Jennings listed as questionable instead of doubtful or out. Hopefully there will be more updates as to his status as it gets closer to Monday night.
The injuries in this game could be a big part of the game, as the Minnesota Vikings may want to take advantage of a beat-up Giants secondary if they can overcome their losses on the offensive line. No matter what, Monday Night Football should be a fantastic game for fans all over the world to watch.
This article originally appeared on