Week 2 MVP vs Packers: Quarterback Sam Bradford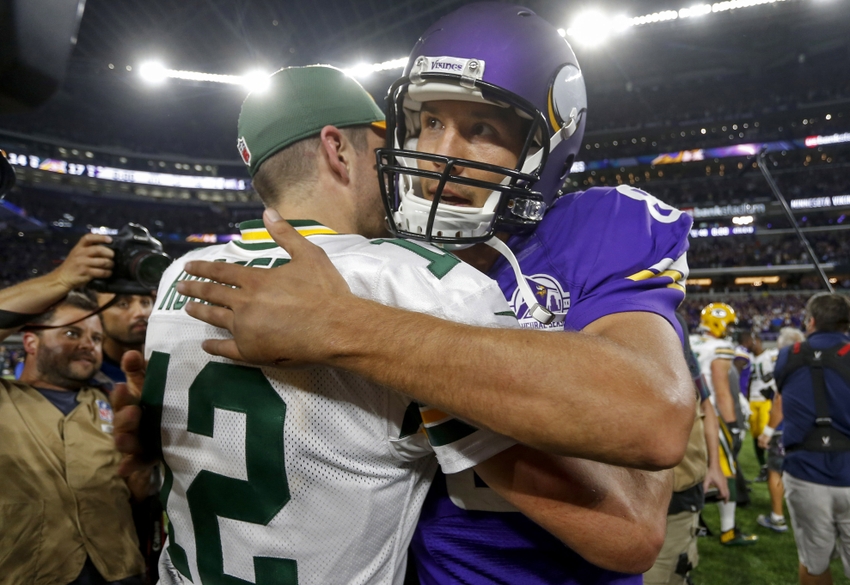 In his debut performance with the Minnesota Vikings, quarterback Sam Bradford's stellar performance was enough to earn a hard-fought victory over the Packers and our weekly MVP award.
Going into the long-awaited opening game of U.S. Bank Stadium, nothing had gone according to plan. Sure, the Vikings were 1-0, but the Vikings failed to establish any offensive identity in the Week 1 victory over the Tennessee Titans, unable to score a single offensive touchdown. Shaun Hill was never supposed to be any more than an afterthought for Vikings fans. Sam Bradford certainly wasn't supposed to be donning the purple and gold.
Yet here we are. One devastating injury to rising quarterback Teddy Bridgewater changed everything, sending the organization into turmoil and the fan base into panic.
In just four quarters under the bright lights of the new stadium, Sam Bradford managed to set everything at ease. Thanks to the careful, yet explosive passing of Bradford, things finally seem to be getting somewhat on track for the Vikings.
After only two weeks of learning the playbook, Bradford was better than anyone could have expected, setting a franchise record for most passing yardage in a debut. Bradford's performance, in which he went 22-of-31 passing for 286 yards and two touchdowns, inspired a new sense of hope around the team, re-engaging a fan base that had been still dealing with heartbreak.
Thus, even on a night when Stefon Diggs established himself as a can't-miss playmaker on a national stage with a dazzling blend of explosiveness and technique, racking up nine catches for 182 yards and a touchdown, Sam Bradford was unquestionably the MVP.
Bradford's passing statistics, while superb, don't even tell the full story of how impressive his debut was. Bradford was surprisingly bold for a quarterback still getting accustomed to a new system, stretching the field repeatedly with deep throws, which more often than not were on the money.
Take this throw, for example.
WOW WOW WOW Sam Bradford & @stefon_diggs! 🙌#GBvsMIN#SKOLhttps://t.co/Wex0YfXSPc

— NFL (@NFL) September 19, 2016
Undaunted by the tight coverage from the cornerback or the intense pressure, Bradford kept his eyes downfield, stood calm in the pocket, and took the hit, delivering an absolute dime to Diggs for the deep touchdown.
These kind of throws, which test defenders deep and trust receivers to make plays, are simply not something that a newly acquired quarterback normally makes. Nevertheless, Bradford was making them routinely throughout the night. Bradford did not have the look of a quarterback struggling to process the field or get accustomed to the system, he seemed poised, comfortable, and confident from the first snap.
On his other touchdown of the day, Bradford made a similarly gutsy decision, throwing a perfectly placed ball over the outside shoulder of Kyle Rudolph, who had a defender draped all over him.
Sam Bradford's 1st TD with the @Vikings.
The 1st Vikings TD in the new stadium.

Beautiful, @KyleRudolph82. #Skolhttps://t.co/8mRJL6rpo5

— NFL (@NFL) September 19, 2016
Overall, Bradford had an extraordinarily impressive game, going a long way in silencing the many critics of both his skill and the Vikings' decision to trade for him. A first round pick and a fourth round pick is still an incredibly high price to pay for a quarterback who has never lived up to his once lofty expectations, and many are still understandably upset about the trade.
The fact is that Bradford has still only played one game for the Vikings, and still has a number of questions surrounding his ability to lead the team at a high level for a full year. Last night's debut was certainly a promising step for the new Viking, but he still has a lot to prove.
That said, there is definitely reason for optimism, both about Bradford and the team. This is the best surrounding talent that Bradford has ever played for in his seven-year career, and Diggs is the best receiver he's ever had. He likely will not be among the upper-echelon of NFL quarterbacks, but Bradford has a chance to find a level of success that he hasn't been able to find elsewhere.
At this point it's too early to predict how the Vikings-Bradford pairing will ultimately work out, but this week was certainly encouraging. Coming in and re-establishing a tangible excitement around the team, Bradford was without a doubt this week's MVP.
This article originally appeared on