Week 2: Dolphins – Patriots Preview and Prediction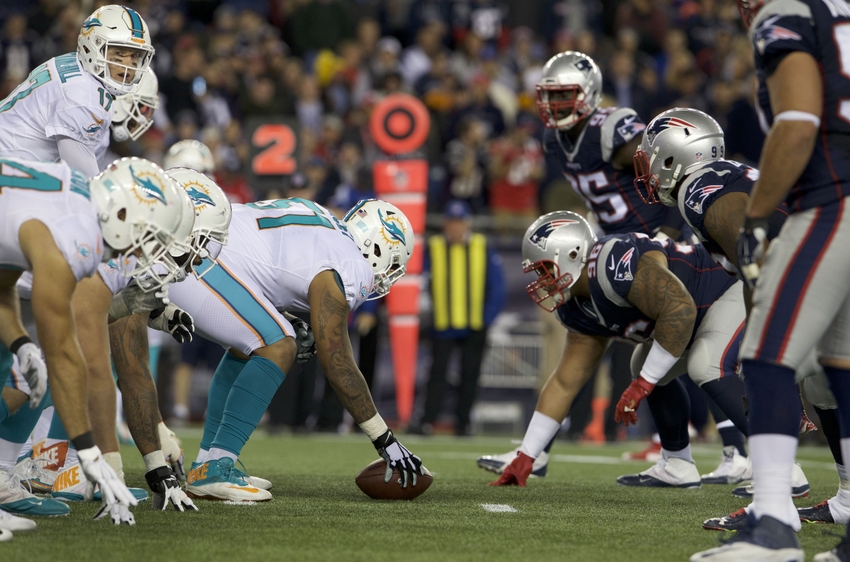 Last week, The New England Patriots traveled to Arizona to face the Cardinals, and escaped with a win. This week, they return home and play the Miami Dolphins, whom almost beat the Seattle Seahawks.
Despite what the stat sheet says, Dolphins QB Ryan Tannehill played fairly well, especially going up against the Seahawks at home. It was a low scoring game, however, a lot of that has to do with the Dolphins receivers dropping balls.
New HC Adam Gase has given more freedom to Tannehill this year in this offense, and it looks as if Tannehill may have a good season ahead of him. The Dolphins receiving core is deep, and with the offseason acquisition of RB Arian Foster (granted he stays healthy), the offense could be the teams strong point.
DE Oliver Vernon left the Dolphins last offseason, and joined the New York Giants on a huge deal, although, they are still in good shape on the defensive line with the addition of DE Mario Williams (he may miss next few weeks with a concussion). They were also able to bring in the oft-injured, but talented LB Kiko Alonso. He could provide a boost to a weak linebacker unit.
Aside from S Reshad Jones, the Dolphins secondary continues to be one of their weaknesses. They did bring in CB Byron Maxwell to help boost the group, however during his time with the Philadelphia Eagles, he was exposed by quick and fast receivers off the line. Could that change or will he be exploited again?
Quick Stats
All Times Series Record: Miami Leads 53 – 48
Since 2013, the Dolphins and Patriots have split the season series 3-3, with the home team winning each time.
The Dolphins haven't won in Foxboro since 2008
Miami has only scored 37 points in Foxboro since Tannehill joined in 2012:


2012: 0 
2013: 17
2014: 13
2015: 7

The Patriots have averaged 32.0 points per game at home vs. Dolphins
Matchup to Watch:
Dolphins Receiving Core vs Patriots Secondary
The Dolphins boost an impressive receiving core in Jarvis Landry, Kenny Stills, DeVante Parker, and Jordan Cameron. Last week may have been a tough matchup for the secondary, but this one could easily have the Patriots with their hands full again. It will be interesting to see how the Patriots will choose to line up against a talented Dolphins offense.
Receiver opposite of Byron Maxwell
Whether it's WR Chris Hogan or Malcolm Mitchell, the receiver that is across from Maxwell will possibly see a lot of targets. Heck, perhaps the Patriots put Julian Edelman across from him. Despite the Dolphins secondary still having holes, depending on if New England's offense will continue with more 3WR sets or balance out by using a 12-personnel set, this should be an area of concern for the Dolphins. There are a lot of mismatches here, so if the Patriots don't look Maxwell's way, there will be other openings on the field.
X-Factor:
RBs & TEs
The Patriots proved last week that they were in no rush to have Rob Gronkowski back on the field without him being 100% healthy. Although neither TE Martellus Bennett or AJ Derby really showed up on the stat sheet last week, they did a good job in run blocking (more so Bennett). This week however, may be a little different. Aside from Alonso, the Dolphins LB unit isn't strong, and it has been that way for quite some time now. They are especially weak in pass coverage, something the Patriots will exploit, as they do time and time again. The tight ends should play a big part, however, the running backs will as well.
Last season in their matchup in Foxboro, Patriots RBs combined for 189 total yards (94 rushing, 95 receiving). RB LeGarette Blount led the way with 72 yards on the ground and Dion Lewis broke ankles with 93 receiving yards. James White had a very minimal role in that game, but it looks more than likely that he will see a lot of targets on Sunday.
Who NE must watch for:
Arian Foster
Last week, RB David Johnson was making Patriots defenders miss tackles, and gaining extra yardage that should not have happened. He also ran for 86 yards with a TD on 5.6 YPC. Foster may be older, and may not have the same quick step he once did, but he is still a great player. It may have been game one jitters as to why there were broken and missed tackles, however, expect the Patriots defense to perform better on the ground than last week.
Kenny Stills
Against the Seahawks, Stills got behind the defense multiple times, but thanks to a drop and some over throws, Tannehill and Stills couldn't connect downfield. Stills is a fast receiver, so depending on who the Patriots have in coverage against him, whether it's Butler or Coleman, there will likely need to be safety help overtop.
Last Matchup Recap:
Loss: 20 – 10 Dolphins
The Patriots traveled to Sun Life Stadium to take on the Dolphins, who had nothing to play for but spoiler. With a game left to play, the Patriots needed to win to secure the 1st seed in the AFC. Unfortunately, they weren't able to thanks to them resting some players, but for some reason still chose to play Brady. Not playing for the 1st seed ultimately changed their path to the Super Bowl, as they had to play the Denver Broncos on the road.
Prediction:
Despite almost beating the Seahawks last week, the Dolphins may not be ready to take the next step yet. However, it's still possible that the Dolphins steal a win here, depending on how Ryan Tannehill plays and if some of their pass rushers will be available.
However, with a strong defense behind him, and most of the Patriots offense available to play, Garoppolo will just need to manage the game – something he is completely capable of.

17

23
This article originally appeared on