Week 14-17 Preview: The Detroit Lions test begins now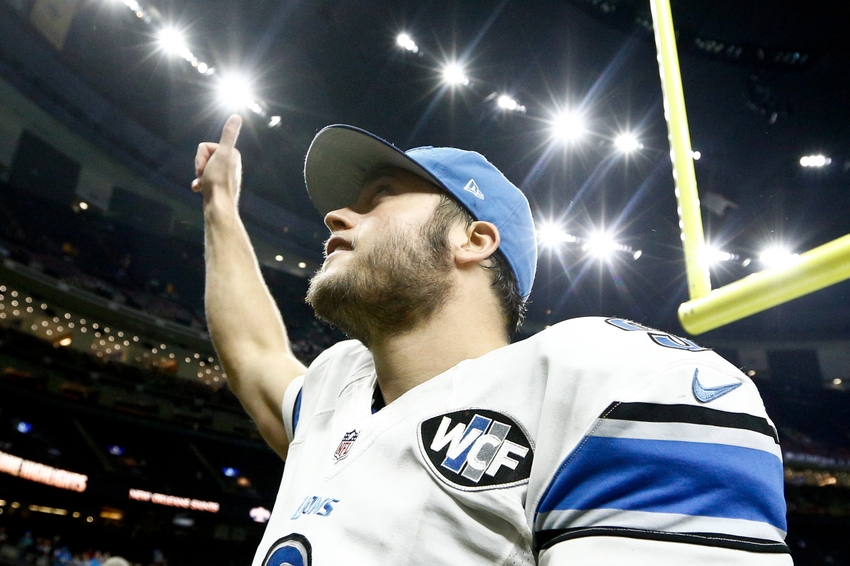 NFC North Division Leader. A title not many expected the Detroit Lions would be holding through week 13, but a convincing win over New Orleans pushes the Lions to an 8-4 record, having won seven of their last eight games. While the run has been impressive the real test begins now. The Lions face two divisional opponents (whom they have already lost games too) as well as two talented NFC East offenses that will not hesitate to take advantage of defensive inefficiencies.
Week 14: vs Chicago Bears (3-9)
Detroit will head home to the dome this week so weather, fortunately, won't be an issue. The quarterback situation hasn't gotten any better for Chicago since the last matchup, this time Matt Barkley will lead the Bears offense. In the first matchup, the Lions were still finding their way on defense and struggled to stop Brian Hoyer and rookie running back Jordan Howard. This time around, the Lions defense is in much better shape. Third round selection Miles Killebrew has been fantastic as of late, and the secondary as a whole has been able to create turnovers to put this team in position to win. More importantly, the return of Armonty Bryant (suspension) and Ezekiel Ansah (injury) will allow this pass rush to improve, helping the secondary even more.
Offensively, it is important that eric Ebron and Anquan Boldin are used effectively. The go-to targets in the middle of the field have to be utilized on third downs to keep drives alive as the run game as been near non existent, forcing Stafford to convert long third downs. This is a game Detroit should win and can win, but these "easy wins" are too easy to let slip away and cannot be taken lightly.
Prediction: Detroit Lions 35 Chicago Bears 17
Week 15: @ New York Giants (8-4)
The Lions will head to East Rutherford to face the Giants and the weather. The Giants are 5-1 at home this season, and star Odell Beckham Jr. could have an excellent day if Eli Manning is given time to throw the football. Not to mention, Landon Collins is the best safety in the NFL at the moment and can ruin the passing attack on any play. This is a must win for New York so expect Eli to step up and play at a high level.
The key this game is focusing in on Odell Beckham Jr. The run game in New York is near the bottom of the league but that hasn't stopped them from winning six of their last seven games. Averaging just 23 points in that span, Detroit is perfectly capable of winning a shootout if they can continue the red zone efficiency they have had. Winning this game along with the Chicago game may be enough to lock the NFC North up for them, reliving the stress of the final two games allowing for some rest and early playoff preparation.
Prediction: Detroit Lions 24 New York Giants 21
Week 16: @ Dallas Cowboys (10-1)
The last thing the Lions want to do, is head into week 16 with only eight wins. Led by rookie duo Dak Prescott and Zeke Elliott, this offense has all the tools to win it all. While the Lions have a history of success against the Cowboys, Megatron isn't around to get 300+ receiving yards and this defense isn't the defenses of before. The Lions defense hasn't faced a top ten rushing offense since they played Houston, and they face the number two rushing offense in this matchup. Ideally, the Lions aren't in a "win and in" situation here, but if there are stopping Ezekiel Elliott is top priority.
On offense, the Lions have to be routine in their passing attack. The Cowboys have been healthy this year and Sean Lee has played excellent football. Finding ways to get YAC and red zone opportunities will be huge as this game can turn into a shootout quickly. If it is close late, I put my trust in Stafford but the trick is keeping it close.
Prediction: Detroit Lions 17 Dallas Cowboys 28
Week 17: vs Green Bay Packers (6-6)
No one, and I mean no one thought the Packers would be playing this poorly through 13 weeks. Nonetheless, it is a divisional game and Aaron Rodgers will be there so there is no easy win here. I don't anticipate this game being one for the division, but two losses can easily put Detroit in a situation where they have to determine their fate. I shouldn't have to remind you of the last time the Lions played the Packers in week 17, when back up quarterback Matt Flynn tossed the rock for six touchdowns in an absolutely ridiculous show case, giving the Lions the 6th seed in the playoffs instead of the 5th seed.
While the first half of the previous game was an Aaron Rodgers highlight reel, the second half proved that the Lions can compete and make adjustments. Avoiding early mistakes may be enough to catch the Packers in a tough game where they may make mistakes leading to a Lions victory.

Predictions: Detroit Lions 17 Green Bay Packers 10
More from SideLion Report
This article originally appeared on