Week 12 awards: Best and worst from Sunday's games
Best job of getting pneumonia: Four girls at Lambeau Field. Now, bikinis at an NFL stadium is nothing new. However, these four girls are on the cusp of becoming seriously ill. Don't believe me? Check out the people surrounding them and the amount of layers they have on. By the way, the temperature at kickoff was 20 degrees. Great, see you in the emergency room tomorrow:
Best job of being a sneaky quarterback: Ben Roethlisberger, Pittsburgh Steelers. Well, it's fourth down and it looks like the Steelers are going for it! Big Ben gets the ball and … it's a pooch punt!! The whole stadium was fooled! The ball is downed at the 1-yard line! In all seriousness, this play worked out well for the Black and Gold and gave us all a chance to say "pooch punt." Isn't it fun? Give it a whirl … "pooch punt."
Best mustache by a guy not playing on Sunday: Aaron Rodgers, Green Bay Packers. A-Rodg is still mending from a fractured collarbone, so he was forced to watch the Packers and Vikings kiss their sisters (end in a tie) on Sunday. However, his facial hair left victorious. That's just epic.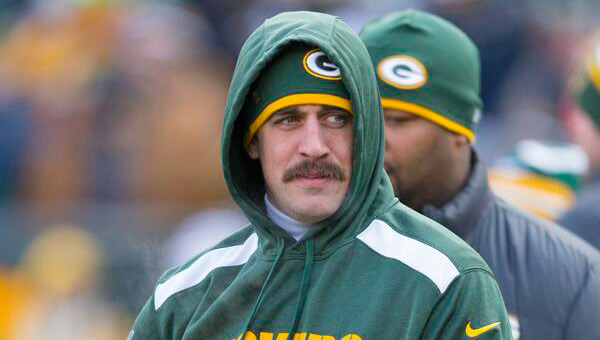 Worst sack dance by a team that got blown out by 29 points: Ricky-Jean Francois, Indianapolis Colts. Not much went right for the Colts in Arizona, but at least they'll have this to applaud when they watch the game tape this week. A little less coffee next time, Ricky. Good lord:
Best tweet from a reporter covering a horrible team: John McClain, Houston Chronicle. This poor guy has been forced to watch the dumpster fire that is the Houston Texans all season. And while the team limped its way to its ninth straight loss, McClain unleashed this bit of gold:
This is Thanksgiving Week. We have somethint to be thankful for: There are only 5 Texans games left in this wretched season.

— John McClain (@McClain_on_NFL) November 24, 2013
Worst hit absorbed by a defenseless player: Mychal Rivera, Oakland Raiders. The rookie tight end was trying to pull down a pass from Matt McGloin in the first half when he took a (dirty?) shot from safety Michael Griffin. Rivera — whose sister is "Glee" star Naya Rivera, not that it matters — stayed on the ground for a few minutes before walking off under his own power. Still, scary stuff:
Best job of crediting a big play: Mike Tomlin, Pittsburgh Steelers. Do you think Pittsburgh's head coach is happy? Check out that cool two-handed point. Wouldn't you like to be on the receiving end of that?
Best job of being two actors at a Canadian football game: Martin Short and Tom Hanks. Hey, did you know the CFL's Grey Cup went down on Sunday? Check out who was in attendance to watch the Saskatchewan Roughriders take on the Hamilton Tiger-Cats (isn't that name redundant?). That's right! Sing it with me now: Ohhhhh Caaaaaaanaada!
Martin Short and Tom Hanks are here to support the #Ticats! #CFL #101GC pic.twitter.com/2lpO7Llb2Y

— Hamilton Tiger-Cats (@Ticats) November 24, 2013
Most entertaining tweet from a FOX personality: Jen Floyd Engel. The FOXSports.com columnist and FOX Sports 1 analyst was on the edge of her seat for the Cowboys' victory over the Giants. In case you need proof, check this out:
For a while in Texas, being a Romosexual was all the rage. Look for a lot of Dezbians after this drive.

— Jennifer Floyd Engel (@engeljen) November 25, 2013
Worst job of possibly passing gas on an opposing quarterback: Andy Reid, Kansas City Chiefs. I don't know what the Chiefs head coach was trying to accomplish when he put his butt in front of the Chargers' Philip Rivers, but I think we all know what it looks like:
Best job of beating a dead horse: Joseph Fauria, Detroit Lions. We get it, Joseph. Every time you score a touchdown you enjoy doing a new sequence of gyrations in the end zone. What is it this time? Saturday Night Fever? Maybe something from Monty Python? Guess what, nobody cares anymore. Stop it:
Most excellent way of winning a seventh consecutive game: Cam Newton, Carolina Panthers: This touchdown pass to Greg Olsen in the end zone completed a most impressive Carolina comeback. It's amazing to see the poise that Newton has displayed several times this season. Is it just a matter of time before he hoists the Lombardi Trophy? We'll have to wait and see.
Best job of tripping at a snap: Alex Smith, Kansas City Chiefs: What a graceful fall, right? Smith takes the snap, has his foot stepped on and slowly falls to the turf like a feather floating in the wind. I think even the Russian judge would give this a 10.
Worst job of acting like Terrell Owens or Chad Johnson: Kendall Wright, Tennessee Titans. The wide receiver had a perfect chance after catching the winning touchdown against the Raiders. A true showman would have spiked the ball, proposed to a nun and knitted himself a victory sweater. Nope, Wright wound up to spike it, stopped and just flippantly flipped the pigskin on the ground. Now, that's cool.
Best Cowboys error of the 2013 season: At least Dallas got out of New York with a victory, because the ride home could have been unpleasant for Bruce Carter and Jeff Heath. As you'll see, neither of them touch Giants tight end Brandon Myers, who gets up and waltzes into the end zone.
(GIFs via @gifdsports, gifulmination, gfycat.com)