Week 11 NFL Power Rankings: 49ers Losing Streak Continues After Loss to Cardinals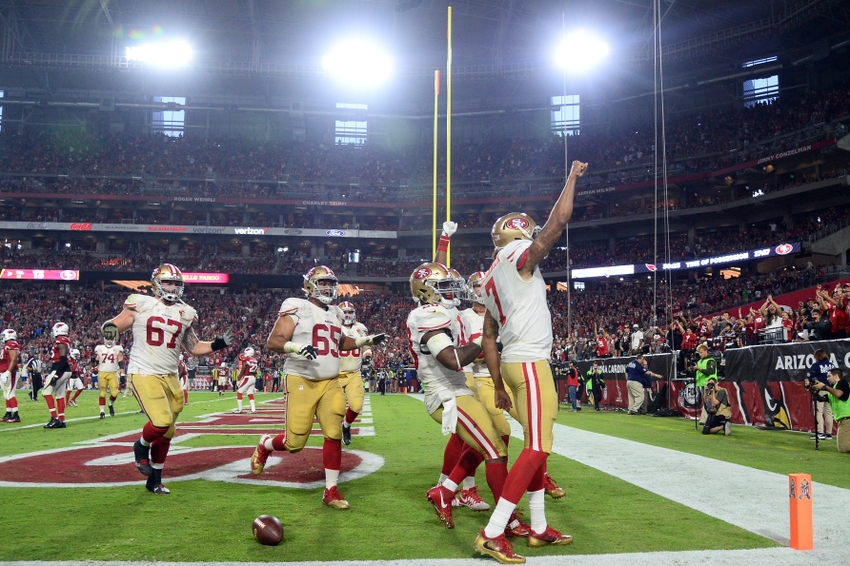 Niner Noise breaks down Week 11 NFL Power Rankings for all 32 teams and with the 49ers losing their eighth game in a row last Sunday.
The San Francisco 49ers aren't going to make a big jump in NFL power rankings entering Week 11.
But last Sunday's 23-20 loss to the Arizona Cardinals felt different. The Niners were in contention and even managed to tie the game at 20 with less than two minutes remaining in regulation. Only a last-second field goal ensured San Francisco's eight-game losing streak would continue.
Niner Noise breaks down the action from all 32 teams around the league. We haven't done too many all-inclusive NFL power rankings this year.
A near-49ers win changes that. The only question is how far San Francisco will climb. The 49ers have been at, or near the bottom, most analysts' breakdowns.
Plenty of teams still sit around the Niners too. And yet all the action in Week 10 ensured this week's power rankings would be a bit more interesting.
Let's take a look where San Francisco stands in comparison to the other 31 teams as Week 11 comes into focus.
The Cleveland Browns may not win a single game this season.
Some thought Cleveland was showing some fight earlier in the year. But a 28-7 loss to the Baltimore Ravens ensures just how bad things are going for first-year head coach Hue Jackson.
Josh McKown took over for Cody Kessler at quarterback midway through the game, but it didn't make much of a difference. One has to wonder if Jackson is merely protecting Kessler or simply doesn't have any other answer right now.
Cleveland's offensive line gave up four sacks and the Browns turned the ball over three times — not a winning formula for a team trying to find its way.
At least a No. 1 overall pick in the 2017 NFL Draft is on the horizon… again.
Will head coach Gus Bradley be around once this season is finished?
The Jacksonville Jaguars won the offseason. But those efforts haven't done much of anything. Quarterback Blake Bortles continues to be an embarrassment, and nothing says incompetent more than his interception thrown off running back T.J. Yeldon's foot:
Only the great Blake Bortles could pull this off pic.twitter.com/cRi5zdxl05

— The Sports Quotient (@SportsQuotient) November 13, 2016
At least wide receiver Allen Robinson contributed nicely with nine grabs for 107 yards and a touchdown. Yet the 24-21 defeat to the Houston Texans tells us everything we need to know.
Jacksonville is underachieving in every way possible. It's going to be another long offseason.
Wait, so the 49ers climb over the Jaguars despite losing, having a worse record and having their eight-game losing streak continue?
Here's the difference — San Francisco overachieved in Week 10 in spite of the tough 23-20 loss to the Cardinals. Jacksonville is underachieving in every sense of the term.
This Niners team is still far too bad to contend with the big dogs in the NFL. But holding Arizona running back David Johnson to a mere 55 yards (he had 705 entering the contest — fourth in the league) is quite a feat for a defense ranked last against the run.
The 49ers are still last against the run. But they made changes, including giving defensive tackle Glenn Dorsey a larger role along the defensive line. It worked.
Quarterback Colin Kaepernick had, arguably, his best game of the season. While his numbers against a weak New Orleans Saints defense were better in Week 9, Kap's efforts in Arizona certainly meant more.
He showed touch on some of his passes. And his fourth-quarter four-yard rushing touchdown made us recall the 2012 version of Kaepernick.
Can we expect the 49ers to climb any further in NFL power rankings though? They take on the New England Patriots in Week 11 and will likely crash down hard.
The New York Mets lost to the Los Angeles Rams by a score of 9-6 on Sunday.
That would have been an exciting game, if this was Major League Baseball. But the Jets loss to the Rams — by the same score — tells you just how bad things are for head coach Todd Bowles this season.
2016 is a major disappointment for a team that was right on the cusp of making the postseason a year. Everyone thought quarterback Ryan Fitzpatrick would make the jump. He did, but in the wrong direction.
Going with Bryce Petty under center is about as last-ditch an option Bowles has. And the Rams made easy work of the second-year pro.
At least New York's defense held the offensively challenged Rams to just nine points. But cornerback Darrelle Revis' island is starting to look more like an all-inclusive resort on a tropical island.
Quarterback Jay Cutler's hail mary pass was pretty cool. But that was about it.
Aside from that, everything else in Bears land is going bad. Head coach John Fox may be losing the locker room, and Chicago suffered even more setbacks during, and after, its 36-10 loss to the Tampa Bay Buccaneers.
Guard Kyle Long is out for the year with an ankle injury, and the Bears will be without wide receiver Alshon Jeffery for the next four games as he serves a suspension for a PED violation.
Running back Jordan Howard might be a player to watch moving forward. He rushed for 100 yards on 15 carries, albeit against a bad Buccaneers defense.
Head coach Jeff Fisher's squad has a knack for winning weird games. Week 10 marked the second time this season they won a game without scoring a touchdown — the other time in Week 2 against the Seattle Seahawks.
Take away these two games, and the Los Angeles Rams would be a two-win team, which is exactly where NFL power rankings should place them.
As has been the case in recent years, the Rams will go as far as they can on the backs of their defense. Defensive tackle Aaron Donald is one of the best defensive players in the game, and his unit did more than enough to keep the Jets in all kinds of disorder.
Running back Todd Gurley wasn't much of a factor, and fans might be getting restless for rookie quarterback Jared Goff. This offense is bad.
Raise your hand if you thought the Carolina Panthers would be in the bottom third of NFL power rankings this late into the season.
Yeah, not too many of you.
Seventeen unanswered points by the Kansas City Chiefs in the fourth quarter ensured Carolina's season-long issues would continue.
Quarterback Cam Newton came on strong during the second half last year. But that probably won't save the Panthers' season in 2016. And this is with an offense that got wide receiver Kelvin Benjamin back after he missed all of 2015.
Carolina's Super Bowl-loss hangover continues into Week 11. The Panthers only wish they could play the 49ers every week.
Don't let Tampa Bay's 36-10 win over the Bears fool you. The Buccaneers are still pretty bad. They just had the luxury of playing a Chicago team going nowhere fast.
Quarterback Jameis Winston had one of the better games of his career, going 23-of-33 for 312 yards and two touchdowns against one interception. And he did a great job of spreading the ball around. Nine different receivers had catches in Week 10.
And credit the problematic Bucs defense for holding Chicago to just 283 all-purpose yards.
Tampa Bay isn't going to win a lot of games in such a dominant fashion. But it's becoming clear this team is starting to move in the right direction.
The San Diego Chargers seem to find new ways to lose in each one of their six defeats on the season.
Last week, it was quarterback Philip Rivers primarily responsible for San Diego's 31-24 defeat at the hands of the Miami Dolphins. He tossed four painful interceptions en route to a 61.4 passer rating.
Where was the running game? Running back Melvin Gordon averaged just 2.9 yards per carry, and the Chargers defense didn't offer much help either.
At least wide receiver Tyrell Williams looked good with 125 yards through the air and a touchdown.
The Cincinnati Bengals should be better than their record indicates. At least on paper.
But a forgettable 21-20 loss to the New York Giants on Monday Night Football reveals why the Bengals have to be considered one of many major disappointments in 2016.
New York shut the Bengals' running game down from the start. And quarterback Andy Dalton's efforts through the air simply weren't enough to reverse Cincinnati's hard luck this season. The Bengals could have come away with the prime-time victory if it weren't for Giants wide receiver Sterling Shepard's late go-ahead touchdown in the fourth quarter.
For some strange reason, Cincinnati is still in the hunt in the AFC North. But the Bengals need to turn things around to get back into contention.
The Buffalo Bills had a Week 10 bye but get to take on a scuffling Bengals team in Week 11.
Will this be enough to turn head coach Rex Ryan's club into a legitimate playoff contender by the end of the season?
Like the Panthers, raise your hand if you thought the Cardinals would have this record 10 weeks into the 2016 season.
True, head coach Bruce Arians' squad managed to come away with a win over the hapless 49ers. And wide receiver Larry Fitzgerald continues to put up legendary stats.
But the fact Arizona let San Francisco hang around in the game long enough to put the outcome at risk says a lot about what's wrong with the red birds. The fact Arians didn't elect to let running back David Johnson run wild against the league's worst defense is troubling. Why was quarterback Carson Palmer insisting on throwing the ball from start to finish?
The 49ers said thank you, and intercepted him twice. Four net turnovers ensured the Niners would stay in the game until the final moments.
Too many close games, not finishing off opponents at the end and a general failure to live up to expectations has put this team into serious trouble in the second half.
No, quarterback Aaron Rodgers. We cannot R-E-L-A-X.
The Green Bay Packers' 47-25 loss to the Tennessee Titans was about as ugly as it gets. And it's only fueled talk head coach Mike McCarthy will be dismissed when the season is over.
Rodgers managed to have two 100-plus yard receivers — Davante Adams and Jordy Nelson — but even they couldn't prevent the Green Bay quarterback from tossing two picks.
Even worse, the Packers defense had no answers for Titans quarterback Marcus Mariota and running back DeMarco Murray. An inconsistent Tennessee offense managed 446 all-purpose yards against a permeable Green Bay defense.
The Packers can't get linebacker Clay Matthews back soon enough.
The Indianapolis Colts had a Week 10 bye and are stagnant in NFL power rankings across the board.
They take on a hot Tennessee team in Week 11, which could have major implications in the AFC South.
What has happened to the Minnesota Vikings over the last four weeks?
Minnesota's four-game losing streak is highlighted by its 26-20 loss to the Washington Redskins in Week 10, and the streak is reflected in NFL power rankings.
The Vikings live and die by how well their offensive line plays. Not surprisingly, this unit has struggled a bunch during this streak. Quarterback Sam Bradford was sacked three times Sunday. And despite a 307-yard performance, his efforts weren't enough to stop Washington quarterback Kirk Cousins and Co.
Minnesota no longer seems like the NFC North division contender heading into the second half of the season.
The New Orleans Saints' 25-23 loss to the Denver Broncos sure was a heartbreaker.
Kudos to a Saints team able to tie the game in the waning seconds, only to lose on a blocked extra-point attempt that was returned for a touchdown?
Who would have thought that would be the deciding moment in the game?
New Orleans' defense is terrible. And this unit let Broncos quarterback Trevor Siemian do just enough to ensure Denver was in a position to come away with the victory. But quarterback Drew Brees is still capable of putting this team on his back.
Can the offense do enough to keep pace with the first-place Atlanta Falcons within the division?
Like a number of teams, the Pittsburgh Steelers should be much higher in NFL power rankings this season. But a four-game losing streak has fans wondering if quarterback Ben Roethlisberger and Co. will falter down the stretch.
Granted, losing a 35-30 thriller to the Dallas Cowboys is a tough one to swallow. Going up against shoo-in Offensive Rookie of the Year candidate Ezekiel Elliott doesn't help the Steelers. But tack on Dallas quarterback Dak Prescott, and Roethlisberger's 408 passing yards simply weren't enough.
Pittsburgh is still having all kinds of problems defending against the pass. And this will likely be the team's downfall in spite of what the Steelers offense can do.
Congratulations, the Baltimore Ravens. You easily beat the winless Cleveland Browns 28-7 — the only team in the NFL with a worse record than our own 49ers.
Quarterback Joe Flacco is nothing close to the guy who won Super Bowl XLVII. And Baltimore's 24th-ranked offense is proof of that.
Fortunately, the Ravens defense is doing what it needs to do — keep teams from moving the ball against Baltimore. No other team in the NFL has given up fewer yards (2,534).
Of course playing the Browns, who gained a lowly 144 total yards, will help keep that stat right where it is.
And it's a number that could increase drastically when the Ravens visit the Cowboys in Week 11.
Tennessee's manhandling of the Packers last Sunday was proof this team is finally starting to put things together.
The Titans have quietly won four of their last six games after starting off the season 1-3. And the victory over Green Bay was the most impressive one to date.
Quarterback Marcus Mariota's four-touchdown performance was awesome. It's clear how much a leap he's made since breaking into the league a year ago. And it's nice to see him have weapons around him as well.
Tight end Delanie Walker continues to remind 49ers fans it was a mistake to let him walk in free agency. He had 124 receiving yards on nine grabs and a touchdown, and he remains one of the biggest weapons in head coach Mike Mularkey's arsenal.
The Detroit Lions enjoyed a Week 10 bye and will look to better their 5-4 record against a struggling Jaguars team in Week 11. An NFC North bout with the Vikings in Week 12 could go a long way in deciding the division.
Is it weird to think quarterback Matthew Stafford is actually performing better without now-retired wide receiver Calvin Johnson at his disposal?
Quarterback Ryan Tannehill had one of the best games of his NFL career, going 17-of-24 for 240 yards and two touchdowns.
Running back Jay Ajayi continues to do his thing, and he was a large factor in ensuring the Chargers' woes continue.
But the Dolphins defense was the prime reason behind Miami's stunning 31-24 victory in San Diego. One can thank linebacker Kiko Alonso for his go-ahead interception returned for a touchdown. The Dolphins have quietly emerged as one of the better pass-defending teams in the league.
If they could figure out how to stop the run, the Dolphins might be in contention for a playoff berth this year.
The Philadelphia Eagles definitely cooled off after their three-game hot streak at the beginning of the year. But a decisive 24-15 victory over the Atlanta Falcons is exactly what the Eagles need to climb out of last place in the hard-fought NFC East.
Yes, it's weird to think they're in last despite a winning record.
Rookie quarterback Carson Wentz is coming back to earth a bit and only managed to go for 231 passing yards en route to an 86.7 passer rating on the game.
He didn't have to do much of the work though. Tailbacks Ryan Mathews and Wendell Smallwood led the way on the ground, and Philadelphia posted up an impressive 208 yards on the ground.
Even more impressive was the defense holding Falcons quarterback Matt Ryan to an 18-of-33 mark and just one passing touchdown. Atlanta's offense ranked No. 1 in the league entering the game. This unit looked anything but in Week 10.
The Redskins' 26-20 win over the Vikings ensured Minnesota's losing streak would continue.
Washington looked prepared and ready coming out of its Week 9 bye, and quarterback Kirk Cousins was efficient enough to lead his team with 262 passing yards and two touchdowns.
Wide receiver DeSean Jackson's absence didn't look to be much of a factor, even if his injury worries are kind of an ongoing thing now. Instead, Cousins looked to veterans like Pierre Garcon and Vernon Davis to help carry the load.
It must be weird for 49ers fans to hear more about Davis after such a lackluster finish to his San Francisco tenure.
The Redskins remain in the hunt for the NFC East, and they have a winnable game at home against the Packers in Week 11.
The Houston Texans' 24-21 victory over the Jaguars was closer than what the AFC South leaders would like to have. An 11-point comeback by Jacksonville in the fourth quarter made things interesting.
It's painfully obvious quarterback Brock Osweiler isn't going to be close to an answer under center, but Houston is stuck with him. He went 14-of-27 for a mere 99 yards.
The difference was Houston managed 181 yards on the ground and got off to a hot start in the first quarter — managing 14 points off Osweiler's two touchdown passes on the day.
The Texans have won three of their last four games but have a tough challenge taking on the Oakland Raiders in Mexico City on Monday Night Football in Week 11.
The Giants managed to squeak by the Bengals on Monday Night Football en route to a 21-20 victory and a 6-3 record.
Quarterback Eli Manning was OK — going 28-of-44 for 240 yards and three touchdowns against two interceptions — but his touchdown pass to wide receiver Sterling Shepard proved to be the difference.
Wide receiver Odell Beckham Jr. was also a factor and managed a touchdown as well.
But the bigger story has been New York's defense. All the offseason efforts general manager Jerry Reese put into rebuilding this group have started to pay off. The Giants now own the league's 11th best defense in the league, and it's reflected in this week's NFL power rankings.
The Falcons looked awfully flat against the Eagles, falling 24-15 as a result and 6-4 on the season.
But they still hold the top seed in the NFC South, and they'll ride their first-ranked offense as far as it will take them.
As good as the offense is, Atlanta's defense remains a very troubling part of the equation. This unit has allowed 283 points on the season already, which ranks 28th in the league. Head coach Dan Quinn only wishes he had answers to rectify their woes and turn the Falcons into an all-around contender.
Atlanta has a Week 11 bye week but gets to host the inconsistent Cardinals at home in Week 12.
Raise your hand if you thought the defending Super Bowl champions, the Denver Broncos, would be in third place this far into 2016.
Well, when Trevor Siemian is under center, it makes sense.
Denver had to rely on a miraculous blocked extra-point attempt and touchdown return to ensure they walked away from New Orleans with a victory.
The offense clearly misses running back C.J. Anderson. And even the once-mighty Broncos defense hasn't done enough to guarantee a likely return to postseason glory.
The Broncos will enjoy a Week 11 bye. But a key matchup the following week against the Kansas City Chiefs will be huge in determining the playoff picture out of the tough AFC West.
We might be seeing the time in which quarterback Alex Smith begins his decline. He hasn't been the biggest of factors for the Chiefs' success this season. In fact, Kansas City's offense has been average at best.
It's the defense which has put the Chiefs into this position this late into the season. Just consider safety Eric Berry's heroics late in the game, which ensured the Panthers' season-long woes would continue. The Chiefs lead the NFL with 22 generated turnovers.
And those 17 unanswered points in the fourth quarter certainly mean Kansas City isn't out of a game until the clock actually strikes zero.
Kansas City hosts the Buccaneers in Week 11 before two provocative matchups against the Broncos and Falcons in Weeks 12 and 13, respectively.
Don't mess with a hot defense.
The Seattle Seahawks managed to pull off an incredible 31-24 against the New England Patriots on Sunday Night Football, although the game certainly wasn't without controversy.
Quarterback Russell Wilson continues to prove why he belongs as one of the league's elite. And his 25-of-37 mark for 348 yards and three touchdowns shows the early season concerns are nothing but a distant memory.
Seattle's worrisome offensive line seems to be jelling too, which is a great relief to Seahawks fans moving forward.
And the vaunted Seattle defense managed to hold Patriots quarterback Tom Brady in check for most of the game.
The Seahawks have a very winnable schedule to close out the rest of the season, and it's doubtful they'll be unseated from the top seed in the NFC West.
49ers fans won't like to hear this, but the Bay Area's team is now the Oakland Raiders.
The Raiders enjoyed a Week 11 bye and are riding one of the best seasons they've had since making it to the Super Bowl seemingly oh-so long ago. Too bad 2016 may wind up being the last in Oakland.
Quarterback Derek Carr is the real deal, and he has plenty of weapons at his disposal. If head coach Jack Del Rio can clean up his defense somewhat, the Raiders could be serious contenders for a deep playoff run.
They play the Texans in Mexico City on Monday Night Football in Week 11.
The Seahawks proved a good defense could go into Foxborough and upend a team many considered would be representing the AFC in Super Bowl LI.
Quarterback Tom Brady was held without a touchdown during the game — surprising, considering how well he's played since returning from suspension to start the year.
Only running back LeGarrette Bount and his three rushing touchdowns made for one of the more entertaining prime-time matchups we've seen this season. Despite this, New England couldn't contain Seattle quarterback Russell Wilson and wide receivers Tyler Lockett and Doug Baldwin.
Thankfully for head coach Bill Belichick and Co. have back-to-back games against the 49ers and Jets in Weeks 11 and 12, respectively.
Those games are exactly what New England needs to get back on track after a tough loss.
Forget running back Ezekiel Elliott being the Offensive Rookie of the Year. He very well could be MVP of the league after his stellar campaign in 2016.
Elliott's 114 yards and two touchdowns, especially his late 32-yard touchdown rush to give the Cowboys the lead, only cement his up-and-coming legacy.
It would be one thing if Dallas only hit on Elliott in the 2016 NFL Draft. But the Cowboys also landed rookie quarterback Dak Prescott, who has all but unseated Tony Romo as the guy under center moving forward.
Prescott tossed for 319 yards and two touchdowns against the Steelers defense. And even Pittsburgh's vaunted offense couldn't do enough to come away with the win.
Like all those annoying Skip Bayless commercials have suggested, the Cowboys offense is driving the defense and protecting it too. All that remains is for Dallas to continue its hot momentum heading into a Week 11 matchup with the Ravens.
And that's a contest Dallas will likely win.
This article originally appeared on