Week 11 NFL picks and predictions: Vikings bouncing back?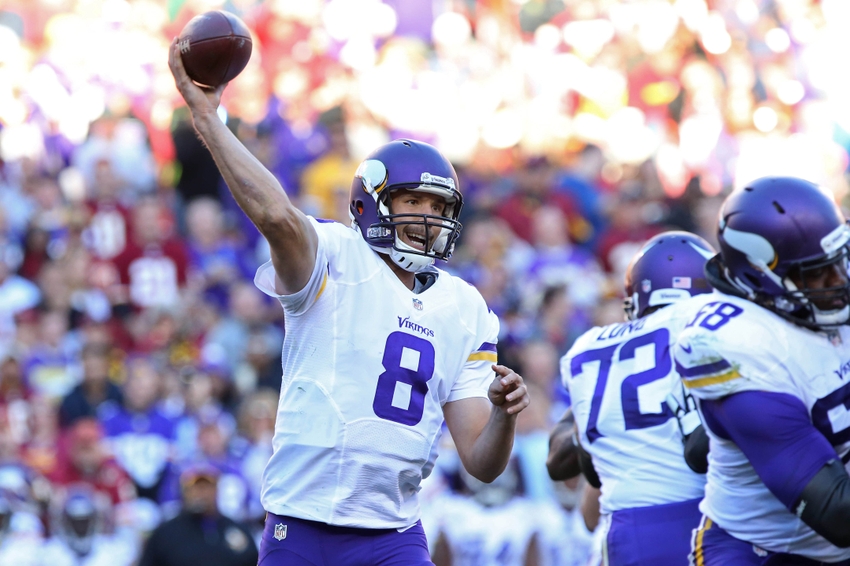 It's week 11 of the 2016 NFL season. Here are the picks and predictions for the games as teams try to position themselves for the playoff and division races.
This NFL season has been an exciting one thus far. With the season progressing, we can only expect the season to bring more excitement. With some games having major playoff implications, let's jump right in with my Week 11 NFL picks and predictions.
One Week 11 game is under our belt. The Carolina Panthers downed the New Orleans Saints on Thursday night by a score of 23-20. The late surge by the Saints was not enough to overcome a 20 point deficit.
But let's take a look ahead to the rest of the games on the slate for week 11. Who will be victorious and what are some things to note about the upcoming games? Here is a peek at the games this weekend (and Monday night) with a prediction for the finals score:
Pittsburgh @ Cleveland
The Browns haven't found many bright spots to their season thus far. Don't expect them to find any success against Big Ben and the powerful offense of the Steelers. Pittsburgh 35 Cleveland 14
Baltimore @ Dallas
The Cowboys sit at 8-1, the best record in the NFL, due to great play by their dynamic rookie backfield. Baltimore sits at the top of the AFC North by just one game, which makes this a very inconvenient time to play the red-hot Cowboys. Dallas 24 Baltimore 14
Jacksonville @ Detroit
Matthew Stafford has been arguably the biggest surprise of the NFL season. He won't need another 4th quarter comeback to top the struggling Jags. Detroit 28 Jacksonville 13
Tennessee @ Indianapolis
The Titans are in the midst of a 10-game losing steak to Indianapolis. With a very strong run game and help from a talented defense, that streak will come to an end.
Final Score: Tennessee 20 Indianapolis 17
Buffalo @ Cincinnati
On the heels of signing a new contract, Tyrod Taylor continues to impress. Possibly one of the most balanced teams in recent history will make for a road win for Rex Ryan's crew.
Final Score: Buffalo 24 Cincinnati 21
Tampa Bay @ Kansas City
It was a miracle that the Chiefs beat the Panthers last week. It won't take a miracle to slow down the turnover-happy Buccaneers offense.
Final Score: Kansas City 20 Tampa Bay 10
Chicago @ New York Giants
Odell Beckham Jr. is proving why he is still one of the best receivers in the NFL. With some help from Victor Cruz and Sterling Shepard, Eli manning will throw all over the field against the weak Bears secondary.
Final Score: New York 30 Chicago 17
Arizona @ Minnesota
The Vikings should fear the ability of David Johnson, but with him being almost the only offensive weapon for Arizona, expect Minnesota to focus on shutting him down. Expect one big turnover by Arizona to decide the outcome of this game and help The Vikes get back on track.
Final Score: Minnesota 21 Arizona 17
Miami @ Los Angeles
The Dolphins have been very good over the last 5 games behind the brilliant running of Jay Ajayi. The Rams' defense is good, but not good enough to stop the momentum of the Miami Dolphins.
Final Score: Miami 17 Los Angeles 9
New England @ San Francisco
Even in his loss to Seattle, Tom Brady is looking like another MVP award is in his sights. The 49ers defense doesn't look like they could slow down a sloth so don't expect them to be able to slow down Tom Brady.
Final Score: New England 42 San Francisco 17
Philadelphia @ Seattle
Seattle is coming off a huge win at Gillette Stadium and they are playing at home. They normally get red-hot in the second half of the season and it seems like that's happening again.
Final Score: Seattle 28 Philadelphia 10
Green Bay @ Washington
Green Bay's defense is struggling vitally. They gave up 47 points to Tennessee last week. Heading to the nation's capital to play the strong offense of the Redskins doesn't sound great for the Pack.
Final Score: Washington 31 Green Bay 24
Houston vs Oakland (in Mexico City)
Derek Carr is growing up right in front of our eyes. Oakland's defense is getting over-looked as they are playing very well also. Mexico City will get to see one of the NFL's young stars shine bright.
Final Score: Oakland 34 Houston 14
We have some great games on our plate this week. With the playoffs getting near, teams are trying to battle for a chance to extend their season. Vikings fans, this is a huge week for us. A win over the Arizona Cardinals could get our momentum back and help us get back into the playoff race.
#SKOL
This article originally appeared on