Week 11 Mailbag: Oakland Raiders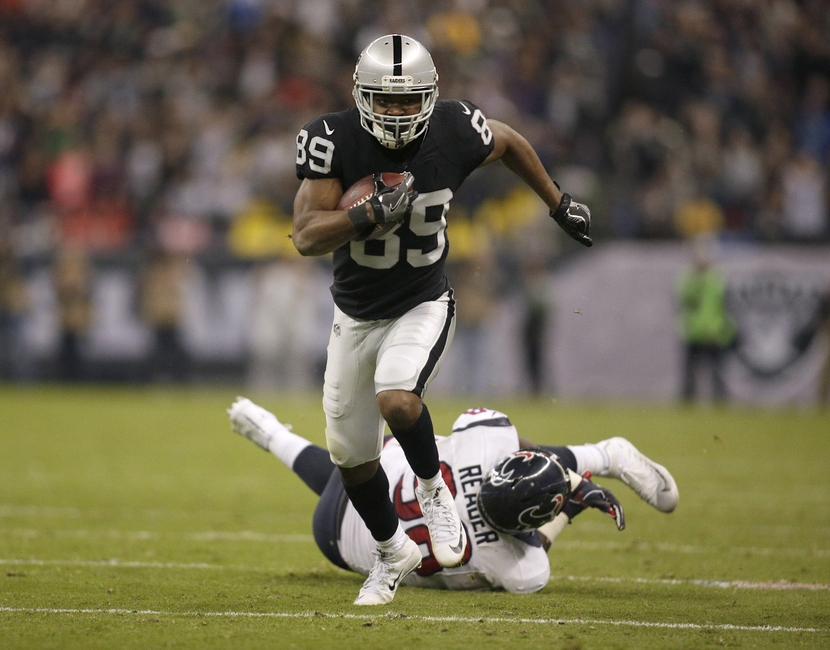 Week 11 of the JBB Mailbag, answering questions from Twitter following the Oakland Raiders win over the Houston Texans.
Last week, John, a devout follower of Just Blog Baby, inquired who were some of our favorite Raiders rookies this season. He'd asked for three, I gave him two: Jalen Richard and Karl Joseph.
And after Monday's showing, I wanted to salute those two players — and yes, myself as well –because they have been tremendous in 2016. Their energy and passion for the game of football, and this team, is infectious. I look forward to watching those two young men in silver and black for seasons to come!
@JustBlogBaby question 1. How did they win that game?

— Silver&Black in Stat (@Raider_Stats) November 22, 2016
Resiliency. And if you're looking for any answer, other than that, you've come to the wrong place.
This is a horse I've started beating since win 3 or 4, when I took a step back and realized that these wins were different than those of 4-12, 5-11 pasts. We just caught some teams on bad days during those campaigns, but this year, not a chance.
We, Raider Nation, have witnessed eight convincing, statement victories, and it's my mission to relay that message to anyone willing to listen.
Has luck been on our side at times? Yes. Have our guys played unquestionably sloppy at times, but ultimately emerged victorious? Yes. And I'll tell you what, there's an endless list of division, conference, and Super Bowl champions who have had a couple calls and balls go their way. That's just the way it goes: every win isn't pretty, but it is a win.
@JustBlogBaby what do you see the Raiders going after in the draft in first couple rounds? I have LB, LT and CB or DT mostly defensive

— saul ruiz (@Sauuulllito) November 23, 2016
Disclaimer: I historically, and notoriously, disagree with most of Raider Nation as it pertains to who the Raiders should draft, leading up to the spring. Hard to believe now, but once upon a time I was one of very few fans who went to sleep dreaming of Reggie and Co. selecting Amari Cooper in 2015.
Kevin White and DeVante Parker were names being thrown around that a lot of fans wanted, but the past is the past. As for 2017, there is one name on my wish list — Reuben Foster. The Alabama linebacker was born to be an Oakland Raider.
So Al, if you're reading this, put in a word for us with the Big Guy Upstairs. Although I hear you, "Last time we picked a linebacker out of Alabama.." and I get that. But if we start overlooking guys, due to affiliation, then we're the Houston Texans watching Derek Carr slice and dice us for 295. No shade, though.
@JustBlogBaby is Del Rio in the coach of the year conversation?

— Ernesto (@SupSup_DamRight) November 22, 2016
As should Derek Carr be in MVP discussions, to this point, so should Jack Del Rio with COTY discussions. I mean, being tied — with New England, for God's sake! — for the second best record in the NFL has to count for something, right?
I think Jack, maybe, doesn't get the credit he's earned because he's not Belichick on the chalkboard. JBB contributor, Ryan, touched on that this week on the podcast. He talked about Del Rio — and Norton, too — being more of motivators, than x and o guys. And I think, sometimes, those coaches get a bad rap in the NFL community, but they're just as essential.
Look at Mike Tomlin in Pittsburgh. I don't think anyone would classify him as a master tactician, but, for the most part, his guys show up to play each time they step on the field. And at 8-2, so have ours: that's Jack.
@JustBlogBaby had the raiders lost this game how much blame would have been on the awful goal line play calling after the Houston fumble

— Josh Mason (@masonslaw) November 23, 2016
Had Crabtree not caught the two-point conversion against the Saints, how much blame would have been on the awful decision to go for the win instead of the tie?
We cannot think like this.
@JustBlogBaby Do you think DJ Hayden's third degree burns will heal in time for next Sunday? Ouch.

— Tom Hearne (@thearne) November 22, 2016
While many will gather, tomorrow, and take time to reflect, I challenge everyone to take a different approach: look forward. Gaze into the future, and pray that Ted Ginn doesn't have a day.
@JustBlogBaby why are the Raiders determined to give me a heart attack?

— Matthew Lucas (@mattnjas_RN4L) November 22, 2016
It could be worse. We could rewind to just a short time ago, where our games were decided by halftime, or before they even started; and often times we spent second halves at the grocery store, and running errands.
This is a good football team, and as I have said previously, they will only continue to get better. I will profess that belief until I am Al Davis in the face.
Without question, in 2016, I would roll the Oakland Raiders into any stadium in the NFL — or Mexico — and be confident in silver and black.
Happy Thanksgiving, Raider Nation.
http://justblogbaby.com/2016/11/23/jbb-raiders-podcast-texans-recap-panthers-preview/
More from Just Blog Baby
This article originally appeared on