Week 11 keys to the game: Chicago Bears @ New York Giants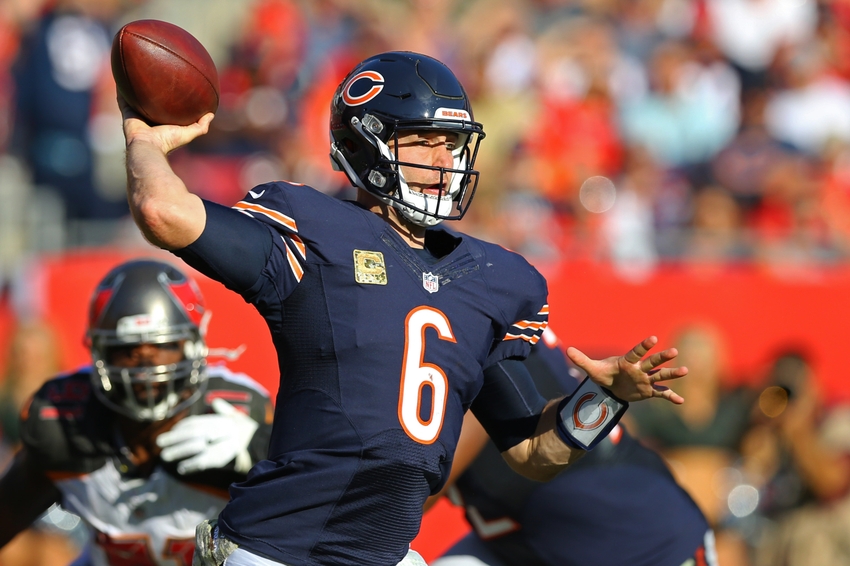 Can the Chicago Bears earn an upset victory against the Giants? Here are three keys that will guarantee victory for Chicago
Well last week didn't go according to plan. The Chicago Bears squandered what little momentum they had in a 5 turnover disaster against Tampa Bay. Chicago now faces a 6-3 Giants squad that is on a 4 win streak, yet are still extremely vulnerable. These three keys will guarantee that Chicago breaks the Giants' win streak.
Last weeks keys:
Re-establish a run by committee attack: Howard ran well in the first half, but only received two touches in the second half. Instead of allowing other backs to make an impact in the game, the Bears relied solely on the pass for the entire second half. There was a significant portion of the third quarter where the Bears were down by only two scores, so not running the ball was a poor choice. Bears were nowhere close to getting this key.
Throw the deep ball and SCORE off it: Well, they pulled off a Hail Mary. Unfortunately, that's all the scoring the Bears did last Sunday. Chicago misses out on this key as well.
Turnovers Turnovers Turnovers: Harold Jones-Quartey got a gift interception off of a tipped pass, but that was it for the Bears. The pass rush showed significant promise and may definitely force strip sacks in the coming years. However, the Bears don't receive the key either.
Week 10 keys: 0/3
1. Zach Millers' Breakout Game
The Chicago Bears made it a point of emphasis to bring back Zach Miller after a productive 2015 campaign. However, most fans were concerned that Miller's injury history would slow down his productivity this season. In a surprise twist, Miller has been relatively healthy, but remarkably unproductive in 2016. Miller has only exceeded 40 yards receiving on two occasions, once against the Vikings, and in garbage time against the Cowboys. Miller managed over 40 yards in 5 of the 11 games he played last season.
Chicago needs Miller to perform at a high level now more than ever. With Alshon Jeffery out due to suspension, Miller needs to be Cutler's security blanket. New York's shut down corner in Dominique Rodgers- Cromartie will be lined up against an outmatched Cameron Meredith and Eddie Royal has been slowed down by various injuries in the past few weeks. If Miller doesn't step up his game soon, the Bears could draft another tight end to compete. In the context of tomorrow's game, Miller needs to surpass 75 yards and score.
2. Back up Pernell McPhee's smack talk
The Giants have done a solid job in pass protection this season. Eli Manning has only been sacked 12 times on 350 pass attempts so far. However, the Bears' front seven have quietly emerged as one of the premier pass rushing units in the NFL. Their 24 sacks rank 8th in the NFL due to Willie Young, Leonard Floyd, Akiem Hicks and Pernell McPhee. The four account for 17.5 of the team's sack count and have steadily built a ferocious reputation. However, the group has never been outspoken until this week.
Pernell McPhee made a statement regarding getting after Eli Manning. In short, McPhee guaranteed that Manning will be eating turf at the Meadowlands on Sunday. Chicago's pass rush has always been key to victory, but McPhee has brought an added meaning to this weekend. The 80's and 2000's Chicago Bears were built upon a defense the struck fear into people regardless of record. Should the Bears back up McPhee's statement, it would be a significant step in achieving their former defensive stature. Additionally, the pressure will help bail out Chicago's mismatched secondary with Odell Beckham Jr and Sterling Shepard lining up across from Porter and Leblanc.  For the Bears to get this key, they need to make a 5 sack statement on Manning and the Giants.
3. NO TURNOVERS!
Looking back, everyone probably should have expected one "Same 'ol Jay" performance this season. Needless to say, committing 5 turnovers in a single game will almost always guarantee defeat. Simply put, Cutler needs to play with much more awareness on Sunday. The Giants will undoubtedly be ready to break on balls, so Cutler's placement will be of the utmost importance. However, Cutler displayed an even more discouraging aspect of his game against the Buccaneers, pocket presence. Cutler has never had the best awareness in the pocket, but he seemed completely unaware that there were large, muscular defensive lineman trying to pummel him last Sunday. If Cutler doesn't want to be dismembered by Jason Pierre Paul on Sunday, he will need to be more aware.
Game plan wise, Dowell Loggains needs to stick with the run. Jordan Howard was shredding Tampa Bay, but he only received the ball 15 times. The Bears allowed a 7 point deficit to explode because of turnovers and poor time of possession. Churning out first downs on the ground isn't sexy, but the defense can't play three quarters of the game. Dowell Loggains also needs to phase out his predictable screen passes. Even if Cutler had thrown a perfect ball to Logan Paulsen on the play that resulted in a pick six, the play would have only gone for 2 yards. Regardless, the Bears' offense needs to protect the ball in order to pull off an upset win.
More from Bear Goggles On
This article originally appeared on