Week 1 AFC West Roundup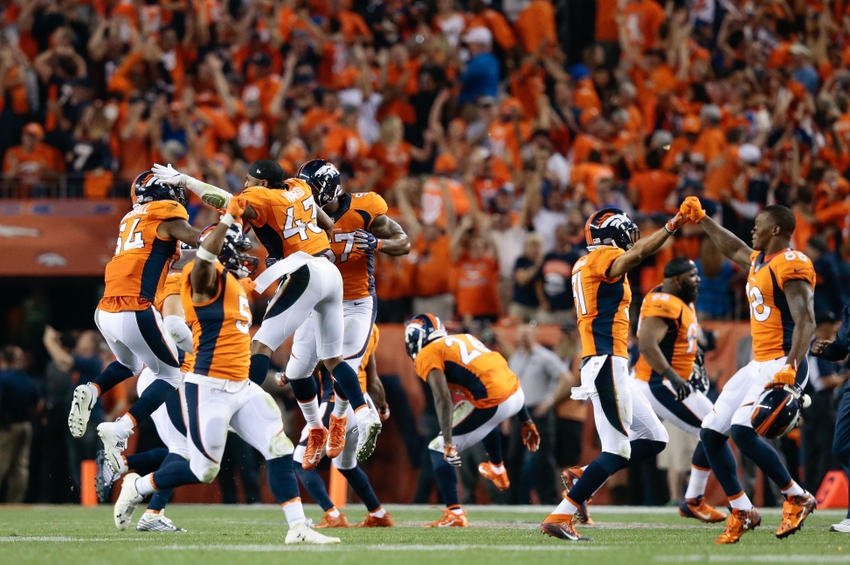 A weekly update on the AFC West, to keep up with the division and discuss the chances of the Oakland Raiders grabbing a playoff spot.
The Raiders took a step toward their goal of winning the AFC West this season with a thrilling comeback victory in New Orleans last weekend.
However, the Denver Broncos and Kansas City Chiefs stepped right along with them, and all three teams currently sit at 1-0. The San Diego Chargers decided to take the fourth quarter off against the Chiefs and lost to them in overtime, so they are 0-1.
None of the victories were decisive, as the Raiders had to risk a two-point conversion with less than a minute left to win by one, the Broncos survived a decimated Cam Newton leading a final drive only to have Graham Gano miss his second attempt at the kick after being iced, and the Chiefs had to pull off the biggest comeback in franchise history to beat the Chargers in overtime, at home.
So hardly dominating performances from any AFC West teams the first week, save for the Chargers dominance of the Chiefs for 2 ½ quarters before their epic collapse.
What does it all mean in relation to the Raiders and their chances at the AFC West crown? Tough to say after one week, but I'll give it a try anyway.
Denver Broncos
Record: 1-0
Last Game: Defeated Carolina at home 21-20
Next Game: vs. Indiandapolis Colts (0-1) Sunday, Sep 18, 4:25 PM EST
NFL Ranks: Total Offense -25th (307.0 ypg); Rushing 6th (148.0); Passing 29th (159.0)
Total Defense: 14th (333.0); Rushing 31st (157.0); Passing 7th (176.0)
The Broncos deserve credit for pulling off a tough victory at home against an excellent Carolina Panthers team that wanted nothing but revenge for last year's Super Bowl defeat.
They had a new quarterback in Trevor Siemian who went undrafted and had never thrown an NFL pass. They lost two key pieces of an elite defense in lineman Malik Jackson and linebacker Danny Trevathan. And they had reshuffled their offensive line and replaced both tackles.
Siemian played passably, but not well enough to win. Fortunately, he has the Denver defense and their willingness to do anything — including take multiple targeted head shots at Newton — to win. And he has C.J. Anderson to run the ball and bail him out.
And they still needed Carolina kicker Graham Gano (after he made the attempt but it was waved off for the timeout) to miss a very makeable 50-yarder to seal the deal.
Siemian failed to put Emmanuel Sanders or Demaryius Thomas, both dynamic playmakers, in position to make any plays. The young signal caller made some nice throws, but there was little threat of downfield offense all night. Demaryius Thomas tweaked his hip, but seems to be on track to play this weekend against the Colts.
Denver's defense bent at the end of the game, and had Kubiak not called a very smart timeout when he did, they would've broken. Rather than shut the opponent down tight as they had last season, they allowed a dazed and battered Newton to lead the Panthers on a nearly game winning drive.
If the Broncos defense continues to target players and take the cheap shots they did at Newton and company all season, expect some fines and possible suspensions. Their defense is predicated on being aggressive, but that game was over the top and certainly has landed them on the league radar.
The Raiders and Chiefs both scored over 30 points on Sunday, and the Chargers put up 27. All three offenses look explosive and all three have excellent running games with versatile backs. Denver's defense, though stout, still gave up over 150 yards on the ground and relied on their superstar secondary to shut down the passing game.
Suspensions or injuries on defense — or an injury to Anderson — will find the Broncos in very real trouble with Siemian under center. Though he does possess a strong arm and decent touch, he showed nothing in the first game that should scare defenses. If Denver can't hold teams under 20 points they may very realistically struggle to win games until the dynamic Paxton Lynch is ready to play.
Kansas City Chiefs
Record: 1-0
Last Game: Defeated San Diego at home 33-27 (OT)
Next Game: at Houston Texans (1-0) Sunday, Sep 18, 1 PM EST
NFL Ranks: Total Offense -6th (413.0); Rushing 20th (83.0); Passing 4th (330.0)
Total Defense: 25th (388.0); Rushing 30th (155.0); Passing 15th (233.0)
The Chiefs and Raiders are the favorite contenders to unseat the Broncos, who do look vulnerable at this point. Raider Nation would've liked nothing better than for the Chargers to have held on at Arrowhead for the win, but the Chiefs and Alex Smith willed their way to an impressive comeback overtime victory.
The Chiefs defense has long been their strength, with (when healthy) the dynamic Jamaal Charles providing offensive fireworks as a do-it-all running back. Their passing game has been an afterthought, and long suspected to be a hindrance in the hands of the seemingly limited Smith.
But it was Smith and his arm that brought the Chiefs back from a 24-3 halftime deficit, and it was Smith's football intelligence and guts in overtime to check out of the called play and dial up his own number to rush for the game-winning score.
The Chiefs defense in their opener was, in fact, somewhat pedestrian. They failed to sack Philip Rivers until the fourth quarter, allowed over five yards-per-carry on the ground, and Melvin Gordon had two rushing touchdowns in the first half.
It was more the Chargers unwillingness to ride Gordon down the stretch, and the unfortunate loss of star receiver Keenan Allen for the year to a torn ACL, that caused the Chargers collapse than the Chiefs defense.
The Chiefs looked alternately very beatable and unbeatable in this one. Smith has only thrown for more yards once in his career than the 363 he threw for on Sunday, and he's not likely to repeat that performance.
However, Spencer Ware is the real deal. He's both bulldozer and backfield blazer, able to run over you, around you, or juke you in a route to catch a pass. Ware had 70 yards on the ground and an astonishing 129 yards through the air, almost topping 200 yards himself.
It's not a fluke either —  just a continuation of what Ware did last season when Charles was injured. He's the real deal, and should take a lot of pressure off Smith.
Alex Smith showed everyone something on Sunday — that when he needs to he can put the team on his back and throw the ball with the best of them. He has more offensive talent and a better line around him than ever before, and the defense, though they struggled at times against the Chargers, remains a strength.
Had they lost this one at home, they would've been in a tough hole early. A win like this stokes a team's confidence and belief in itself, making the Chiefs still a very dangerous team.
They have an excellent chance to show that in Houston on Sunday against the Texans.
San Diego Chargers
Record: 0-1
Last Game: Lost road game in Kansas City 33-27 (OT)
Next Game: vs. Jacksonville Jaguars (0-1) Sunday, Sep 18, 4:25 PM EST
NFL Ranks: Total Offense -8th (388.0); Rushing 3rd (155.0); Passing 18th (233.0)
Total Defense: 27th (413.0); Rushing 12th(83.0); Passing 29th (330.0)
Poor Keenan Allen. Still quite young at 24 years old, he was on his way to elite receiver status last season when he was placed on season-ending IR with a lacerated kidney in Week 8.
He didn't even make it that far this season, lasting less than a full game before tearing his ACL and, yes, being placed on season-ending IR.
He was dominating a young but talented Chiefs secondary on Sunday, and when he went down, the Chargers seemed to run out of ideas on offense.
Melvin Gordon, their record-breaking first round pick last season, finally looked like the back they thought they were getting in the first half, putting up over 46 yards and 2 TDs.
But after Allen went down, the Chargers inexplicably went away from Gordon and used Danny Woodhead exclusively. Rivers had four healthy wideouts to throw to, and the Chiefs began chipping away at a large lead.
The Chargers ultimately squandered a 21-point lead and lost in overtime. Those losses are killers. Add in losing your best wide receiver from a thin troupe, and it hurts a heck of a lot more.
One positive for the Chargers was the play of their offensive line. Porous and injured much of last season, Rivers spent a lot of time either on his back or running for his life behind that line. Yet they kept Rivers clean until the fourth quarter, and paved the way for 155 yards rushing at 4.8 ypc.
However, the collapse was largely in part to a play not to lose conservative approach from coach Mike McCoy and OC Ken Whisenhunt. Rather than ride Gordon's newfound confidence into the ground, they had Rivers throw the ball 36 times.
Sure, if you're losing and you have someone other than Antonio Gates and Travis Benjamin with passable NFL experience to catch the ball. It was just another in a long line of head-scratching coaching moves by McCoy, who has now lost nine straight AFC West games, and 11 of 13 overall.
Rivers looks as good as ever, but is running out of people to throw the ball to and can only do so much. The Chargers worked out former Ram Chris Givens and former Colt Griff Whalen, but didn't sign either. With Allen and Stevie Johnson hurt, the Chargers have four healthy wideouts on the active roster.
Their defense played well early, particularly lineman Corey Liuget and new acquisition Brandon Mebane, and up and coming corner Jason Verrett, who intercepted Alex Smith for the second time in as many games.
However, they collapsed late and allowed Smith to pick them apart with short and intermediate passes while laying back and being very unaggressive.
The Chargers aren't really elite in any phase, and even Rivers isn't without a top target though he's still very good. The offensive line played well but the Chiefs struggled in the preseason against the run and to rush the passer, so that trend just continued.
San Diego was thought to be the worst team in the division. For almost three quarters they, frankly, looked like the best team in the division. But most things regress to their mean, and the Chargers did just that. With Allen's injury and uninspired coaching I'd expect another long season in San Diego.
All NFL ranks taken from nfl.com
More from Just Blog Baby
This article originally appeared on