Watch Ryan Fitzpatrick Throw Six Interceptions vs Chiefs (Video)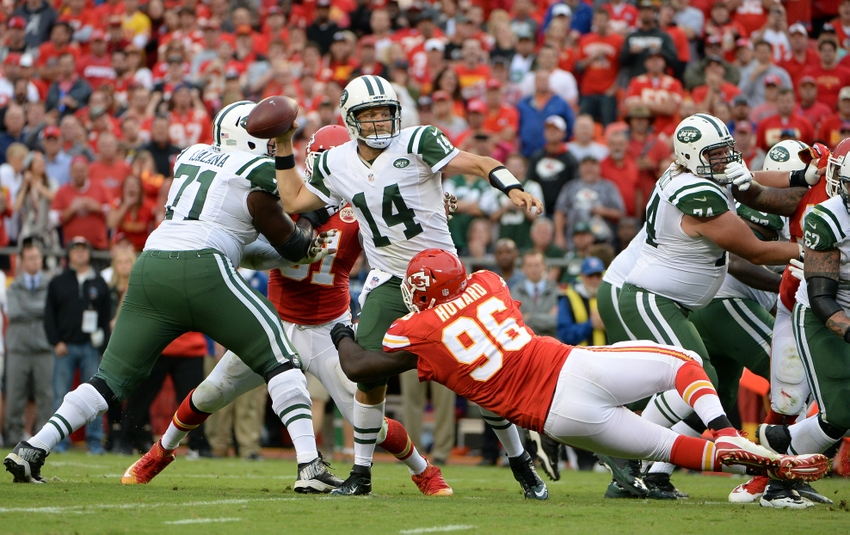 New York Jets quarterback Ryan Fitzpatrick had what can only be described as a very bad Sunday in a loss to the Kansas City Chiefs, throwing six interceptions
Ryan Fitzpatrick, thestarting quarterback of the New York Jets was intercepted a total of six times in Week 3. On Sunday in the Jets' 21-point loss to the Kansas City Chiefs at Arrowhead Stadium, he became the 24th player since 1970 to do so. His day was so bad, he didn't even throw for a single touchdown to soften the blow.
In fact, it was just the 40th time in the history of the NFL that a quarterback has thrown at least that many interceptions in a game (the NFL record is seven interceptions in a game). Fitzpatrick did not only catch Peyton Manning in this feat (Manning threw six picks in 2007), but he also tied a Jets record. According to ESPN State & Info, Hall of Famer Joe Namath accomplished the same feat three times in his career.
Ryan Fitzpatrick's 6 interceptions today ties a franchise record (Joe Namath did it 3 times) pic.twitter.com/5sGMlbOfU0

— ESPN Stats & Info (@ESPNStatsInfo) September 25, 2016
via @pfref, fitzpatrick has the first 6-INT, 0-TD game since tom tupa in 1989. tupa later became a punter pic.twitter.com/qze5hBmHAa

— Jon Bois (@jon_bois) September 25, 2016
Gaining interceptions against Fitzpatrick were Marcus Peters (2), Derrick Johnson (a pick six), Eric Berry, Daniel Sorensen, and D.J. White. Fitzpatrick, who had just one interception in the first two games combined this season, finished 20-of-44 for 188 yards with no touchdowns. In 16 games last season, Fitzpatrick threw 15 interceptions, and for his career he now has 123 picks in 115 games.
The offense of the Jets finished with 305 total yards. In all, the Chiefs defense forced eight turnovers.
Here are all six interceptions from the Jets quarterback during what might be the worst day of his career:
🚨 PICK-6 ALERT! 🚨

This @chiefs D is NOT messing around today. #ChiefsKingdom https://t.co/USBfFo6gCL

— NFL (@NFL) September 25, 2016
It's Week 3…

And this is already @MarcusPeters' FOURTH pick of the season

Unreal. #ChiefsKingdom https://t.co/uafSpFfI4a

— NFL (@NFL) September 25, 2016
QBs should really stop throwing in @MarcusPeters' direction… #ChiefsKingdom #NYJvsKC https://t.co/ikAHvCtIdy

— NFL (@NFL) September 25, 2016
Here are the links to White's interception, Berry's interception, and finally Sorenson's interception to cap off the horrendous day at the office for Fitz.
The lone positive for Jets fans is that it can't get any worse for Fitzpatrick and the team after this Week 3 implosion. Next week, Fitzpatrick and the Jets face Seattle Seahawks. Seattle held 49ers quarterback to 119 passings yards with no touchdowns and one interception. San Francisco finished with just 248 yards of offense.
If the Seahawks play the Jets like they did the San Francisco 49ers this week, maybe it can't be any worse—but possibly just as bad.
This article originally appeared on