Watch Eli Manning as a dancing banana in a new commercial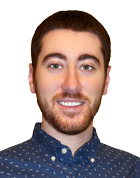 Eli Manning is known for his lack of emotion both on and off the field. He had the least exciting reaction to his brother Peyton locking up a second Super Bowl. He almost never looks overjoyed, even after throwing a touchdown pass.
Apparently, he only smiles while wearing a banana suit. That's what he did in a new spot for DirecTV's NFL Sunday Ticket, and man, was he happy.
Just look at that big ole' smile on his face.
He also sang karaoke in another new spot for DirecTV.
Manning wasn't the only one to star in the new commercials. Tony Romo played the saxophone on a rooftop and was saved from a burning building.
And finally, Andrew Luck saved puppies from a well, because that's obviously what he does when he's not throwing touchdowns or running a book club.