Watch Doug Baldwin make a crazy one-handed catch (Video)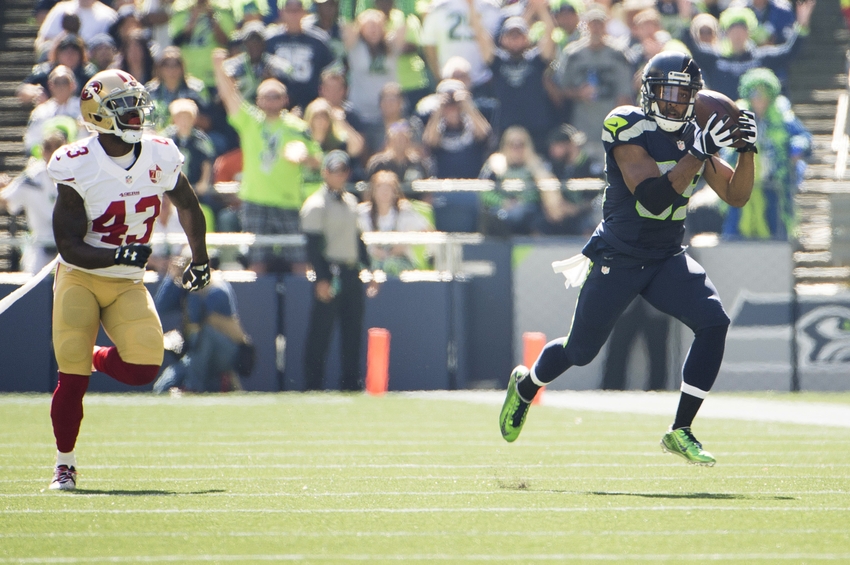 Seattle Seahawks No. 1 wide receiver Doug Baldwin makes an unbelievable one-handed catch from quarterback Russell Wilson against the San Francisco 49ers.
The Seattle Seahawks offense had struggled in the early part of the 2016 NFL season. How bad? Try only one touchdown pass against the Miami Dolphins at home during a Week 1 two-minute drill bad.
Seattle's offensive line might be the worst in football. Star quarterback Russell Wilson hurt his ankle in Week 1 and hasn't been as nimble as he normally is. However, the Seahawks decided to right the ship with an improved offensive performance against the rival San Francisco 49ers at home in Week 3.
The play of the afternoon for the Seahawks has to be this brilliant one-handed catch by No. 1 wideout Doug Baldwin. Baldwin bails out a scrambling Wilson who is throwing on the run off his back foot by leaving his feet and going completely horizontal come down with this big one-handed grab.
Baldwin and Wilson developed a strong rapport last season for the 2015 Seahawks once running back Marshawn Lynch had to miss a ton of time with injuries. Seattle could finally become a passing offense for the first time during the Wilson/Pete Carroll era in the Pacific Northwest.
With the Seahawks looking like they are going to have to battle on offense all season long for every score, it's great to see Wilson and Baldwin get their passing connection back on track.
There will be a play later on down the road where Wilson throws Baldwin open magnificently. Why you ask? Because Wilson owes Baldwin a steak dinner for being able to come down with this ridiculous one-handed grab against the 49ers at home.
A win over the 49ers would get the Seahawks to 2-1 on the season and in first place of the NFC West entering Week 4. The Arizona Cardinals lost to the Buffalo Bills to fall to 1-2. A win over San Francisco knocks the 49ers to 1-2. Should the Los Angeles Rams fall to the Tampa Bay Buccaneers, they will also be 1-2.
More from FanSided
This article originally appeared on