Washington State's Luke Falk Scouting Report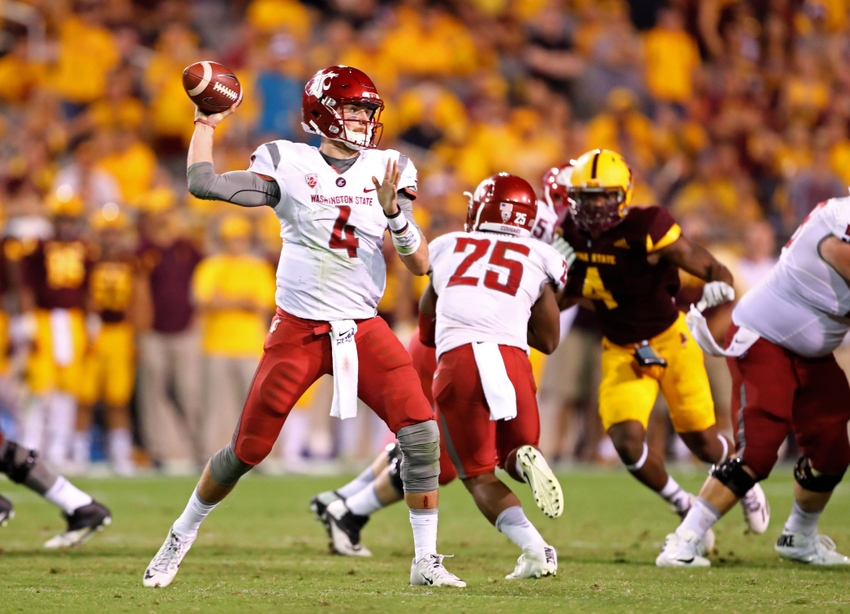 Will Luke Falk rise in the draft thanks to a dearth of pocket passers available?
It's a fair question whether Luke Falk will even be in the 2017 NFL draft. Reports are contradicting themselves and Luke Falk himself is leaving the door open. He probably is waiting for the NFL draft board to give him a grade.
He has some NFL level tools to work with. He has a decent arm for medium/short routes. And he has mechanics that look pro ready.
He does have two serious flags for this analyst. The first being that he plays in that Leach offense which overwhelms defenses and gets targets open too easily. This calls into question if he's got the experience to make the reads and throws necessary to play in the NFL early.
More from With the First Pick
And his ball placement does suffer when he has to make a throw to a covered target. He has issues leading a target when he has to put the ball over the defender. This is a big concern but is fixable.
The second issue is that he clearly puts too much loft in his deep ball. Unless he's throwing at a wide open target, his lack of strength makes it a 50/50 throw. Since his mechanics look solid, it's a lack of sheer throwing power.
As a pro comparison: Kirk Cousins(QB, Washington) seems good. They both thrive at medium/short routes where the scheme causes defensive confusion. They both struggle when asked to beat a defender with their ball placement.
Draft grade: 4th round. He'll probably go higher than this, but any team who takes him has to understand that he has to sit for a long time. And that there's no guarantee that he can be a functional starter.
At best, he could be a marginal starter(think Alex Smith). However this seems like wishful thinking. He has a lot of flaws and needs to learn.
The problem is that with so few pocket passers in the draft, he'll get overdrafted and rushed onto the field.
This article originally appeared on