Washington Redskins: What's Fueling Vernon Davis' Comeback Season?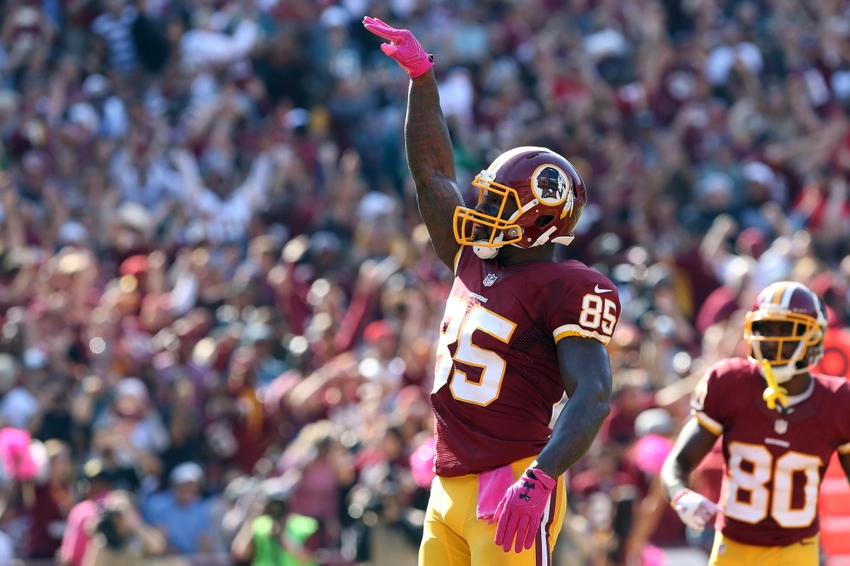 Vernon Davis has become a major piece for the Washington Redskins after being looked at as depth with a veteran leader early on. What's changed?
The Washington Redskins already had Jordan Reed at tight end entering the 2016 NFL season. They had Niles Paul as well. Even Logan Paulsen and Derek Carrier were on the roster. Despite that, the Redskins saw a need for Vernon Davis.
Davis was once one of the most dangerous tight ends in football. Back in his days with the San Francisco 49ers, he managed to look unstoppable for a five-year stretch.
In 2009, Davis caught 78 passes for 965 yards and an incredible 13 touchdowns. 2010 saw 56 receptions for 914 yards and seven touchdowns. In 2011, Davis had 67 catches for 792  yards and six touchdowns. 2012 was a down-year, as Davis had 41 receptions for 548 yards and five touchdowns. Finally, in 2013, Davis recorded 52 catches for 850 yards and, once again, an incredible 13 touchdowns.
Something happened after 2013, however. Davis declined quickly. He struggled through the entirety of 2014, putting up just 26 catches for 245 yards and two touchdowns. In 2015, the 49ers gave up on Davis halfway through the season. He finished the year having time between the 49ers and the Denver Broncos. Davis had 38 catches for 395 and zero touchdowns on the year.
The Redskins saw something left in the tank, though, and it's been one of the most underrated signings of the seasons. Through the first eight games, Davis has 23 receptions for 316 yards and one touchdown. Don't forget that he's an absolute beast in the run blocking game as well. So what should get credit for his resurgence?
Obviously Davis himself should get some love. His teammates seem to love and respect him, and he's showing it on the field. He's also in incredible shape (still got the wheels) and works extremely hard.
Reports of Vernon Davis' demise have been greatly exaggerated.

37 yard gain on a wheel route. Great touch on the Cousins pass, too. pic.twitter.com/zpaBTu809l

— Chad Ryan (@ChadwikoRCC) October 16, 2016
You've got to look at Kirk Cousins and Sean McVay here as well.
McVay was, at one point, the tight end coach, but he's now the offensive coordinator. He's played a major role for two reasons. First off, having an extra tight end coach probably helps Davis out a little. Second, his offense is very tight end heavy. Despite being second string, Davis sees the field at a very high rate.
Then there's Cousins. The quarterback still splits the Redskins' fan base. Some love him and some hate him. But you can't deny that he's great at spreading the ball around. Yes, he locks onto a receiver sometimes, causing him to miss someone who's wide-open. However, Cousins finds a way to get it to everyone on the field. His favorite targets are tight ends. With that in mind, Davis sees the ball a lot more than most other backup tight ends would.
When Davis was brought in, it was unclear just how much he could contribute. Thanks to a combination of his own work ethic, a solid locker room, play-calling, and the right quarterback, he's brought about a career resurrection. All that's left to see is where he can go from here.
This article originally appeared on