Washington Redskins tight end Jordan Reed expected to miss Week 13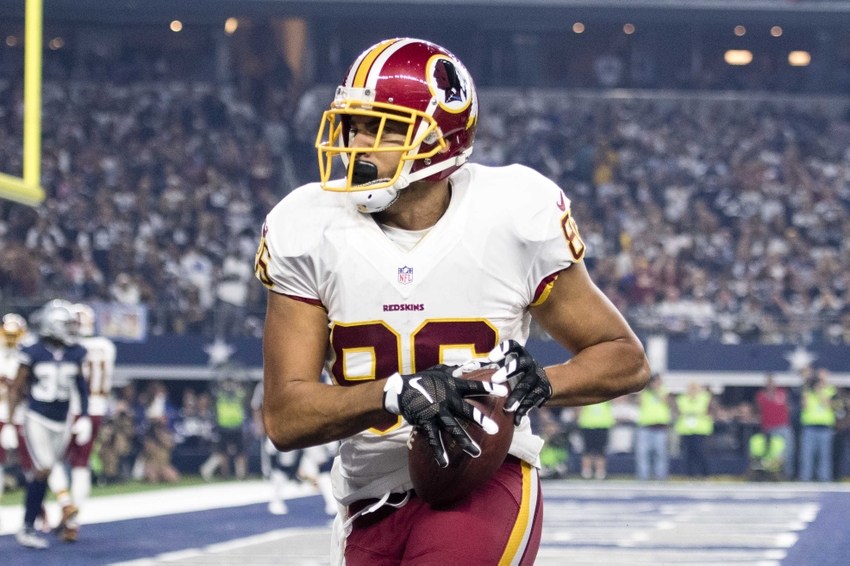 Washington Redskins tight end Jordan Reed had a big game after being injured on Thanksgiving Day, but he looks likely to miss some time.
Washington Redskins tight end Jordan Reed started slowly on Thanksgiving Day against the Dallas Cowboys, then a left shoulder injury took him off the field. But he returned to the game, and had a big second half on his way to 10 receptions (on 12 targets) for 95 yards and two touchdowns. An MRI last Friday showed a Grade 3 AC joint separation in Reed's shoulder, which immediately put his status going forward into question.
It's not a stretch at all, but Reed is considered unlikely to suit up for Sunday's pivotal game against the Arizona Cardinals.
Washington TE Jordan Reed, who suffered a shoulder injury last Thursday vs Dallas, is unlikely to play Sunday at Arizona, per sources.

— Adam Schefter (@AdamSchefter) December 1, 2016
Despite missing two games with his most recent concussion, Reed leads Washington in receptions (59) and targets (79) so far this season. He's also second on the team in receiving touchdowns (five), and third in receiving yards (630) right now.
Reed is a tight end with a wide receiver skill set, so there's no replacing his impact on the Redskins' offense as a top target for quarterback Kirk Cousins. But Vernon Davis has had a bit of a resurgent season as Reed's backup, with 31 receptions for 450 yards, and he totaled eight catches for 129 yards with a touchdown in the two games when was pressed into a starting role.
Reed could easily miss a few games with what can only be classified as a very severe shoulder issue, which makes his productive return to last Thursday's game even more impressive. As the Redskins jockey for a playoff spot in the NFC in December, with a 6-4-1 record right now, they may be doing so without one of their best players.
More from FanSided
This article originally appeared on