Washington Redskins: Teammates Abandoning Loyalty to Kirk Cousins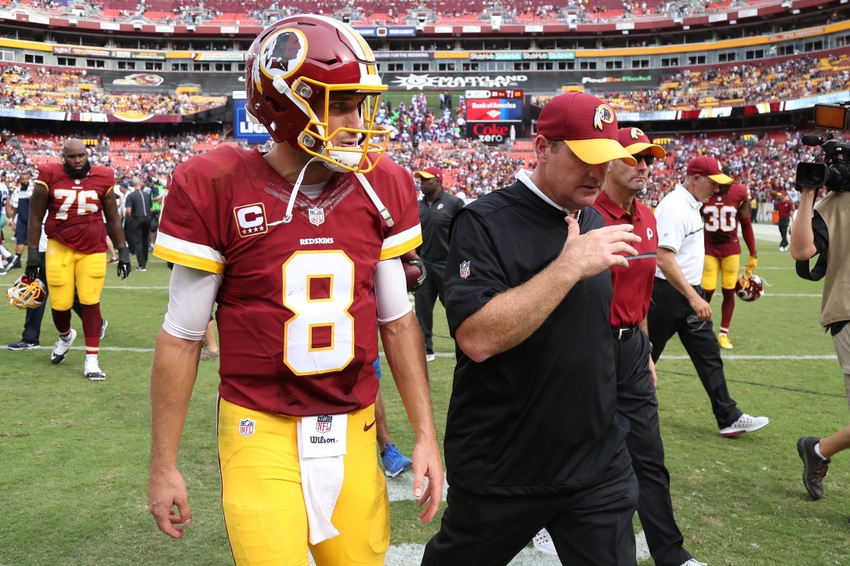 Kirk Cousins has had a rough start in 2016, and the NFC East champs are not happy with how their starting quarterback is playing.
To kick off the season, the Washington Redskins have fallen to the last place in the NFC East with their second loss in as many games. Hosting the Dallas Cowboys at home on Sunday, it was Kirk Cousins taking much of the blame. After all, it was the quarterback that gave up an interception in the end zone and had a completion percentage of just 60.9 for the Week 3 matchup.
According to Pro Football Talk (via Mike Florio), Cousins's teammates have started to say some nasty things about the signal-caller. He's been called "indecisive, an erratic player, and confused." It's even been mentioned that at least backup Colt McCoy would "play with poise." Ouch.
Cousins had a strong backing from his team at the conclusion of 2015. After winning the NFC East, much of the team came forward and were outspoken about the locker room camaraderie Cousins was engendering. But after just two games this year, the tone behind the scenes (and behind Cousins's back) is changing.
Here's what head coach Jay Gruden had to say after the game about Cousins (via Kevin Patra of NFL.com):
"We've got the New York Giants as soon as we leave here, so he can watch the tape, find out what's going on if he's not sure what the indecision might be, why he's missing some throws, but you know, it's a tough game. He's got people around his feet. He's got to make some tough throws and usually ones he would normally hit but he missed a few today. We'll coach him up."
The coaching staff isn't as disgruntled with Cousins and plan to stick to their man. He's working toward a contract extension this year and it's possible he could improve. After all, it took the entire first half of 2015 for him to find his rhythm. Then he became one of the most accurate quarterbacks's in the NFL for a short period.
It's early in the season, and these two losses shouldn't be over analyzed. The first game was against the Steelers, who look outstanding this season. Then their second loss was to the Cowboys and division rivalry games are always unpredictable. If the losses continue, that's a different story. We might see Colt McCoy at the helm by November when Washington faces Dallas again for a Thanksgiving rematch.
More from NFL Spin Zone
This article originally appeared on