Washington Redskins: Ryan Kerrigan Hasn't Slowed Down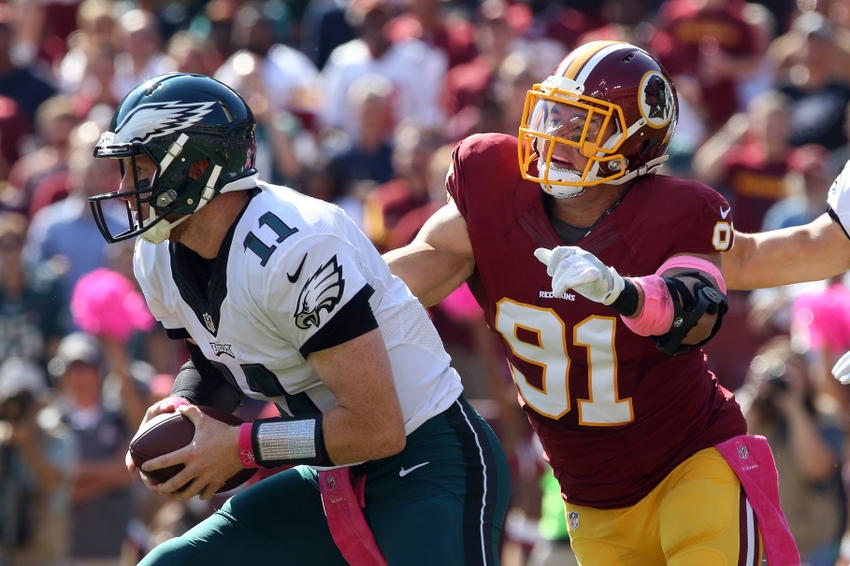 The Washington Redskins have had their ups and downs over the last six seasons. One of the few constant positives over that time has been Ryan Kerrigan.
When the Washington Redskins drafted Ryan Kerrigan in 2011, they did it with the hopes that he would be a dominant pass rusher for years. Midway through his sixth season in the NFL, it's hard for anyone to complain about what he's accomplished to this point.
His rookie year saw his worst sack output, accruing just 7.5. He followed that up with two-straight seasons of 8.5 sacks. Next, he recorded 13.5 sacks in a season, and followed that campaign up with 9.5 sacks the next year. He currently sits at 10 sacks for the 2016 season. That adds up to 57.5 sacks, third-most in Redskins franchise history.
It also proves that not only is Kerrigan not slowing down. Instead, he's only getting better.
With four games left in the season, Kerrigan can make a push for a new season-high. All he would have to do is average one sack per game for the rest of the year to achieve that feat. This may seem like a tall task, but Kerrigan's hot—and when he gets hot he's tough to contain. The 28-year-old has recorded a sack in each of his last three games and at least one sack in seven of his last eight. Over those last eight games, Kerrigan has 8.5 sacks.
What's most impressive is that he's not just a one-trick pony. Kerrigan can get to the quarterback any number of ways. He can bullrush his blocker, speed right past him, or shake him out of his shoes. This leads to Kerrigan getting held his fair share, but sometimes even that doesn't bother him.
One stat most people don't get to see is the hurries. Kerrigan gets through so often, that even when he isn't recording a sack, he's impacting the quarterback. It's hard to complete a pass when you're running for your life or have a 6-4, 260-pound man right in your face.
Redskins fans should be happy to know that Kerrigan is signed through 2020. Who knows, by that time, he could have the franchise sack record. But for now, his abilities are integral to the success of the Washington defense. Considering his abilities, that's comforting for this team moving forward.
More from NFL Spin Zone
This article originally appeared on