Washington Redskins: Robert Kelley Compares Favorably to Alfred Morris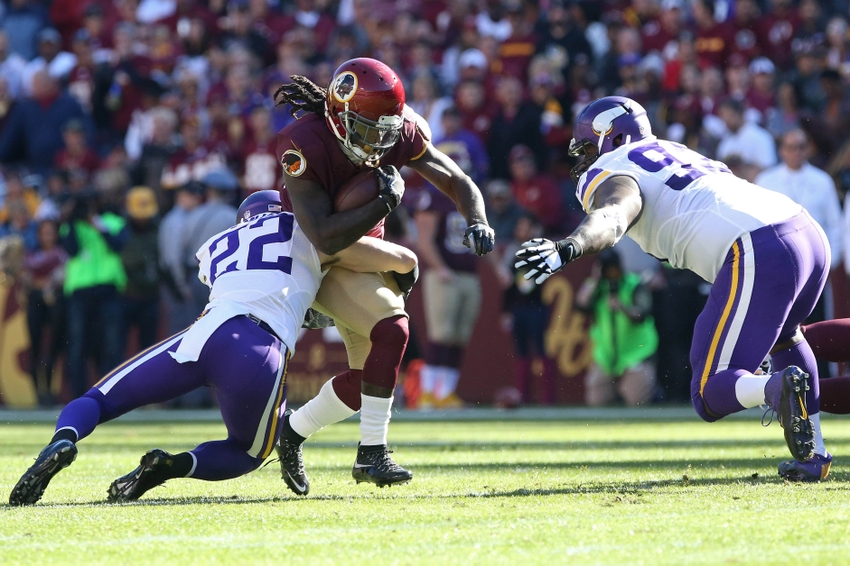 Robert Kelley has been a breakout stud of late for the Washington Redskins with a style reminiscent of former fan-favorite, Alfred Morris.
The Washington Redskins may have found something in running back Robert Kelley. The first-year running back has shown the same running style that made Alfred Morris so popular in his early years. Now don't kill me. I know a lot of Washington fans will not want to see a Kelley-Morris this early on. However, some of the similarities are too good to pass up on.
The first is their size. Morris is 5-10 and weighs in at 224 pounds. Meanwhile, Kelley is 6– and comes in at 228 lbs. While Morris is two inches shorter and four pounds lighter, the measurements are still extremely close.
Then there's the running style. Kelley may have a few more cuts up his sleeve, but they'd both rather just run right through you—though neither is going to blaze past a defense. Don't give them a chance to go next level, however, because good luck finding the right angle to bring them down.
They're always moving forward. One of the reasons Redskins' fans fell in love with Morris during his rookie season was his forward progress. While he may not have broken all that many flashy 80-yard runs where he makes 10 guys miss, he wasn't losing the team yards. Morris tended to get positive plays much more often than not. Kelley is cut from the same cloth. It may not always be pretty, but it's almost always positive. In his 60 carries this year, only two of them have gone for negative yards (just -3 yards combined).
The oddest similarity, Morris averaged 4.8 yards per carry his rookie year in 2012—do you want to guess what Kelley's averaging?
There are some categories that Kelley could even best Morris on. Kelley has yet to fumble, while Morris had four his rookie season. It should be mentioned that Morris had 335 carries, while Kelley is only at 60.
Kelley gets the W in the cut category as well. Morris wasn't much for running anywhere but through you. Kelley can do that too, but sometimes it's not the most effective way to go about things. It's easier to try and make someone miss on plenty of occasions, and Kelley can prove why.
Looking at Rob Kelley's 97-yd game versus the #Vikings on @FieldGulls tomorrow!#HTTR #Redskins pic.twitter.com/jJTczOWJnq

— Samuel Gold (@SamuelRGold) November 17, 2016
That's Harrison Smith that missed that tackle. Smith isn't someone who's easy to get past and Kelley made him go skating on that play.
So Kelley seems to be taking the best of Morris while also adding his own flavor into the mix. It's still extremely early in his career, but there's no reason for Redskins fans not to be excited about the future of Kelley.
This article originally appeared on