Washington Redskins Player Profile: Matt Jones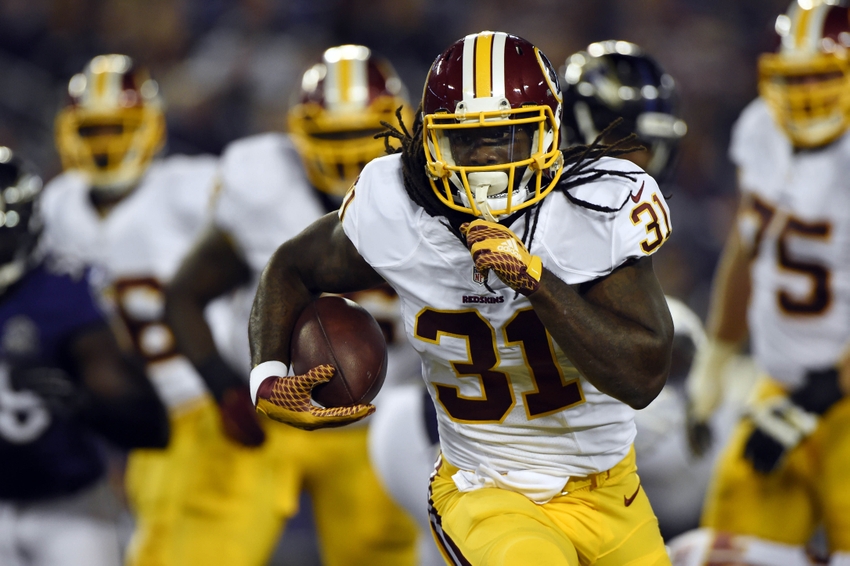 Matt Jones is going to be the starting running back for the Washington Redskins in 2016. How will he do in his first season as the lead back?
The Washington Redskins will begin the year with Matt Jones as their opening-day starter at running back. Jones has done little to inspire confidence in his rise up the depth chart, and appears to have won the starting job by default rather than on his own merit. The Redskins ensured that Jones would not face a veteran challenge this year by jettisoning Alfred Morris earlier this offseason. The team then spared Jones from any competition for his spot by naming him the starter early during training camp. This came as a bit of a surprise for someone facing numerous questions entering his second year. GM Scot McCloughan, however, believes Jones will make rapid improvement from a disappointing rookie year. McCloughan, who drafted Jones last year, recently forecasted a breakout season for the former University of Florida running back.
In order to vindicate McCloughan's prediction, Jones must overcome a vast array of issues that plagued his rookie campaign. The most prominent of these is his history of injuries, which limited his playing time in the past few years. In 2013, Jones' sophomore year at Florida was cut short due to a torn meniscus. Last year, a hip injury caused him to miss most of a critical four-game stretch run to the playoffs. In his third preseason game this year, a strain to Jones' AC joint will keep him out until Week One. Though the injury is minor, his recurring spate of injuries should raise concern with Jones' durability and when – not if – he'll suffer another one.
Another concern is Jones' ball security problems. He fumbled five times last year, which resulted in the loss of valuable playing time. Jones nearly registered a sixth fumble when he (in)famously placed a ball he was carrying on the ground without realizing that play had not stopped.
Running back coach Randy Jordan has implemented a high-tech solution to curb Jones' penchant for fumbling. According to Gabe Hiatt of the Washington Post, he has given Jones a ball that beeps loudly until he applies enough pressure to hold it properly. The Redskins are hoping that this and other lower-tech efforts will cut down on Jones' fumbling. But if Jones' ball security issues persist, the team will have no choice but to sit him again.
Jones must also work on honing some basic skills of his craft. Jones, for instance, continues to experience problems with lowering his pad level. In his first preseason game against Atlanta, Jones had ample space to grind out additional yardage against linebacker Sean Weatherspoon. But Jones ran upright and Weatherspoon forcibly drove him back several yards.
In addition, the team must teach Jones to use his size to run downhill instead of moving laterally. Opponents stopped Jones for little or no gain all too frequently last year while Jones waited behind the line for non-existing running lanes to open.
Jones certainly has the measurables to become the power back the Redskins envisioned when they drafted him. The dread-locked Jones, who clocked a 4.55 40 time at his Pro Day last year, is an imposing figure at 6'2″ and 230 pounds. But this matters little if he refuses to put those natural gifts to use.
Draft pundits, citing deficiencies in Jones' running game (per NFL.com) and durability issues (per Charlie Campbell of WalterFootball.com), dropped him to a fifth round grade last year. But McCloughan saw enough in him take, and according to some, overdraft him in the third round. This year, Jones will be given the opportunity to justify the confidence McCloughan had in drafting him that high.
The bright side for Jones and the Redskins is that he apparently is listening to the coaching he is being given. In the process, he is learning, as most rookies must, to become a professional. This year, he is making changes to his training regimen and diet. His lack of attention to these details affected his play as his body wore down as the season progressed last year.
The decline in Jones' rookie year production bore this out. In 2015, Jones rushed for 490 yards on 144 carries, which netted a pedestrian 3.4 yards per attempt. What's worse is that these numbers included his first two games against the Dolphins and Rams. In those games, he rushed 25 times for 151 yards. Take these two games out, however, and Jones rushed for an anemic 339 yards on 2.85 yards per carry.
This was part of a downward trend that ultimately saw Jones' season come to a premature end. Jones' challenge this year is to learn from last year's mistakes, something which should help him out on many fronts, not the least of which includes improvements on the health and fumbling problems he's faced in the past.
Meanwhile, Redskins' fans trust in McCloughan will be tested by his full-throated endorsement of Jones this season. To many, the team should continue to monitor the upcoming roster cuts for a running back released by other teams.  This could provide veteran depth to a unit thinned by injury and short on experience. Pierre Thomas filled that role effectively last year and presumably could do so in 2016. But for now, McCloughan is doubling-down on Jones, who he views as the future at running back. Whether Jones can be that player will be one of several critical factors in the Redskins quest to repeat as division champions.
This article originally appeared on