Washington Redskins: It's Time to Believe in Kirk Cousins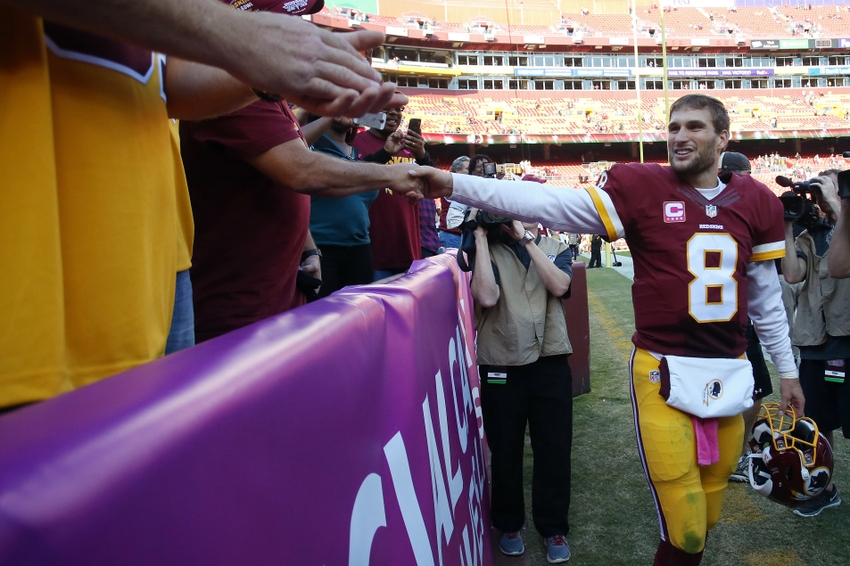 Washington Redskins fans have a reason to be skeptical when it comes to quarterbacks. During a 20-year stretch (1995-2014), the Redskins went through 21 different quarterbacks before settling on Kirk Cousins in 2015.
When the 2015 season started, the Washington Redskins quarterback situation was still a mess. They had gone through countless quarterbacks over the years and were back to square one. Kirk Cousins got his chance to start the season and struggled through the first stretch of the schedule.
After a historic week 7 comeback that Cousins led, though, his career took a turn for the better. He played great and even got himself a catchphrase. "You like that!?" was born and we were all better for it.
Cousins finished the 2015 season with 29 touchdowns and 11 interceptions. He also led the league in completion percentage (69.8), and set a Redskins franchise record for passing yards (4,166). The Redskins finished the year with a 9-7 record, winning the division and making the playoffs (losing in the first round).
Despite his fantastic year, some Redskins fans were extremely skeptical of Cousins. They had good reason to be too. First off, it seems as if no quarterback prospers for long in Washington. Second, Cousins only showed up for the last half of the season. Finally, although his numbers were great, Cousins tended to miss on a good number of throws, sometimes being bailed out by a receiver.
The start of the 2016 season didn't quiet the skeptics. Cousins was very hot-and-cold through the first six games of the season. In those six games, he completed 65 percent of his passes for 1,695 yards, nine touchdowns and six interceptions. Not terrible numbers, but nothing to write home about either.
Over the last three games, however, the 28-year-old has awoken once again. In those three contests, Cousins has completed 70.3 percent of his passes for 1,022 yards and five touchdowns, while only throwing one interception. He even scored one on the ground in that span. Oh, and he apparently has a new catchphrase.
mood. https://t.co/HM94bKDOGm

— CSN Redskins (@CSNRedskins) November 13, 2016
It must be something about those throwbacks that makes the Michigan State product so creative.
Cousins says that cornerback Quinton Dunbar can be thanked for this one. I can't tell if this was his interpretation of Young M.A.'s "OOOUUU" or not. If it was, he's got to practice. If he was going for the Rick and Morty "OooWee," however, then he's got it down.
His season numbers look much better now. Through nine games, Cousins has completed 66.9 percent of his passes for 2,716 yards, 14 touchdowns, seven interceptions, and one rushing touchdown. Meanwhile, the Redskins sit at 5-3-1.
Yes, some of the problems are still there. Look at any game and you'll still see some errant throws. Every quarterback has them. Not every quarterback gets the type of receptions out of his receivers that Cousins gets, though.
Can that be chalked up to luck? Sure. It could be the result of some other things as well, though. Things like chemistry, which is something Cousins seems to have with his entire team. When a receiver is in sync with his quarterback, some of those throws are expected and the receiver can adjust properly.
Cousins has also shown great leadership over the last two seasons. He's handled some tough situations extremely well and always seems to take the blame for a tough outing. What fans really shouldn't overlook is the stats, though. In his last 25 regular season games, Cousins has 43 touchdowns compared to 18 interceptions. He's also thrown for almost 7,000 yards and has a led the team to a 14-10-1 record in that time. If the team is winning, and the quarterback's a big part of that equation, why switch anything up?
Redskins fans have yet to give Cousins all of their trust. They're scared of getting their hearts torn out for the 20th time. I get it—I really do. With his contract up at the end of the season, they may want to hold out hope for more than one reason. Not only are they scared he could regress, but he might leave the team. Having a great quarterback slip through your fingers might be even worse than watching one regress.
No matter what the reason, it's time to give it up. It's time for Redskins fans to accept Cousins for the quarterback he is. Based off of stats, he's been one of the best in the NFL since last season, so it shouldn't be that hard to give him some love.
This article originally appeared on