Washington Redskins: Don't Focus on Preston Smith's Sack Totals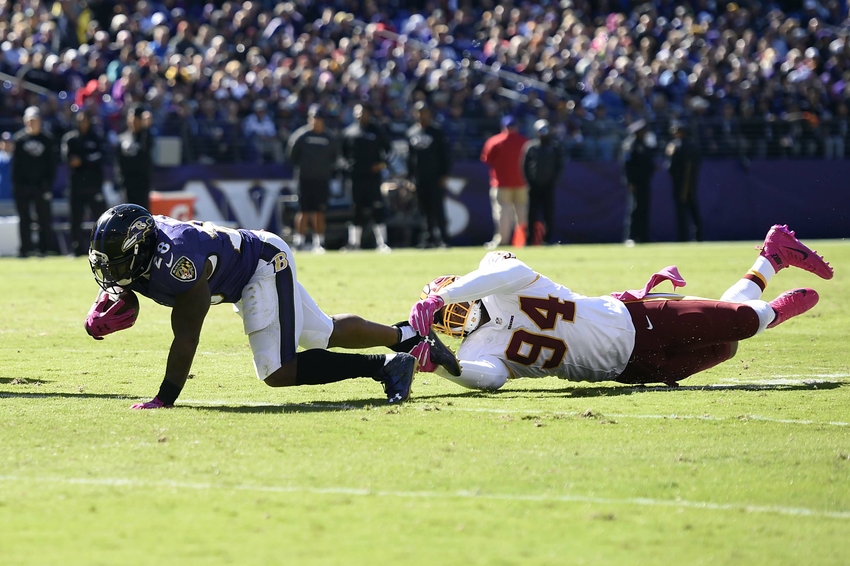 Preston Smith burst onto the scene for the Washington Redskins in his rookie year. His numbers are down in 2016, but he's still making an impact.
When the Washington Redskins lost Junior Galette to an injury this offseason, they had Preston Smith to fall back on. That's a ridiculously good backup option. You simply go from Galette, a beast, to another beast in Smith.
In Smith's lone NFL season, he recorded eight sacks, forced four fumbles, and deflected four passes. He even picked up a safety sack in the Redskins playoff loss to the Green Bay Packers. Those stats were in limited time. So with Smith getting the starting nod, you'd expect his numbers to rise.
However, through the Redskins' first six games of 2016, Smith has just 0.5 sacks. And that half-sack came only in Week 6 against the Philadelphia Eagles. Clearly, he hasn't hit big on the sack totals yet. That doesn't mean he hasn't disrupted constantly. For example, Smith already has a pass deflection, and three tackles-for-loss.
He has also broken through the line rushing the quarterback. This has caused opposing quarterbacks to step away and get sacked by a different Redskins defender. It's also led to the opposing quarterback making errant throws, ending in an incompletion.
It's the run defense that impresses me the most, though. How many linebackers can you think of that have the speed an athleticism to keep up with the likes of Terrelle Pryor?
Preston Smith doesn't let Pryor get away. Such an athletic talent. Can't wait to see him develop more over … https://t.co/RejKNJe1xU

— WordeSmith (@WordeSmith) October 4, 2016
A few things about this play.
First off, Smith beats Joe Thomas so bad that Thomas has to resort to holding. Second, look at how Smith (along with Ricky Jean Francois) plug up the middle. Pryor clearly has a hole that he expects to go through there, but he notices it's not open, so he bounces outside. Finally, look at the speed he shows to beat Pryor to the outside and bring him down for a loss. This play is perfect by Smith. There's really nothing else he could've done save ripping the ball out of Pryor's hands and taking it to the house.
So no, the sacks aren't there yet for Smith. But that doesn't mean anything. First off, there's still 10 more games in the regular season, the sacks will probably come. Second, even if they don't, it's clear he's contributing. Smith alters the game in favor of the Redskins, sometimes fans might not notice, and often it's not in the stat sheet. Is it the sexiest way to impact a game? Maybe not. What he has been doing has been helping the Redskins win, though. So I can't imagine he'd have it any other way.
More from NFL Spin Zone
This article originally appeared on