Washington Redskins Defensive Front Seven: Will Or Won't Re-Sign
The Washington Redskins had some defensive issues during the 2016 campaign. However, some of the players hitting the market are their best ones.
NFL free agency is just a month and a half away, and the Washington Redskins are going to have some decisions to make. With 16 players set to be unrestricted free agents, the team needs to figure out which guys they are going to bring back and also which guys they are going to target on the open market.
Want your voice heard? Join the Riggo's Rag team!
That said, before they can explore external options, they need to know what they have internally. The Redskins need to evaluate each of their free agents and carefully pick which ones are a part of their long term plan.
On the defensive side, the front seven has some of the more interesting candidates for free agency on the roster. They may not be the biggest names, but they could have an impact on the Redskins if they stay or go. Without further ado, here is a look at whether or not the front seven free agents will stay or leave the Redskins in the offseason.
6. NT Kedric Golston
Kedric Golston had what has to be considered a rough 2016 campaign. The 11-year veteran had spent the entirety of his career with the Redskins, and all of his hard work seemed to be paying off. After having been a backup player since 2010, Golston got a chance to earn the starting job at nose tackle. Some wondered how the 33-year-old would fare at the position, but he had to have been excited coming into the year.
Well, things did not go exactly as planned for Golston. Early in the team's Week 2 battle with the Dallas Cowboys, Golston went down with a hamstring injury. He would not return and was placed on the Injured Reserve due to a hamstring injury. In the previous start he had made, he had major issues stopping the run and that left the Redskins convinced that he was not the answer at the position.
This free agent period will be a tough one for Golston. Simply put, the Redskins have no reason to keep him around anymore. He is a low end backup coming off of a season ending injury. He may be a lifelong Redskins, but the team has to try and acquire an upgrade. I seriously doubt that Golston will be back during the 2017 season, and he may ultimately elect to retire in the offseason. That would be the best way for his career to end.
Prediction: Won't Re-Sign
5. OLB Junior Galette
Since signing with the Redskins back in the 2015 offseason, Junior Galette has not played a snap in the NFL. A couple of devastating injuries have landed him on the IR in back to back seasons, and he is going to have to fight to earn a spot on the Redskins team.
Live Feed

Washington Redskins
That said, Galette was a ferocious pass rusher during his tenure with the New Orleans Saints. In his last two seasons of action, he recorded a combined 22 sacks, and he is an excellent fit in the Redskins 3-4 defense. There could be some upside if he elects to make a comeback with the team again.
It seems that Galette wants to stay with Washington too. Galette said the following, per ESPN 980's Scott Jackson and Brian Mitchell and Scott Allen of the Washington Post.
Technically I'm a free agent, but in my mind, like I said last year, I'm set to come back. I already spoke to Scot [McCloughan], and we already have plans to just sign me back on a one-year deal. I told him I don't care about no money right now. I could care less. I made tons of money in the NFL, and I set myself up to be good for life. I'm not worried about the money. It's about my pride right now and to show myself that I can come back from back-to-back Achilles' injuries. I feel like it would be one for the history books the way I come back if I could come back and take the league by storm and proceed and play for another five years in my prime.
It certainly seems like Galette is still motivated to play and the Redskins look to be his long-term home. He may never be the same player that he was, but Washington can afford to take a risk on him to be their fourth rush linebacker. Expect him to return on a relatively cheap deal.
Prediction: Will Re-Sign
4. LB Terence Garvin
This may be one of the more difficult defensive free agents to figure out for the Redskins. On the one hand, Terence Garvin offers some decent depth and has some athletic upside. He also plays special teams very well and figures to be a core part of that unit if he returns.
However, given the fact that he was not able to beat out Martrell Spaight for more playing time, I am concerned that Garvin may be a limited linebacker. Spaight was terrible in limited action, but the Redskins coaching staff rarely elected to play Garvin on defense. As valuable as special teams aces can be, Garvin may have to play a bigger role to remain on the team.
The Redskins already have Houston Bates and Deshazor Everett, two of the better special teamers in the NFL, on their roster. Garvin helps to make the special teams unit formidable, but only if they can retain him for cheap. Further complicating the issue is that the Redskins are going to be looking to make changes at the linebacker position, so any new arrivals could push Garvin off the roster.
This one is a big toss up, but I would have to wager that the Redskins may like to bring back Garvin if the price is right. They well could part ways with him, but I think that if they see even a little potential, he will be back on another one year pact.
Prediction: Will Re-Sign
3. DE Cullen Jenkins
The latest stop for Cullen Jenkins on his Tour de NFC East was with the Redskins. He played the entire season as a backup after being re-signed by the team prior to their Week 2 matchup with the Cowboys. Jenkins is nowhere near the player that he once was, but he still showed an occasional glimpse of greatness. For the most part, he was merely average at best.
It seems that Jenkins' time in the NFL could be coming to an end soon. The veteran turns 36 tomorrow, and he has a whopping 13 years in the league. He has appeared in 184 games and has notched 48.5 career sacks. He has a lot of wear and tear on his body, and his skill set is obviously declining.
With that said, it makes very little sense for the Redskins to bring back Jenkins. They are going to look to add some better talent to the defensive line, and he does not factor into their long term plans. I assume that Jenkins will not want to return either, as he may sign with a team he can chase a Super Bowl with. Still, I think it is more likely that he retires. Regardless, the Redskins will have no interest in bring back Jenkins.
Prediction: Won't Re-Sign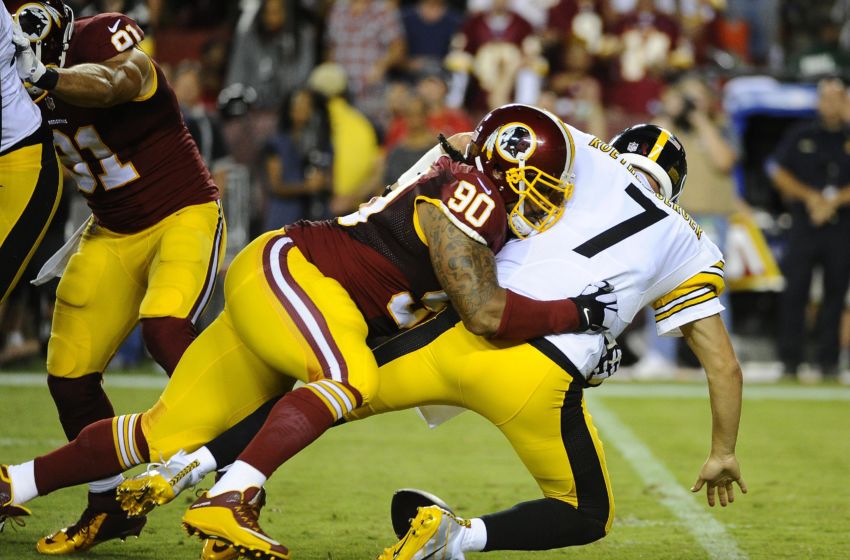 2. DL Ziggy Hood
Ziggy Hood had a bit of a career renaissance in Washington. After being a first round pick by the Pittsburgh Steelers in 2009, Hood never lived up to his billing with the team and ended up with the Jacksonville Jaguars. He languished with their terrible team before being released and only playing in two games during 2015.
Live Feed

NFL Free Agency
During the week of Super Bowl 50, Hood agreed to sign a reserve/futures contract with the Redskins. Boy, did that move end up paying off. In the offseason, Hood proved to be a beast in workouts, and he eventually earned the starting spot at the left end position. Jay Gruden was impressed with his performance, and he did not disappoint.
During the 2016 season, Hood appeared in all 16 games making 14 starts. He played most of the season at nose tackle replacing the injured Golston. Despite being a natural end, Hood held his own, though he struggled against the run due to the fact that he was undersized. Still, a chance to play 3-4 end would have likely made Hood more money. He made a sacrifice for the team that very nearly paid off.
Now, going into the offseason, it is fair to wonder whether or not Hood will want to come back. He could take a stab at one more lucrative contract from a team desperate for help at end. At the same time, he could show loyalty to the Redskins for taking a chance on him when nobody else wanted to.
At the end of the day, I have a hard time believing that any team would have more interest in Hood than the Redskins. Perhaps the Los Angeles Rams, equipped with new coaches Sean McVay and Joe Barry, could consider bringing him in, but there will not be many other suitors. For this reason, I expect the Redskins to bring back Hood on a deal that will benefit both sides.
Prediction: Will Re-Sign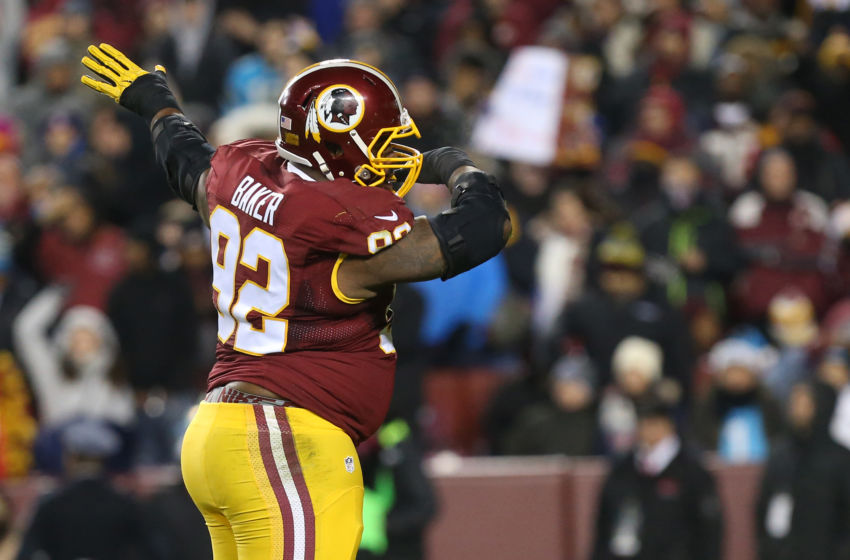 1. DE Chris Baker
No player has been more valuable to their respective unit than Chris Baker has been to the defensive line. Over the past couple of seasons, Baker was the lone bright spot on a terrible group for the Redskins. He made the most of his opportunities, and was probably the only reason that the front seven was not worse than it was.
In 2016, Baker notched 4.5 sacks playing his right end position. He was able to generate some push back into the pocket, and he really did a good job to open things up for the edge rush. Though Baker's numbers do not necessarily show it, he is one of the better 3-4 ends in the league and he should be paid like it.
The Redskins need to prioritize re-signing Baker to a deal. To be blunt, the team would have no talent on the front line if Baker were to depart. They would have to build from scratch, and given Scot McCloughan's track record of drafting defensive linemen, that could be hard. That is not to say that it cannot be done, but having Baker would make life so much easier for the team.
I have to imagine that McCloughan and company are going to do everything that they can to keep Baker. Baker probably does not want to leave Washington either, considering the success he has had there. I think that the two sides will agree on a deal that allows Baker to return for more than the $3 million per year he previously earned.
Prediction: Will Re-Sign
This article originally appeared on