Washington Redskins: 3 Rookies Who Made An Impact
R.C. Allen Jr./FanSided via Riggo's Rag

Fansided
The Washington Redskins rookies had a fairly decent year. No one asks for the world. We just want them to learn their job and work hard.
Among the 2017 class is a wide receiver that could be something big if he can ever get healthy, a linebacker in the middle of a job change and a corner back who enters into a new era of Redskins defense.
Want your voice heard? Join the Riggo's Rag team!
They're also entering an era of uncertainty at the quarterback position. What happens there affects all positions. The ability to surpass expectations in the 2017 NFL Season will be a must if they plan to stay in the burgundy and gold.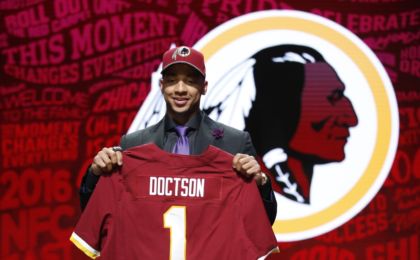 Progressing: Josh Doctson has a lot of catching up to do.
Redskins wide receiver Josh Doctson was drafted in Round One (No.22 overall). His height had everyone thinking he could be the wide receiver version of TE Jordan Reed. This year that was not the case. Docston didn't win his battle against tendinitis, and it sidelined him. He played two games. Out of the 31 snaps he was on the field for, he was targeted six times. He caught two for 66 yards.
Recent reports suggest the tendinitis is still a problem. Mike Jones of the Washington Post reported the rookie felt optimistic about next season. Docston said, "I'm feeling good. I'm feeling optimistic about next year…It's unfortunate I couldn't come off of IR. You can only bring one person back. But I have no hesitation about being 100 percent next year." There was no chance, with problems like his, that he was ever coming off the bench. I'll chalk that up to being an eager rookie wanting to prove his worth.
Docston enters a thick roster of receivers that did well this season, so if he wants to make the most of the 2017 Season, he's gotta make it to OTAs. That would be a good look. Considering the season, in a way, would be his unofficial rookie year. The one element that Redskins fans love about Doctson is his height. Doctson stands at 6 foot 2 inches. That's great height for a team known for having short receivers. Jordan Reed is the same height as Doctson. Pierre Garcon is 6 feet even.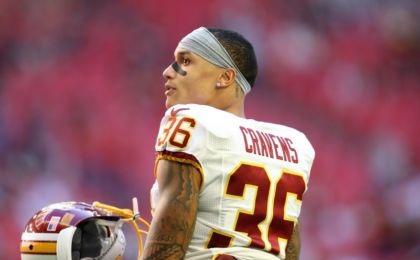 Early Promote: Su'a Cravens Deserves Transition To Safety.
Su'a Cravens, drafted in Round 2 of the 2016 NFL Draft, is the most explosive of the Washington Redskins Rookies this season. There's no real official, yet professional description I can put to the Cravens' style of play. I think if he was coming at me, I'd panic. Cravens brings to the Redskins defense an ability to penetrate the pocket with controlled speed and create chaos. Cravens finished the 2016 season with 34 total tackles (24 solo, 10 assisted).
Cravens has a great shoulder tackling style that comes flying at opponents like a missile. However, even he has dealt with an injury this season. NFL's Ian Rappaport reported in early December about how Cravens was dealing with partially torn biceps. Further evaluations revealed injury is a moderate elbow strain, as reported by the Redskins. As a result, he missed the last three games of the season.
Cravens is a definite piece of "Hogs 2.0". He brings a youthful, yet vicious element to the Secondary that at Safety, could be a great compliment to Josh Norman. If he can pull it off, I would even go as far to say he could be our version of Troy Polamalu. That's saying a lot, but he has time to develop at the position.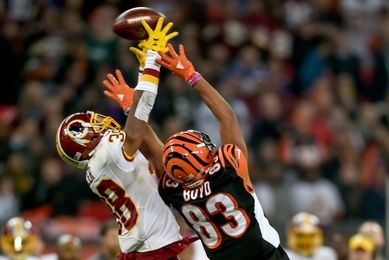 Must Promote: CB Kendall Fuller Deserves A Bigger Role
Looking at the Washington Redskins Dept Chart you've probably noticed that Kendall Fuller is still behind Quinton Dunbar. I'm sure after this season that will change. Fuller clearly outplayed Dunbar and deserves the primary backup spot. Fuller finished the season with 42 total tackles and finished in the top ten.
Is it Dunbar's job to lose? Yes. Even though head coach Jay Gruden feels he's doing a good job, Fuller made his case this season. Stephen Czarda of Redskins.com explained how Gruden sees the future of the Redskins defense:
"You have [Ryan] Kerrigan, you have two Pro Bowlers in Kerrigan and Josh [Norman]," Gruden said. "We have [Bashaud] Breeland, who is a young player. You have obviously Trent [Murphy] and Preston [Smith], who are good, young football players. [Kendall] Fuller is going to get a lot better from year one to year two. [Quinton] Dunbar is continuing to get better as a corner, only playing it for a year and half now. He's going to get better. You have a good core group of guys that we feel good about now we just have to continue to build around them."
Dunbar finished the season with 26 total tackles. Dunbar suffered a concussion in Week 15 against the Carolina Panthers.
This article originally appeared on