W2W4: New England Patriots (4-1) vs Cincinnati Bengals (2-3)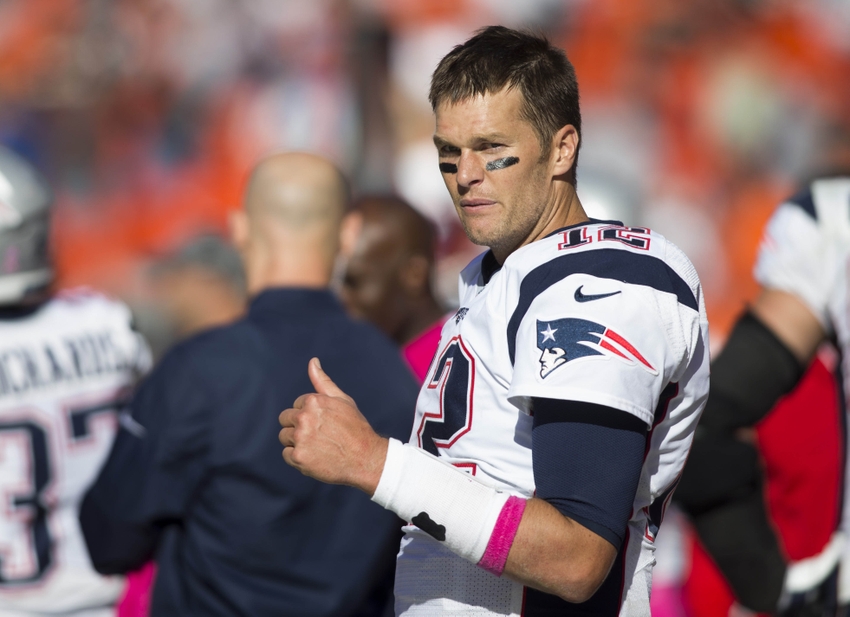 What to watch for when the New England Patriots take the field this afternoon against the Cincinnati Bengals.
The New England Patriots welcomed back future Hall of Fame quarterback Tom Brady with a resounding 33-13 victory over the Cleveland Browns last Sunday. Brady picked-up his strong play with little rust as he completed 28 of 40 passes for 406 yards and three touchdowns.
While the AFC East leading Patriots were beating up on the AFC North cellar dwellers, the NFC East leading Dallas Cowboys had their way with the Cincinnati Bengals. In week five the Bengals–who were 12-4 last season including an 8-0 start to the season–lost their third game of the season as they fell behind the Cowboys early and never challenged.
Cincinnati is looking at their road trip to Foxboro as the turning point of their season. They have home games against the Cleveland Browns and Washington Redskins before their bye week and then face the Giants, Bills, Ravens and Eagles. A loss to the Patriots could put the Bengals out of the AFC North race as Pittsburgh has already sprinted out to the lead with a 4-1 record and still have the Dolphins and two games against the Browns on their schedule.
The only wins for the Bengals have been feeding on the weak in the AFC East. They edged the Jets by one point in week one and crushed the Dolphins on a Thursday night game in week four. The Steelers and Broncos had their way with the Bengals and last week the Cowboys went ahead 28-0 before hitting cruise control for the entire fourth quarter.
A desperate team used to winning and being in the playoffs, the Bengals are trying to find the answers as to why they are struggling in 2015. They need to win this week. However, they face Brady and a Patriots offense which is looking to build upon a strong win over the Browns and build momentum for big games upcoming against Pittsburgh, Buffalo and then Seattle after the week nine bye week.
So without further delay, let's get to the match-ups, the keys to to the game, and a look at both teams in Tom Brady's first home game of 2016:
New England Patriots Passing Offense vs Cincinnati Bengals Passing Defense
Quarterback Tom Brady tore apart the Cleveland Browns secondary, but the Browns have the 25th ranked pass defense (by yards allowed — all stats from Pro-Football-Reference.com unless otherwise noted). Cincinnati is 11th in the NFL in passing yards allowed, but they have allowed 11 touchdowns through the air in five games.
At cornerback the Bengals have the electric Adam "Pacman" Jones and fifth year and 2012 first round draft pick Dre Kirkpatrick. Jones is quick and should be able to help against Danny Amendola and Julian Edelman but Kirkpatrick is long and struggles against shorter and quick wide receivers. Brady had struggled against a Cincinnati secondary with Jones in it, but back then he had Leon Hall and Terence Newman overmatching wide receivers with their strong and aggressive style. Third cornerback Josh Shaw is in his second season playing in the nickel and has probably been the best coverage cornerback for Cincinnati through four games.
Amendola and Edelman will likely be facing Shaw and Jones in coverage while Kirkpatrick should draw Chris Hogan and Malcolm Mitchell on the outside. Free safety George Iloka lacks national media attention like his counterparts at safety but he has great instincts and knows the defense inside out. He is long at six-foot-four and stronger than he looks. His and fellow safety Shawn Williams' abilities allow the cornerbacks to be aggressive in coverage knowing there is trusted help in position.
Cincinnati's front seven will be a test for the New England offensive line. Geno Atkins, Michael Johnson, and Carlos Dunlap are all strong pass rushers while tackle Domata Peko is a space-eater. However, there is little depth behind them as Margus Hunt has been a bust. Will Clarke has added some promise as a depth pass rusher. Linebackers Karlos Dansby and Vontaze Burfict are big and strong, but are liabilities in coverage.
Expect the Bengals to get a heavy dose of quarterback Tom Brady looking for running back James White and the tight ends with a healthy Rob Gronkowski and productive Martellus Bennett taking advantage of the poor coverage by the Bengals linebackers. Against Dallas last week, Burfict and Rey Maualuga were targeted in coverage of tight ends and running backs six times and surrendered six completions for 72 yards and a touchdown (per ProFootballFocus.com).
Vincent Rey has been the best all-around linebacker in Cincinnati but for some reason he is playing less and less. Darqueze Dennard comes on in the dime defense but is a liability in coverage and will likely be targeted by Brady if on the field. Unless Atkins, Johnson and Dunlap can create sacks and forced fumbles, the Bengals should struggle to slow the New England passing attack.
ADVANTAGE: NEW ENGLAND PATRIOTS


New England Patriots Rushing Offense vs Cincinnati Bengals Rushing Defense
The New England Patriots running game took a step backwards on Sunday as quarterback Tom Brady and his 406 yards passing took precedence in the offense. The rushing offense ground out 98 yards but it took 35 attempts. LeGarrette Blount averaged just over two yards per carry against the Cleveland Browns as he had just 37 yards on 18 attempt.
It was James White who had the strong game on the ground as he had 26 yards on five carries. White ran hard between the tackles and added another 63 yards through the air. D.J. Foster got some carries in garbage time and had six rushes for 17 yards in his first chance at some extended playing time–even if it was garbage time.
New England had Cameron Fleming filling in at right tackle for Marcus Cannon (calf injury). Fleming is a better run blocker than Cannon (though Cannon is a much better pass blocker and all-around tackle). Running to the right side of the line the Patriots gained 39 yards on 13 carries compared to 23 yards to the left on nine carries.
For Cincinnati last week, Rey Maualuga and Vontaze Burfict were targeted repeatedly by Dallas' powerful offensive line. Combined, they managed only four stops in 54 snaps (per ProFootballFocus.com). Burfict was only playing his second game of the season and is usually one of the better run stuffers in the league. Dallas was able to get their blockers to the second level and push the linebacker away from the  point of attack most of the game–that signals a failure on the defensive line.
Domata Peko is a space-eater on defense in the middle of the defensive line but last week Michael Johnson, Geno Atkins, and Carlos Dunlap were not holding their own in the running game. Part of that is due to Dallas' offensive line, but the Jets in week one and Pittsburgh (without Le'veon Bell) gashed the Bengals' front seven in the running game. They improved versus Denver and Miami, but the same troubling in ability to set the edge and maintain gap coverage reared back up in Dallas.
New England is not likely to run much against Cincinnati unless they leap out to a lead and want to control the game in the second half. Cincinnati will be fortunate not to be bullied by the New England offensive line like last week. Left tackle Nate Solder and left guard Joe Thuney struggled in run blocking last week after a consistent start to the season. and both will need to improve on Sunday.
The Bengals' struggles on defense include stopping the run and there is little reason to expect those struggles to end this week. If the Patriots jump out to an early lead at home, expect the running game to wear down the Bengals defense in the second half.
ADVANTAGE: NEW ENGLAND PATRIOTS
New England Patriots Passing Defense vs Cincinnati Bengals Passing Offense
Andy Dalton is a quarterback who is often overlooked due to his post-season struggles. However, he has good size and strength, is intelligent, and can make all the throws necessary. The Bengals' passing offense has been their strength in their first season under offensive coordinator Ken Zampese. Zampese has been quarterbacks coach in Cincinnati since 2003.
Former Miami Dolphins offensive coordinator Bill Lazor replaced Zampese as quarterback coach this year and he has had Dalton playing some of his best football. Dalton is averaging 300.6 yards passing per game in 2016 after averaging just 250 yards passing per game last year. The Bengals are playing without their dynamic tight end Tyler Eifert due to a back injury in 2016 and lost Mohamed Sanu and Marvin Jones both in free agency.
As long as the Bengals have wide receiver A.J. Green they should be fine on offense. Green already has 36 receptions for 518 yards in five games. Behind Green, the Bengals are using former Patriots wide receiver Brandon LaFell and rookie Tyler Boyd. Tight end C.J. Uzomah has shown some promise but he is questionable with an ankle injury. Out of the backfield, running back Giovani Bernard can be a game-changer with his ability to make any catch into a big play.
Slowing the passing game of the Bengals starts with trying to contain A.J. Green. The Patriots will likely double-cover Green with Malcolm Butler and a safety. Logan Ryan should cover LaFell on the outside.  Whoever is tapped as the third cornerback is anyone's guess: Justin Coleman has been inconsistent, Cyrus Jones hurt his playing time chances getting ejected last week, and Jonathan Jones may have the inside track after playing 32 defensive snaps last week.
Without Eifert active, safety Patrick Chung should have less pressure in coverage. A banged-up  Uzomah or Ryan Hewitt or Tyler Kroft is just not comparable. Eifert being inactive lessens the impact of having to have Jamie Collins cover a Pro Bowl caliber tight end. Chung should be able to focus on helping on slowing the running backs coming out of the backfield in the passing game.
New England also needs to pressure Dalton to force him into mistakes. The Bengals have a veteran offensive line anchored by tackles Andrew Whitworth and Cedric Ogbuehi which should be a strength. Instead, the unit has been a liability. Ogbuehi red-shirted last year and is struggling this season. With the loss of longtime right tackle Andre Smith to the Vikings, teams are loading up on that side to get pressure on Dalton.
The interior line can be solid in pass protection as well but center Russell Bodine is being manhandled inside. Bodine is flanked by Clint Boling and Kevin Zeitler who have been just alright in pass blocking so far in 2016. Dalton has struggled without having time to throw and the Patriots can exploit this.
Look for New England to move Jabaal Sheard and Chris Long inside and outside to try and take advantage of the gaps in protection. Despite the heavy pressure, Dalton has been fortunate to have A.J. Green on the other end of his passes as he has made up for negative plays in the passing and rushing game.
New England will be trying to limit A.J. Green as much as possible (he is a receiver who can be slowed by double-teams, not stopped). However, with the ability to pick apart a defense when not under pressure, Dalton should be able to take advantage of some of the pass rush and coverage deficiencies the Patriots have displayed thus far in 2016.
ADVANTAGE: CINCINNATI BENGALS
New England Patriots Rushing Defense vs Cincinnati Bengals Rushing Offense
Once upon a time (2014) the Cincinnati Bengals had a top-five rushing attack. In 2016 the Bengals have had little production on the ground. As a team, they are averaging just 3.4 yards per rush with just 419 yards rushing in five games. Other than an unexpected performance against the Denver Broncos in week three, the Bengals have failed to rush for 100 yards in a game.
Again, the offensive line has been a large part of the problem. With little space to run, primary running back Jeremy Hill has had few opportunities to consistently pick up yards and match his 1,124 yard 2014 season. Last year he slumped to just 794 yards and a 3.6 yards per attempt average. This season Hill has just 233 yards through five games and is averaging just 3.8 yards per rush.
Along with Hill the Bengals have Giovani Bernard at running back. Bernard is primarily the third down back and is the team's second leading receiver with 25 catches for 211 yards. Bernard will get his share of carries and the Bengals do not hesitate to hand him the ball. So far in 2016 he is averaging just 3.5 yards per attempt after averaging 4.7 yards per attempt last year.
The Patriots have had great play against the run on the defensive line from Malcom Brown (a blossoming star) and veteran Alan Branch. Rookie Vincent Valentine has been a surprise and although an injury to his back kept him out last week, undrafted free agent rookie Woodrow Hamilton impressed in his first action with the varsity.
Linebacker Jamie Collins joined the injury report mid-week with a hip injury as Dont'a Hightower dropped off it as he seemed to be back at full strength last week from his knee injury. Rookie sixth-round draft pick Elandon Roberts played a key role in the run defense stepping in for an injured Jonathan Freeny (who was just added to the injured reserve list).  Roberts stepped-up and led the team with seven tackles (six unassisted) in shutting down the Browns strong running game.
The Patriots are facing a Bengals team which has struggled mightily to run the ball while New England shut down the top rushing offense of 2016 last week. So far, the only team that imposed their will on the ground on the New England defense was Buffalo in week four. The Patriots have been strong against the run most of the season and there is little reason to expect it to change this week against a team which has been unable to consistently rush the ball.
ADVANTAGE: NEW ENGLAND PATRIOTS
SUMMARY AND SCORE PREDICTION:
Cincinnati has won against the Patriots just once since 2001 and just twice in ten games dating back to 1993. Their last win against the Patriots was in Cincinnati in 2013. That was a low-scoring affair where the Bengals edged the Patriots 13-6. That game saw Brady throw for less than 200 yards and complete less than 50% of his passes. The game ended with Brady throwing an interception with less than 30 seconds to play.
In that game Michael Hoomanawanui was at tight end (Rob Gronkowski was injured) and Julian Edelman was held to just two receptions (or the same number as Aaron Dobson). The biggest difference was that current Minnesota head coach Mike Zimmer was the defensive coordinator. Without Zimmer, the Bengals have been unable to reach the level of success on defense they had with him.
This is a game where the Bengals are going to be hungry to win. At 2-3 a loss could end their chances of winning the AFC North with Pittsburgh already running away with the division. However, the Bengals will have to face Tom Brady in Foxboro. Brady is coming off a huge performance against Cleveland last week and will be looking to make a statement in his first home game of the season.
This is stop number two of the Tom Brady Revenge Tour against the rest of the NFL. Sorry, Cincinnati, it is going to be hard to stop Brady in the electric atmosphere of his first home game of the season.  
Final Score Prediction: New England Patriots 37 – Cincinnati Bengals 20
This article originally appeared on