W2W4: New England Patriots (3-0) vs Buffalo Bills (1-2) on Sunday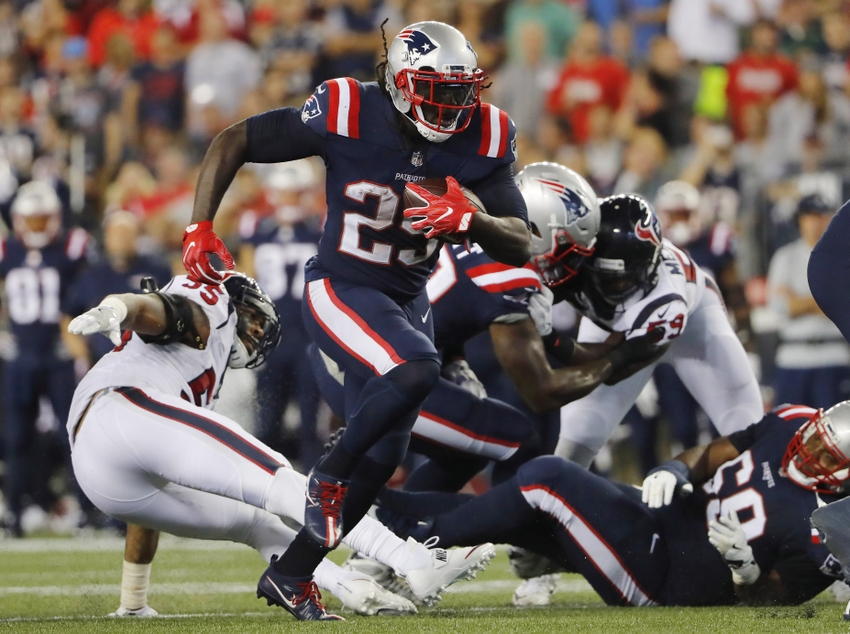 Read on for the most complete W2W4 piece you will find in the New England Patriots mediaverse this morning.
Quick. Answer this question: when was the last game the New England Patriots won with defense and the running game?
Definitely not last year and that Week 17 debacle in Miami when they cost the team home-field advantage in the AFC Championship Game.
Perhaps week two against the Vikings in 2014 when they pounded out 150 yards on the ground and held Matt Cassel (minus Adrian Peterson) to 217 yards total.
Any of their games against the Colts do not count because Tom Brady carved those defense up early then handed it over to the running game.
Week 17 in 2013 against the Buffalo Bills (the LeGarrette Blount 189 yards coming out party in New England) when the Patriots had over 250 yards on the ground? Nah, the defense did nothing that game and allowed Thad Lewis to drive the ball against them over and over again.
Really, it is back to the aforementioned Matt Cassel at quarterback in New England in 2008 grinding out tough wins against the Jets, Bills (twice), and the Rams behind Sammy Morris, Kevin Faulk, LaMont Jordan and BenJarvus Green-Ellis at running back.
So was anyone really expecting the Patriots to morph back to that team with Jacoby Brissett at quarterback Thursday night against the Houston Texans? Nope, not me. But they did. The defense–after being carved apart in the second half of the week two win against Miami–did not allow the Texans' offense to pass midfield until the fourth quarter. With rookie Jacoby Brissett throwing for just 103 yards but the ground game pounded out 185 yards to win going away.
There were big plays made by the special teams unit, a smothering defense, a virtuoso performance by the offensive line, smart quarterback play, and a punishing rushing attack as the Patriots defeated the Texans 27-0 on Thursday night.
Buffalo head coach Rex Ryan–emboldened by his team's victory over the Arizona Cardinals last week–has already started his usual nonsense name-dropping former Patriots quarterback Steve Grogan and doing a Bill Belichick impersonation. As the week goes on, Rex cannot control himself and the biggest mouth of the NFL continues yapping.
Forget Rex's mouth–it has never won his teams a game–it is his defensive game plans that opponents need to worry about. So without further delay, let's get to the match-ups, the keys to to the game, and a look at both teams in this pivotal early season AFC East match-up:
New England Patriots Passing Offense vs Buffalo Bills Passing Defense
Although the New England offense was simplified with Brissett under center it was full throttle before Jimmy Garoppolo was injured against the Miami Dolphins in week two. Regardless of which quarterback is under center on Sunday, offensive coordinator (and hottest head coaching candidate) Josh McDaniels will still somehow find holes in the Bills' defensive personnel and determine the best way to attack them in the passing game.
The Buffalo pass defense had what was easily one of their worst performances as a franchise against Ryan Fitzpatrick and the Jets in week two, the Bills' defense pulled a 180 degree switch against Carson Palmer and Arizona's passing game in week three. The Bills brought consistent pressure and beat Arizona's offensive line again and again last week to pressure Arizona quarterback Carson Palmer.
Linebacker Jerry Hughes led the pass rush and the pressure up front helped a secondary which had been torched the week prior. The Bills' secondary, which intercepted Palmer four times, saw Stephon Gilmore grab a pair of interceptions while Corey Graham and Corey White added fourth quarter interceptions to close the game out. The Bills did this without their ball-hawking young cornerback, Ronald Darby, who was out injured.
If Jacoby Brissett is playing on Sunday, it gives the Bills a chance to pull out exotic blitz packages to try and rattle him and force him into a mistake. Brissett, by just being a rookie, has limitations as a passer (even before his thumb injury on his throwing hand is added to the equation). However, as he showed against Houston he can make plays as a runner.
If Rex Ryan can find ways to fluster Brissett (unique coverages and pressures, the amoeba defensive front, blitzes from different angles and from different position groups), Buffalo's passing defense could have a strong performance. (At this time Garoppolo is reported to be the starter, but as Brissett knows from the Miami game, he could be called upon at anytime.)
The 2016 Bills front seven may be lacking superstar Marcell Dareus (suspension) and Mario Williams (released in the offseason and in Miami), but it is still a formidable group. Williams took a step back last season but Dareus is arguably the best defensive tackle in an AFC East Disruptive defensive tackle Kyle Williams (out injured much of 2015) is back but it is linebacker Jerry Hughes who leads the pass rushing group. Opposite Hughes is outside linebacker Lorenzo Alexander and both have three sacks apiece through three games.
Last week Buffalo was back in their "amoeba" defense which Rex Ryan had used against Tom Brady in the playoffs six years ago while with the Jets. In that alignment Ryan has one defensive tackle (Kyle Williams) on the field and three or four linebackers all standing and moving to confuse the quarterback.
For the Patriots, whoever is at quarterback will still have offensive weapons at their disposal. Wide receiver Julian Edelman is at full speed and Danny Amendola has made the most of his limited playing time. Chris Hogan should be motivated going against his former team. At tight end the Patriots have been getting bang for their buck with Martellus Bennett filling in ably for Rob Gronkowski. Gronkowski was out on field for just 12 plays last Thursday and should have a bigger role this week.
The Patriots have leaned on their rushing attack through three weeks but should be able to lean on Jimmy Garoppolo if his shoulder is healthy enough to start and throw the ball around normally (or close to normal). Garoppolo was so accurate and showed such advanced decision making in his last start that he looked like Tom Brady directing the offense.   
If the Bills can upset the passing attack with their front seven, it could be a close low-scoring game which is exactly what Buffalo wants on the road against a young and inexperienced quarterback. However, if Garoppolo can play it should be business as usual for the Patriots.
ADVANTAGE: NEW ENGLAND PATRIOTS
New England Patriots Rushing Offense vs Buffalo Bills Rushing Defense
The New England Patriots have leaned on their rushing offense–particularly starting running back LeGarrette Blount–through the first three weeks of the season.  Without quarterback Tom Brady the Patriots lead the NFL in rushing yards (452 yards) and Blount leading the NFL with 298 yards on the ground.
The offensive line has been up-to-par for the Patriots as offensive line coach Dante Scarnecchia has made a significant impact since coming out of retirement. With tackles Nate Solder and Marcus Cannon healthy it emphasizes how much of the issues running last year were due to health up front. The tackles are both huge and able to move bodies in the running game.
Center David Andrews had a great game last week lining up against former New England nose tackle Vince Wilfork. Last year the team was undefeated (9-0) when Andrews started at center. Add in the 3-0 start this season and Andrews could be a good luck charm for the team.
Rookie left guard Joe Thuney remains a strong run blocker teaming with Solder to give the Patriots a solid left side to run to. Thuney. He has looked like a steal as a third-round draft pick. He and second-year right guard Shaq Mason are both strong, athletic and showcase excellent mobility and footwork with their ability to pull and lead the running back into the hole.
The Bills may be missing Marcell Dareus due to suspension but they still have a formidable defensive line. If the Patriots offensive line can make space in the running game the offense should be able to dictate the game on Sunday. Buffalo has struggled at times against the run (294 yards allowed over three games) and the Patriots appear more committed to their running game with so much uncertainty at the quarterback position.
The Bills have two solid run-stuffers with inside linebackers Preston Brown and Zach Brown, but without Marcell Dareus on the defensive line, too many of their tackles are occurring downfield. Leger Douzable, Corbin Bryant and Adolphus Washington are solid, but not spectacular. If LeGarrette Blount gets to the second level of the defense the Bills are going to have problems all afternoon trying to bring him down.
ADVANTAGE: NEW ENGLAND PATRIOTS
New England Patriots Passing Defense vs Buffalo Bills Passing Offense
Although Tyrod Taylor kept Arizona's defense off balance by using his legs, his accuracy and decision-making abilities in the pocket as a passer are still in question. Taylor's passing performance against the Cardinals last week (14 for 25 for 119 yards and one interception) is fine when the team rushes for 200 yards, but Buffalo has identified him (and are paying him) as their present and future quarterback.
Reviewing the film of Taylor, he still is an inexperienced passer and will struggle to find open receivers. Like many young quarterbacks, he is often unable to use his elusiveness and footwork to maintain the pocket and rather than buy time to throw, he will tuck and run. The Buffalo passing game plan has not helped him much either as rather than calling for quick reads and throws like the New England offense, Taylor has to sit in the pocket and wait for receivers to get downfield. His short passing–when called for him–tends to be accurate and on time.
Taylor had an impressive first season in Buffalo but he struggled mightily in his two matchups against Bill Belichick, Matt Patricia, and the Patriots in 2015. Look for the Patriots to plan to again keep Taylor in the pocket. The first step is stopping the run and putting Taylor and the Bills in second and third down and long situations.
It does not help that Buffalo may be without their best wide receiver, Sammy Watkins, who is questionable and is dealing with a nagging foot injury. Other than running back LeSean McCoy, the Bills' offense lacks effective receivers for Taylor to throw to in the passing game. Tight end Charles Clay, who is being paid more than Rob Gronkowski, had no catches in week three and does not help much as a blocker.
The best news for the Buffalo passing offense was that left tackle Cordy Glenn returned to practice this week as a limited participant. His backup, Cyrus Kouandjio, did not practice at all. The Bills' tackle situation is questionable (Jordan Mills does not inspire much confidence on the right side) although the interior of the offensive line with guards John Miller and Richie Incognito and center Eric Wood are solid.
The Patriots front-seven should attack the edges of the offensive line with Jabaal Sheard, Trey Flowers, and Chris Long. Long has already been one of the better free-agent additions in the league through the first three weeks, as Long has been fantastic. With the dearth of pass rushers in the NFL the Patriots have managed to find impact players at reasonable prices the past two seasons in free agency with Sheard and Long.
Beyond the front seven bringing consistent pressure so far in 2016, the Patriots had their secondary back on track and shut down the not-quite-potent-but-not-terrible Houston passing attack. Logan Ryan and Malcolm Butler should be able to handle a hampered Watkins (if he plays) and Robert Woods, Greg Salas (slowed by a groin injury) and Marquise Goodwin (in concussion protocols). Charles Clay will likely see a lot of safety Patrick Chung in coverage.
If the Patriots are able to shut down the Bills' running game and make Taylor stand back in the pocket it will be a long day for the Bills.
ADVANTAGE: NEW ENGLAND PATRIOTS
New England Patriots Rushing Defense vs Buffalo Bills Rushing Offense
Last season the Bills' rushing offense ranked among the NFL's best but they fell behind early in both games and struggled to get their running game on track during the first two weeks. That changed last week as Buffalo rushed for 208 yards against a strong Arizona defense. Running back LeSean McCoy led the way with 17 rushes for 110 yards and two touchdowns. Quarterback Tyrod Taylor rushed for 76 yards on nine carries.
Buffalo Bills head coach Rex Ryan is a schoolyard bully. The Bills under Rex Ryan (much like his Jets teams) are front-runners. If the Bills can jump on New England early much like they did Arizona, the team builds confidence as the game goes on and they can control the game on the ground. When Rex Ryan's squad gets punched in the mouth and have to play from behind they get desperate with their blitz packages and give up on the running game.
New Buffalo offensive coordinator Anthony Lynn showed different formations out of the usual formations and seemed to line McCoy up deeper in the backfield to allow him to use his vision to find space. The Bills also used hurry-up, showed the Wildcat formation with a direct snap to McCoy, and had Taylor the read option.
The Bills have had major health issues up front with their offensive line and the Patriots have the personnel to take advantage of it and shut down the Bills rushing attack. Left tackle Cordy Glenn seems on track to play which is a huge plus for Buffalo as early in the week it seemed they may have to start offensive tackle Michael Ola who was signed off the New York Giants practice squad earlier this week because backup tackle Cyrus Kouandjio is out this week.
The Patriots under Bill Belichick always focus on run defense and in 2016 they have allowed just 271 yards (90.3 yards per game) through three games. They have done this both of their best run-stopping linebackers (Dont'a Hightower and Jonathan Freeny) slowed down with injuries.
Jamie Collins has continued to develop into an elite run-stopper which is impressive since the Patriots tend to stay in a base nickel defense (five defensive backs) even on first downs. Defensive tackles Malcom Brown, Alan Branch, and Vincent Valentine have been excellent with their two-gap technique through the first three games of the season. With Jabaal Sheard and Chris Long setting the edge (not quite up to Rob Ninkovich's excellence in this role) they have been filtering running backs to Collins, Shea McClellin, and strong safety Patrick Chung to clean-up.
The Bills do have other weapons on offense like dynamic receiver threat Sammy Watkins, and quarterback Tyrod Taylor is always a threat for either throwing the deep ball or taking off for runs. The Patriots may employ a similar defense that they used against the Houston Texans and use against many other young quarterbacks: take away the big plays, keep the ball in front of you, and force the opponent to beat you by marching down the field on long drives.
It's highly likely the Patriots will make Taylor throw the ball and march the team down the field with long drives through the air to beat them. Their strategy on defense will likely begin with taking away McCoy first and foremost. That said, McCoy is one of the top running backs in the NFL and is hard to stop as he has a combination of speed, strength, agility, and vision.
ADVANTAGE: BUFFALO BILLS
SUMMARY AND SCORE PREDICTION:
Rex Ryan coming off a win the week prior is always entertaining as he goes into full bluster and braggadocio mode. Bill Belichick and the Patriots always take him seriously due to his impressive defensive acumen, but this Buffalo Bills team is not as dynamic on defense as they were just two or three years ago. Even with his brother, Rob Ryan, along as as the assistant head coach (which must make defensive coordinator Dennis Thurman feel like a third wheel) the Bills' defense has not lived up to Rex's reputation through a year and a quarter.
The Patriots under Bill Belichick have somehow simply gone about their business and sit at 3-0 so far in 2016 . They have handled injuries at quarterback and integrating lineup changes during Brady's suspension. The Bills are going to be desperate coming into Foxboro with a 1-2 record and already in danger of falling out of the playoff race with a loss this week to the Patriots.
Both teams have special teams units which are above average. Buffalo's special teams unit scored last week after the Cardinals botched a snap on a field goal attempt. Buffalo has a familiar face as a kick and punt returner in former Patriots returner Brandon Tate. Also active on special teams are former Patriots Brandon Spikes and Ramon Humber.
Tate averages 17.0 yards per punt return and 24.2 yards per kick return this season. If Patriots kicker Stephen Gostkowski and punter Ryan Allen are not at the top of their game, Tate could burn his old team with some field-position changing returns on Sunday. This matchup on special teams should be equal since the Bills also have the ability to pin teams deep with punter Colton Schmidt.
The Patriots may not be fortunate enough to recover two special teams fumbles on Sunday. However, with Jimmy Garoppolo under center they should be in position to mount some solid drives which should finish in the end zone. The defense should be motivated after their shutout of Houston to show it was no fluke and try to put the clamps on LeSean McCoy and the Bills' offense.
With a focus on defense on stopping the run and being able to move the ball on offense through the air, expect the New England Patriots to do just enough to finish off Rex Ryan and the Buffalo Bills and welcome back quarterback Tom Brady with a 4-0 record. 
Final Score Prediction: New England Patriots 24 – Buffalo Bills 19
This article originally appeared on