W2W4: New England Patriots (1-0) vs Miami Dolphins (0-1) in Week 2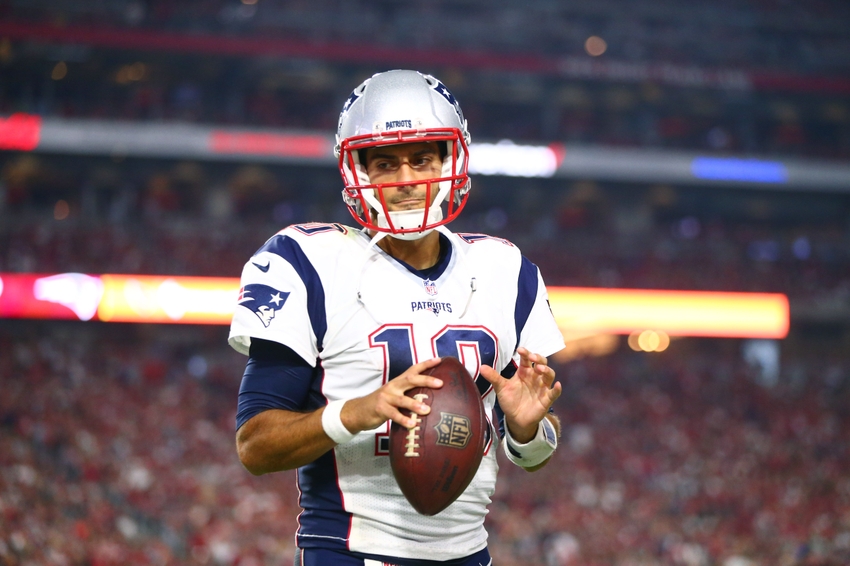 Start game day by reading through this thorough preview of New England Patriots vs. Miami Dolphins. 
The New England Patriots started their 2016 season with an impressive opening week victory over the Arizona Cardinals. The Patriots rode an impressive first start by quarterback Jimmy Garoppolo, a strong defense and the strong leg of kicker Stephen Gostkowski to hold on for a dramatic 23-21 win.
Perhaps most impressively, the Patriots were without longtime starters quarterback Tom Brady and defensive end Rob Ninkovich due to their four game suspensions. They were without All Pro tight end Rob Gronkowski, starting left tackle Nate Solder, and expected starting guard Jonathan Cooper. Despite missing these five key starters the Patriots were able to get the job done with the next man stepping up.
The Miami Dolphins lost a heartbreaker to the Seattle Seahawks after doing enough to win for the first 56 minutes on Sunday on the road. The Dolphins defense was strong (particularly in the front seven) generating pressure with just four rushers allowing seven defenders to drop into coverage. Quarterback Ryan Tannehill led the team on a potential game winning drive to take the lead to see the defense allow Seattle's Russell Wilson convert two fourth downs and get into the end zone and win 12-10.
For the Dolphins, opening on the road with two games against Seattle and New England is a brutal start to the season. For New England, they have to wash away their week 17 nightmare against Miami which cost them home-field advantage throughout the playoffs last year. A win in that game would have had New England playing Pittsburgh in the Divisional round and hosting Denver (or Kansas City) at home for the AFC Championship game.
Let's get right into the preview with what to watch for on both sides of the ball on Sunday afternoon in Foxboro, MA:
New England Passing Offense vs Miami Passing Defense
Jimmy Garoppolo had a great first game as a starter in New England last week. He completed 24 of 33 passes for 264 yards and a touchdown. Of course, the coaches have been getting him ready for Arizona since May. This time, he has only a week to get ready for a Miami defense which all but shutdown Russell Wilson and the Seattle Seahawks last week.
The Dolphins' defense held Russell Wilson to 258 yards passing sacking him three times and causing two turnovers (one interception and one fumble). The Seahawks punted six times and with two turnovers and a failed fourth down conversion it is clear that the Dolphins defense did enough to win.
The Patriots passing attack will have to work the match-ups against the Dolphins secondary. Byron Maxwell was traded for to replace Brent Grimes as the top cornerback and second round draft pick Xavien Howard stepped into the starting lineup as the number two cornerback after a strong summer and preseason. Howard is dinged-up after week one and no one in Miami wants to see the long, lanky Maxwell trying to keep up with the smaller and shiftier receivers in New England such as Danny Amendola and Julian Edelman.
If Howard is out it is a big hit to the Miami secondary as he would likely be assigned to cover Edelman while nickel cornerback Bobby McCain would take Amendola. Maxwell should have Chris Hogan or Malcolm Mitchell outside the numbers where he plays best. Tony Lippett and Jordan Lucas are the depth cornerbacks and contribute primarily on special teams. If either is on the field with the defense expect Garoppolo to target them immediately.
Tight end Rob Gronkowski is expected to miss his second straight game putting more pressure on Martellus Bennett as the top cornerback. Miami has linebacker Jelani Jenkins healthy and he and free safeties Isa Abdul-Quddus and Reshad Jones will have coverage responsibilities for Bennett, A.J. Derby, Clay Harbor, James Develin, D.J. Foster, or James White (depending on who is out on the field for New England).
Miami was able to get after Russell Wilson with just four rushers much of the game last week with Ndamukong Suh, Jordan Phillips, Mario Williams and Cameron Wake providing much of the pressure. Williams is in the concussion protocols, Phillips is questionable with an ankle injury, and long-time thorn in New England's side Earl Mitchell is on injured reserve. That should help take some pressure off the New England offensive line which has Nate Solder (hamstring), Shaq Mason (hand), and Marcus Cannon (knee) on the injury report as questionable.
Expect the Patriots to continue to attack defenses with the 3X1 look (three wide receivers and one tight end) until Gronkowski returns. Edelman will remain the primary receiver working underneath and letting Garoppolo get the ball out quickly. Per ESPN.com, Garoppolo was 10 of 11 for 126 yards with five first downs and a touchdown when throwing to Edelman and Hogan. Expect that game plan to continue until someone can stop it.
ADVANTAGE: NEW ENGLAND
New England Rushing Offense vs Miami Rushing Defense
The New England Patriots committed to running the football on the road against the Arizona Cardinals last week. They rushed 31 times for 106 yards with LeGarrette Blount leading the way with 22 rushes for 70 yards and a touchdown. On the road, without Tom Brady, the Patriots were able to balance their offense with 31 rushes and 33 passes.
With their play-action passing attack able to operate to keep pressure off of quarterback Jimmy Garoppolo the Patriots kept passing lanes open. With a running game able to churn out positive yards consistently, the Patriots kept the Cardinals' linebackers from sitting in the middle of the field. With the run fakes keeping the linebackers close to the line of scrimmage there was space to get the ball to the receivers.
Against Miami, running the ball can be difficult. Ndamukong Suh and Jordan Phillips are a duo capable of blowing up running plays by getting into the backfield. The Seahawks rushed for 110 yards but took 32 carries to get the yards. Seattle ran often, but struggled to make any big plays as linebackers Kiko Alonso, Koa Misi and Jelani Jenkins were able to clean up the running plays. The longest run allowed was 11 yards and mobile quarterback Russell Wilson had just 16 yards on the ground.
On the defensive line, Andre Branch was one of the top run stoppers as he had three solid tackles in the running game. Another player who was solid against the run was safety Isa Abdul-Quddus who was seemingly around the ball-carrier all game long.
For the Patriots, Blount can grind out tough yards but he needs space to cutback and get into the secondary. Rookie left tackle Joe Thuney was solid against the run and while center David Andrews is not the mauler that Bryan Stork was, he is a solid technician who uses leverage to make room for the running back. Shaq Mason does a better job in the running game than Ted Karras but his broken hand limits his ability to gain power which is necessary against Miami's interior defensive line.
New England does not need to run the ball 15 out of the first 21 plays again (like their debacle in Miami in week 17 last year), but mixing in some positive gains in the running game can only help Jimmy Garoppolo. The Dolphins will be making it hard to run the ball with their strong front four, improved linebacker play, and hard-hitting safeties and have the advantage if the Patriots are not spreading them out and getting the ball in the hands of their playmakers.  
ADVANTAGE: MIAMI
Miami Passing Offense vs New England Passing Defense
The Dolphins passing attack took a step backwards in the season opener in Seattle as the mighty Seahawks defense shut down Ryan Tannehill much of the game. Tannehill showed great fortitude leading the Dolphins on a fourth quarter scoring drive to put them in position to win before Russell Wilson did what Russell Wilson does and drove the Seahawks down the field to victory.
Tannehill again is short on weapons. Jarvis Landry remains the team's top receiving option. He currently has got to 200 receptions quicker than any receiver in NFL history (though Odell Beckham should challenge that record). Miami traded for Kenny Still from New Orleans but he has failed to develop into a consistent threat and rookie Leonte Carroo has showed promise but needs to work out the kinks of adapting to the NFL.
Miami traded for Kenny Stills from New Orleans but he has failed to develop into a consistent threat last year and had a terrible, game-changing drop last week. Why New Orleans gave up on Stills becomes more apparent the more he struggles with consistency with the Dolphins. Miami added DeVante Parker in the first round of the NFL Draft last year and he busted out with  22 catches for 445 yards (an impressive 20.2 yards per catch) with three touchdowns in his last six games after finally getting healthy last year. Parker missed much of the preseason with hamstring issues and missed the opener in Seattle though he should play Sunday.
Disappointing tight end Jordan Cameron had just two catches for six yards last week and Stills finished with one reception despite being targeted five times. Cameron was a bust being signed away from Cleveland in free agency and has done little to justify his large contract in Miami. Short of a couple of big plays on receptions out of the backfield, it was all Landry as he had seven catches on ten targets for 59 yards as he garnered almost all off the attention of the Seattle secondary.
For the Patriots, getting to Tannehill is going to be a big question mark. While the Dolphins offensive line is far from superior, Belichick has been overly conservative playing Tannehill and devotes too much attention to his running ability. Rather than pressuring from the edge and blitzing, the Patriots tend to get overly conservative and pin Tannehill in the pocket like he was Michael Vick in his prime. Yes, Tannehill can run the ball, but he also falls apart when he gets knocked down and battered by the pass rush.
Last week the Patriots left Logan Ryan in single coverage far too often on Larry Fitzgerald and paid the price. Ryan was not terrible, but he needed help over the top at times and asking any cornerback to match-up with the future Hall-of-Fame receiver in single coverage is not smart. Ryan will likely draw coverage on DeVante Parker and/or Kenny Stills on the outside in coverage this week.
The Patriots would be wise to match their number one cornerback on Landry throughout the game. Landry often works outside and inside from the slot (similar to Julian Edelman in New England) and leaving him covered by Justin Coleman or rookie Cyrus Jones is a mismatch that the Dolphins can exploit all afternoon in Foxboro on Sunday. Landry is the one legitimate receiving threat in Miami and should be the focus of the defense.his drop of a wide open pass last week in Seattle was an abomination as he was literally so open no one was within 10 yards of him.
Miami added DeVante Parker in the first round and he had 22 catches for 445 yards (over 20 yards per catch) with three touchdowns when he finally got on the field last year. However, Parker is again on the sidelines as he has been sidelined all summer with hamstring issues. He missed the Seattle opener and is still questionable for Sunday's matchup although his impact may be small where he has missed so much time.
Again, it leaves Miami leaning heavily on Landry in the passing game. Disappointing tight end Jordan Cameron had just two catches for six yards last week and Stills finished with one reception despite being targeted five times. Short of a couple of big plays on receptions out of the backfield, it was all Landry as he had seven catches on ten targets for 59 yards as he garnered almost all off the attention of the Seattle secondary.
For the Patriots, it will be interesting to see how they cover Landry. It appeared to be a tactical mistake last week leaving Logan Ryan on wily veteran Larry Fitzgerald. Ryan was not terrible, but he needed help over the top at times and asking any cornerback to match-up with him in single coverage is not smart. Ryan will likely draw DeVante Parker and/or Kenny Stills on the outside in coverage.
The Patriots should just simply put Malcolm Butler on Landry and follow him around the formation throughout the game. Landry often works outside and inside from the slot (similar to the usage of Julian Edelman by offensive coordinator Josh McDaniels) and having Landry covered by Justin Coleman is a mismatch in favor of the Dolphins. Coleman should cover the rookie Carroo or Stills, never Landry.
Even without linebacker Dont'a Hightower (knee) the Patriots should be able to slow tight end Jordan Cameron with linebacker Jamie Collins and safety Patrick Chung. That duo will also be keeping an eye on the running backs out of the backfield as Arian Foster and Damien Williams had the two longest receptions last week.
The Dolphins struggle at times to get their offense in gear and the Patriots need to get their pass rush in gear early and get Tannehill to the ground a few times early in the game. Keeping Landry under wraps (as Seattle showed last week) goes a long way to getting the offense off the field. For New England, they are in a strong position on defense to shut down the Dolphins passing attack.
ADVANTAGE: NEW ENGLAND
Miami Rushing Offense vs New England Rushing Defense
The Miami Dolphins had one of the most explosive running backs in the NFL on their roster last year in Lamar Miller. Despite his success, Miami decided to move on from him and allowed him to sign in Houston as a free agent. Miller was a big play threat every time he touched the football but oddly enough the Dolphins limited his touches in his time in Miami.
To replace Miller the Dolphins insisted Jay Ajayi was their man–until he wasn't anymore. Late in training camp it was clear to everyone (except Ajayi) that Arian Foster was healthy and would be the lead back. Ajayi sulked throughout the final preseason game and complained and whined his way into a DNP-CD (did not play-coach's decision) for week one. Now he is back and will back-up Foster along with Damien Williams.
The Miami offensive line is still a work in progress as veteran left tackle Branden Albert is still a solid starter when healthy and right tackle Ja'wuan James has a bright future. Rookie Laremy Tunsil fell to the Dolphins on draft night and the future starting tackle is currently starting at left guard. Veteran Pro Bowl center Mike Pouncey (fractured hip) is injured and already ruled out for week two and Anthony Steen will step in. Jermon Bushrod (another former tackle) is the starter at right guard.  
The offensive line is serviceable in Miami (which is better than it has been in recent years). Just having Kraig Urbik, Dallas Thomas, and Billy Turner on the bench and not starting makes Miami better along the line. At running back Foster was already on the injury report with a sore hamstring this week (but should play) and Ajayi is a huge question mark. Williams is a third down back who can contribute as a pass catcher.
The Dolphins had a tough time running the ball last week against Seattle, but the Seahawks are hard to run against. Not having Dont'a Hightower in the middle of the New England defense is probably the best news for the Dolphins running backs. Hightower is a beast in the middle of the defense and made it hard for Arizona to get positive movement in the running game.
Replacing Hightower in the run support role is a tough job and expect to see Jonathan Freeny, Barkevious Mingo, and Shea McClellin all share snaps next to Jamie Collins trying to slow down Arian Foster on Sunday. Safety Patrick Chung can come up in run support to help out if need be and is a physical player despite his size.
The Patriots do have second year defensive tackle Malcom Brown and veteran Alan Branch clogging the middle of the line on defense. These two are both excellent run stuffers and rookie Vincent Valentine was effective last week as well rotating inside. Defensive ends Jabaal Sheard and Chris Long are both strong setting the edge and providing run support.
New England is talented enough on defense to shut down the Miami running game. The Dolphins will be looking to establish the run to take pressure off of quarterback Ryan Tannehill. Gap discipline and staying strong at the point of attack should allow the Patriots to make Miami one-dimensional on offense.
ADVANTAGE: NEW ENGLAND
SUMMARY AND SCORE PREDICTION:
This is a game the Patriots should win, but so was week 17 last year when the Dolphins took advantage of an overly conservative offensive game plan from New England to force the Patriots to travel to Denver for the AFC Championship game. In that game the Patriots could not decide whether to play their starters or rest them and instead got stuck in the middle and ended up building Miami's confidence and exposing Tom Brady to some big hits.
This weekend the Patriots will likely be without tight end Rob Gronkowski and linebacker Dont'a Hightower. They are unlikely to have left tackle Nate Solder and right guard Jonathan Cooper. Quarterback Tom Brady and Rob Ninkovich are still suspended and the Patriots are certainly opening the season at home at less than 100%.
That said, like last week in Arizona, the Patriots have enough talent on both sides of the ball to pull out a victory even without their injured and suspended players. However, they have a lot of work to do in order to go to 2-0. The Dolphins are dangerous but the Patriots should be able to limit the Miami offense and still move the ball consistently against a tough front seven.
Miami may keep it close early on, but expect the Patriots to wear down the Dolphins and pull away in the second half on Sunday afternoon.
FINAL SCORE: NEW ENGLAND 24 – MIAMI 16
(Last week prediction: Arizona 21 – New England 20) 0-1 for the season (1-0 vs point spread)
This article originally appeared on