Why Von Miller is underpaid despite his new record-setting deal
Looking around the NFL, it's clear that Von Miller deserved every cent of his new six-year, $114.5 million contract with the Denver Broncos.
He's the best pass rusher in the game, and pass rushers, in this pass-happy league, come at a premium.
But Miller deserved more than what he agreed to Friday. While $70 million guaranteed is a tremendous amount of money, he was low-balled by the Broncos.
Ultimately, Miller had little choice but to sign Denver's best and final offer.
It's all because of an antiquated system that isn't going away any time soon.
Miller was supposed to be a free agent this offseason, but he was never actually free. The Broncos placed a franchise tag on Miller before he could hit the open market.
The Broncos had no problems slapping the tag on Miller —€" not only did it prevent him from testing the market, it set the price of his 2016 contract at a comically low $14 million, which could have been as little as half of what he might have received annually as a free agent.
Miller wanted a long-term deal, and he justifiably wanted the most guaranteed money of any defensive player in NFL history. He would have easily gotten that as a free agent. Olivier Vernon landed the richest contract of any defensive end in NFL history earlier this offseason with the Giants, worth $85 million ($52.5 guaranteed), and no one believes Vernon is close to the player Miller is.
Miller was getting undercut, big time, and he had only one extreme recourse —€" sitting out the season. By doing that, Miller would have made himself, in essence, a restricted free agent in 2017, and perhaps then he would have been able to recoup the $14 million he lost by sitting the 2016 season.
But to view the situation through that lens is to agree to the notion that Miller's 2016 is worth $14 million. That valuation isn't marginally close. Yet there's no way, with the franchise tag system in place, that Miller could have ever gotten fair-market value for his services.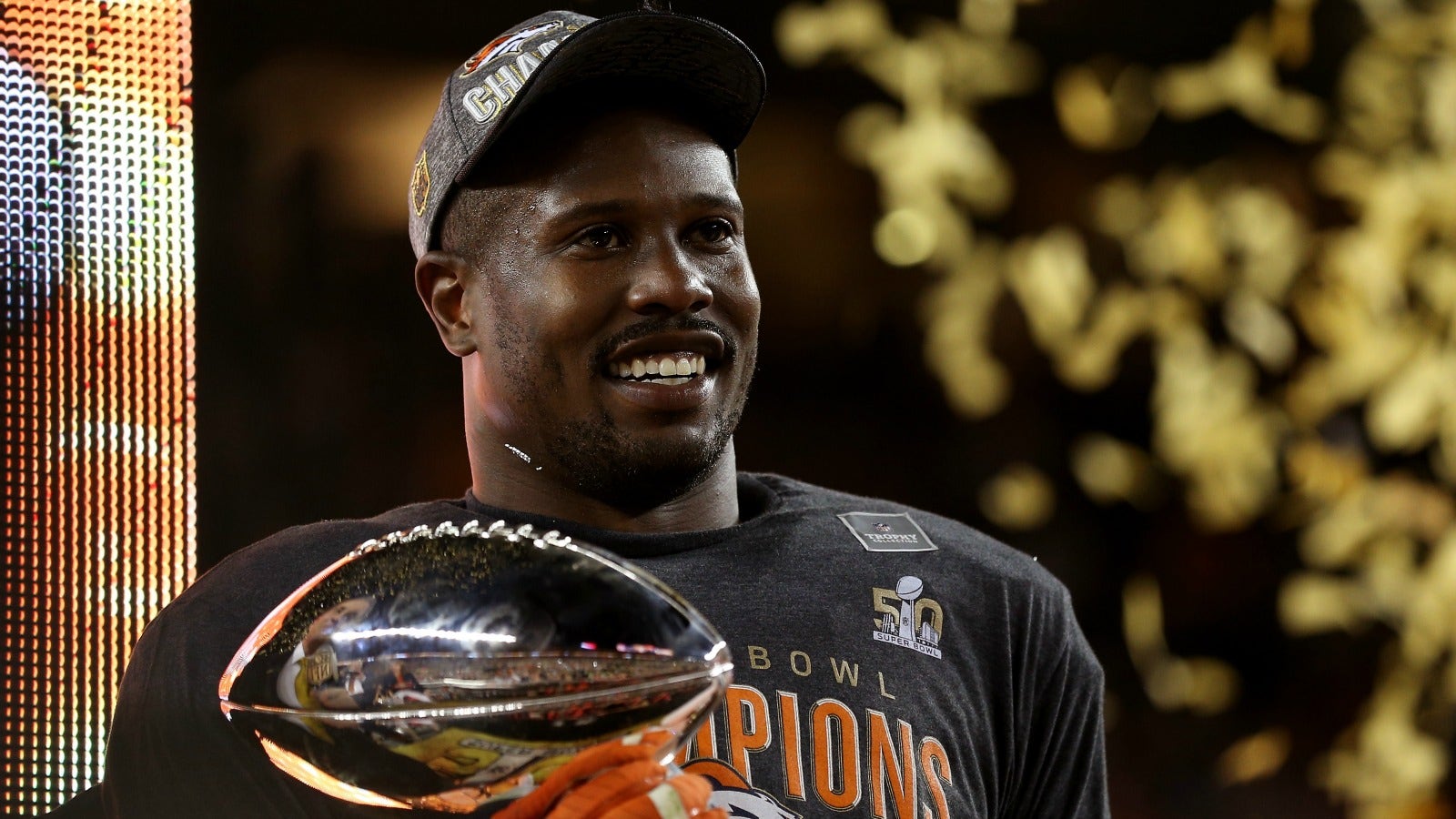 So Miller took the best deal he could get from the Broncos, who could set his value anywhere they want. The worst-case scenario for Denver was they franchise tagged Miller in 2016 and 2017, paid him well below market value for his services in those years and let him hit the open market at age 29, when his earning potential would have been on the downslope.
Miller leveraged sitting out a season —€" it was his only play to get more money from Denver —€" as well as anyone in league history, but he was ultimately fighting a battle he couldn't win. The franchise tag isn't going anywhere —€" NFL team owners love it, as it helps them keep salaries down, and the NFL Players' Association agreed to continue it in a collective bargaining agreement that won't end until 2021, when Miller is 32.
What could have Miller landed on the open market? It's not ridiculous to think $100 million guaranteed. Andrew Luck was able to get the Colts to pay him $87 million in guaranteed money earlier this offseason, and they had no opposing bidders.
Chargers QB Phillip Rivers' contract is 78 percent guaranteed. Miller's $114.5 million deal is only 61.14 percent guaranteed, a rate that puts him behind defensive tackles Fletcher Cox and Marcell Dareus. Had Miller demanded that 79 percent of his $114.5 million deal (which is artificially low, as well) be guaranteed —€" and he'd be well within reason to do that as a free agent —€" he'd have made $20 million more on this deal.
But Miller couldn't do that because of a system created to keep him and the other elite players in the league down.