Vincent Jackson Headed to Injured Reserve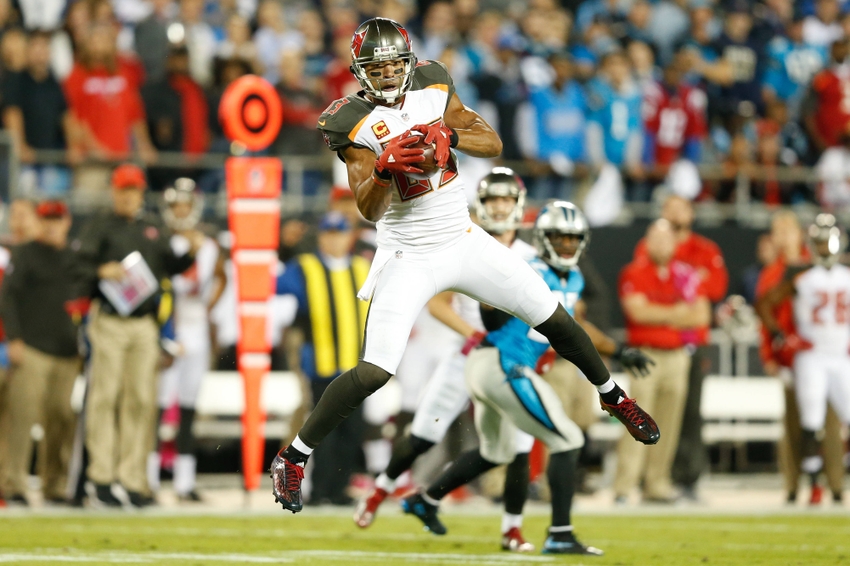 Vincent Jackson injured his ACL in the Monday Night game against Carolina and did not realize it until after the game. Turning 34 in January, is it time for the Buccaneers to move on from a fan favorite?
Who hasn't been injured on this team? It feels like it's inevitable that Winston and Evans are bound to miss time but I don't want to be pessimistic. Now the captain and fan favorite for many Buccaneers fans – Vincent Jackson – will potentially miss the remainder of the season with an injured ACL. The Buccaneers' offense has struggled this year since the opening week when they were fully healthy and Jackson hasn't really had an effective season, his fifth with Tampa, recording only 15 receptions and 173 yards.
The Buccaneers aren't really going to miss his production because, well, he wasn't very productive. They will, however, miss his leadership. Being the oldest player on the offense he has been a captain since joining the team. Winston is the face of this franchise and now the voice but having a reliable consistent veteran to help with his development is extremely helpful for future success.
More from

The Pewter Plank
Jackson made two clutch catches on the final drive of Monday Night Football to help get into field goal range. Now he's not there and Winston will need to find another reliable guy to look to. Mike Evans is a number one and it shows but when the best corner is covering him and he can't be targeted every time. Can Adam Humphries be that guy? I really don't think so.
A glimmer of hope that the Buccaneers received this week was the return of Louis Murphy to practice. Murphy, coming off of a torn ACL, is a veteran receiver who can make some splash plays. He might not be ready to come back this week however and Cecil Shorts is still nursing his hamstring. I can see the Buccaneers add a receiver for this week because they really are thin on offense in general. If Doug Martin can come back this week that will definitely help, but if the Buccaneers need to make a pass downfield they really only have one option.
Vincent Jackson's time with the Buccaneers may have come to an unfortunate end but he will always be looked at as one of the greatest free agent acquisitions in franchise history. Jackson ranks fourth in yards in team history with 4,326, while having a rookie Jameis Winston, Mike Glennon, Josh Freeman, and Josh McCown as his quarterbacks. For his brief tenure with some weaker quarterbacks that is some serious production. Even if he doesn't retire this offseason I can't see the Bucs holding on to him. So, VJax – I'll miss you and good luck with the next stage of your career.
More from The Pewter Plank
This article originally appeared on