Vikings vs Rams preseason week 4: 5 things to watch for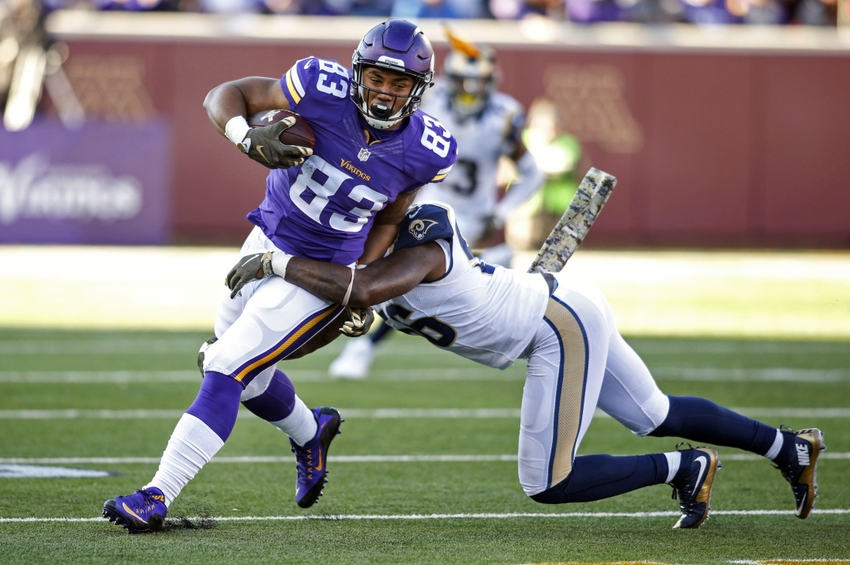 What are the five most important things to watch for when the Minnesota Vikings host the Los Angeles Rams for their week 4 preseason game?
While fans in Minnesota are still devastated by the loss of quarterback Teddy Bridgewater for the 2016, time keeps moving on. In fact, another game is right around the corner for the Minnesota Vikings, as the final preseason game is among us.
For the week 4 preseason contest, the Los Angeles Rams make their way to U.S. Bank Stadium on Thursday,  September 1, 2016 to play a Vikings team still looking to round out many parts of their roster. The two up-and-coming teams will be showcasing their young talent and trying to figure out who will stay with the team, who will make the practice squad, and who will be moving on.
The game may lack the star power of other preseason contests since most starters will be sitting this game out, but that doesn't mean it isn't important to use this game for momentum and talent evaluation.
Because of that, there are some important things to watch for when the Minnesota Vikings host the Los Angeles Rams, and here are five of them, starting with the passing game.
Who is going to play quarterback?
If you've been following the Vikings, you're well aware that Teddy Bridgewater suffered a knee injury during practice that will keep him away from football for the 2016 NFL season. While he wasn't going to play in this game anyway, this injury will have a huge impact.
The team will now need to go into full protect mode for Shaun Hill, who will need to stay healthy and play at a high level until Taylor Heinicke can return to action. So that means this preseason game will likely be a lot of Stave.
Brad Sorensen has signed back on with the team, so he and Stave will split time during this game. However, there is also the possibility that another quarterback could be added to the mix through free agency or trade before this game is played.
Of course, this means that this final preseason game could be ugly offensively. However, this will be a great chance for Stave and Sorensen to put some experience on their resume.
Final safety battle
Antone Exum was already given his release (he cleared waivers and returned to the team on the Reserve/Injured List), but there are still players who need major evaluation at the safety position to determine who other than Harrison Smith will be the last line of defense for the squad.
Andrew Sendejo has put together a solid preseason and may have cemented another year as starter, but youngster Jayron Kearse has been making some big plays that may encourage the team to take a long, hard look at him for the future.
Meanwhile, veteran Michael Griffin is struggling to fit in with the team after signing as a free agent this offseason, but has an experience advantage over guys like Kearse and Anthony Harris.
If the team is planning on keeping 5 safeties, they could be set. However, in my opinion, Michael Griffin could be the odd man out unless in turns in one heck of a performance against the Rams. Even then, it might be too little, too late.
Who will leave a great impression?
For many of the players, this could be the final time they ever suit up for an NFL game. These are all players who are working hard to achieve their dreams and become the best at their positions to secure their future and their family's future.
Sadly, most of them will be unemployed following the last round of roster cuts, as approximately 1 out of every 3 players will be released. A handful of them will land on a practice squad. A select few will get looks from another team. But most will be left looking for other work while honing their game until hoping their phone rings next year.
These players are well aware of that and will be playing with everything they have during these games. Considering this is the last impression they get to leave on the league and fans, the players go all out and want to make as many plays as possible for other teams to look at on tape.
It will be great to watch these guys give it their all and root for them to succeed in achieving their dreams.
The crowd reaction
Let's be honest, things aren't easy right now for fans of the Minnesota Vikings. Hopes are still very high for this team this year, but now the challenge will be even bigger during the 2016 NFL season.
But the crowd cannot be defeated already. They must be as loud and rowdy as they were last week against the San Diego Chargers. They must continue to let this team know they believe in them.
If the fans can do this, it can send a powerful message to the players, coaches and executives that this is a loyal and optimistic fan base that will stick by the team no matter what.
Yes, it will be hard to cheer considering how crushing it is to lose a player like Teddy Bridgewater, who is so well liked by the fan base and respected by everyone…but this is far from the end of the season, and there is enough talent to still win many games this year.
The tone of the team
Witnessing a crushing injury like the one to Teddy Bridgewater can be defeating to a team. All year long the franchise has been preparing as if #5 would be behind center controlling the action on the field.
Now, players will have to change that approach, as Bridgewater's leadership and infectious attitude have been the inspiration for the offense, and now that will be missing during the season.
It will be interesting to see how the players respond to this situation. If they can move past the situation and focus on football after such a short time from the incident, they could establish a great tone going forward.
Mike Zimmer himself said it best. The sun will rise tomorrow. Sure, the team and fans will miss Teddy Bridgewater, but in the end this team is all about being tough and fighting. Hopefully the team will take this opportunity to play for Bridgewater since they can't play with him this year.
Don't miss the Minnesota Vikings taking on the Los Angeles Rams on Thursday, September 1, 2016. This will be an important game in keeping the winning tradition going and establishing a great tone with the fans and the players following Wednesday's injury to Teddy Bridgewater.
This article originally appeared on